Michael Bloomberg
Thursday, August 12, 2010
Steven Goldsmith has been New York City's Deputy Mayor for Operations for six weeks. A former Republican Mayor of Indianapolis, Goldsmith was known for both cost-cutting and rebuilding that city's downtown. In New York, he's become associated with several new initiatives, including wireless water metering, a possible fee for garbage collection, and expansion of the private commuter van industry.
Friday, July 30, 2010
By Azi Paybarah : author of The Empire blog
Maybe I"m guilty of paying too much attention to this storyline, but the other newsy nugget out of Bloomberg's radio show this morning: he doesn't want to run for president in 2012.
"I'm going to support the president as much as I can. We need a successful president -- I think Republicans and Democrats should do that. And then as you get near the end of this president's first term, if you want to run against him, I don't. but if you did, or want to support somebody else, that's fine. But this country has to pull together."
The mayor also offered this criticims of the modern media landscape, which, desipte his growing dominance, he doesn't seem to like.
"This instant news. They walk up to you, stick a microphone in front of you and say, 'Okay John, what do you say about this. You have to say something. You say something, and later on, you find out the facts were different. Oops." And: "The bloggers, to add on top of this. They write things that in some cases literally aren't true. There's no editing. There's no accountability."
Read More
Thursday, May 20, 2010
Most days, New York's sidewalks hardly seem big enough for everyone on them.  That's in part why the city is kicking cars off its streets, to create more walkable area.  But there's still the daily frustration and clashes of speedsters and strollers, locals staring down the block and tourists enjoying the view.  The latest evidence of this most urban of daily struggles is in today's New York Post: someone painted lanes on Fifth Avenue.  One for tourists, one for New Yorkers.
Next up: someone needs to get out there with a speed gun and report back.
Read More
Friday, April 30, 2010
(New York - Collin Campbell, Transportation Nation) -- It's a strange sight, the bright blue uniforms of the agents who run the long lines and security machinery at airports, down in the crush of the New York City subway.  But here they are, the men and women of the Department of Homeland Security's Transportation Security Administration.  For now -- there are two teams working with the NYPD to check the bags of transit passengers.  This summer, the city and the federal government will discuss adding more.
"We're currently working with Amtrak and freight rail as well," said John P. Sammon, Assistant Administrator with the TSA's office of Transportation Sector Network Management.  "So no, there are not limits on which modes of transportation the TSA can work on securing." 
Read More
Thursday, December 17, 2009
NEW YORK, NY December 17, 2009 —The MTA board has approved an austerity plan to close a nearly $400-million funding gap by eliminating the W and Z subway lines, and more than 20 bus routes.
Read More
Tuesday, December 15, 2009
New York City Mayor Michael Bloomberg is in Copenhagen this week to take part in the Climate Summit for Mayors.  Last week, the Mayor passed his Greener, Greater, Buildings Plan, and this week he hopes to inspire leaders from other cities to follow suit.  With cities around the worldproducing more than 80 percent of the global carbon dioxide emissions, changes in urban systems can have green effects globally.  We speak with Bloomberg from Copenhagen.
Read More
Tuesday, December 08, 2009
By Beth Fertig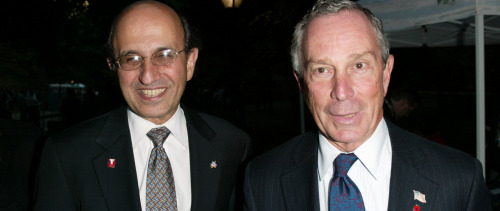 In his campaign for re-election, Mayor Michael Bloomberg pointed repeatedly to rising test scores among New York City public school students ...
Monday, April 20, 2009
By Bob Hennelly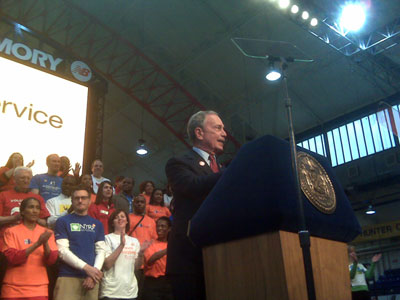 In a response to President Obama's call for a new commitment to civic engagement, Mayor Bloomberg launched 'NYC Service' at a high spirited rally geared toward young people in Washington Heights. The citywide initiative is designed ...