Martin Golden
Wednesday, February 22, 2012
The post from yesterday about Senate Republican plans to create a new Orthodox Jewish district in southern Brooklyn received some attention that's worth going back to (not the typos; that I apologize for and have been fixed).
One commentor, mugwump, made this observation:
What this article neglects to mention is that most of the D senators in that area were unopposed in 2010, and this simulator doesn't correct for that since it uses raw vote totals. So what you're saying is that Democrats will win SD-17 if no Republican runs. In reality the number of R votes in the Orthodox seat (and in Golden's as well) is likely to be far higher.
That's a fair point. While working on the piece, I reached out to CUNY Center for Urban Research to see if they could help me figure out if there were more metrics we could look at.
What I got back late last night was a thorough breakdown of the voting registration totals for the proposed districts. Since we can't know the true voting breakdown in an actual election for a district that hasn't been created yet, this is probably the next best metric behind the simulation highlighted in the article yesterday.
According to the state Board of Elections' most current enrollment figures, the 27th Senate District has 83,731 active Democratic enrolled voters, and 25,482 Republicans, with 30,785 unaffiliated enrolled voters. That's 58.1 percent, 17.7 percent, and 21.3 percent of the total enrollment respectively.
According to the analysis by the CUNY folks, the proposed 17th Senate District would have an enrollment that looked like this:
Total: 127,148
Democrats: 79,003 / 62.1%
Republicans: 19,393 / 15.3%
The CUNY data doesn't provide information on unaffiliated voters.
Now, on a technical note, the numbers LATFOR used for determining voter totals in districts is an older set of enrollment numbers. There are actually more Republican voters and less Democrats in the 27th now--just under 500 less Dems and about 1000 more Republicans.
It's also worth noting that these sorts of numbers are present in the enrollment numbers for the 9th Congressional District, which saw a Republican elected in a special election last year.
That seems to be the playbook Senate Republicans are working with--the right sort of Republican can motivate even Democrats to come on board in the new 17th State Senate district. But if that were a recipe for certain success, you'd have to wonder why Democratic Assembly Speaker Sheldon Silver feels like keeping the 9th district around.
But I stand by my point: in trying to carve out two districts for Republicans in southern Brooklyn, Senate Republicans increase the chance they'll lose both. As the numbers above show, the new Orthodox Jewish district--all things being equal--would appear to favor a Democratic candidate.
I also mentioned Senator Marty Golden's numbers in yesterday's post. The percentage of Democrats enrolled in the district Golden would represent in the draft maps would increase from 50.4 percent Democrat currently to 51.4 percent in the proposed district.
Again, to be fair: Republicans increased by a nearly equal proportion. But upping the percentage of the opposing party's voters in your incumbents district might not be the best reelection strategy. But more it goes to show that, in a process designed to help those who draw the lines, there's only so much Senate Republicans can do (and you see the real need for a 63rd seat; 62 seats would make the districts even larger, likely bringing even more Ds into places like Golden's district).
The question will be, are they beginning to stretch these districts to the point of breaking?
Read More
Friday, February 10, 2012
Democratic Assemblyman Karin Camara and State Senator Kevin Parker announced today their introduction of legislation that would establish an New York City Police Department independent inspector general position. The office would be housed within the New York City Department of Investigations. As it stands, the police department's only oversight comes from internal affairs, which report to the police commissioner.
The announcement, which came out of Parker's office, used strong language in talking about the need for independent oversight of the police department:
In recent years we have witnessed serious abuses by the NYPD, whether for racially and religious discriminatory policies such as stop and frisk, the wholesale surveillance of the Muslim community in New York City and other jurisdictions, and the mistreatment of the Occupy Wall St. protesters. In some of these situations the public was given misinformation and even deliberately misled.
"No one is above the law, not even law enforcement," Parker said in a statement. This legislation seeks to restore the public trust and honor the heroism and service of thousands of officers. By creating an independent inspector general, the NYPD will have an independent watchdog to ensure the integrity of the Department like other state and federal law enforcement entities."
"While the overwhelming majority of NYC police officers are exemplary in their conduct and beyond dedicated in serving and protecting the public, several recent incidences of alleged abuse and possible egregious misconduct call for greater scrutiny and accountability of the police department," said Assemblyman Camara in a statement.
New York City Councilman Jumaane Williams, who has been a vocal critic of the department's actions after a run in with police officers near his district in Brooklyn over the summer, praised the bill, saying in a statement, "No agency should be allowed to police itself, including the police. Independent oversight is essential to making sure we enjoy the best possible NYPD, on that serves all of our communities equally and respectfully."
Another Brooklyn elected official, Republican Senator Martin Golden, was less enthusiastic about the intent of the legislation.
"I don't believe that the New York City Police Department needs an inspector general," Golden, a former police officer, said when reached by phone. He said he hadn't seen the legislation yet, but felt that the department's internal affairs bureau has done "an excellent job going into its ranks" to deal with police misconduct.
Read More
Tuesday, January 24, 2012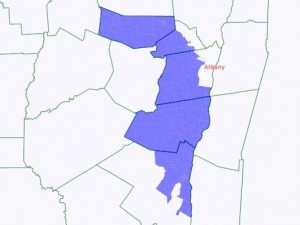 Ever since the rumor that the Senate Republican planned to create a new, 63rd Senate district in in the soon-to-be-released redistricting maps, there have been new rumors flying about where it could be. At least one of those rumors appears to be true: Times-Union's Jimmy Vielkind reported today that sources tell him the district will be located in the Capital Region, stretching from west to south of Albany (see picture insert). The district is likely created to help Republican Assemblyman George Amedore get elected to the Senate, helping the Republicans keep their majority.
The news, if it holds up (and there's good reason to believe this is what we'll see when maps likely become available either late today or tomorrow), raises three important issues.
Read More
Wednesday, January 04, 2012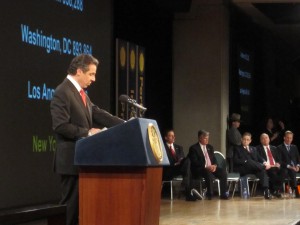 Governor Andrew Cuomo laid out his vision for New York State in 2012 and beyond on Wednesday. In a three-point outline that was led off by a set of economic plans and anchored by a proposal for a new convention center in Queens, Cuomo framed his sophomore effort in Albany.
"We've only just begun to do the work this state needs done," Cuomo said during a review of this past year's achievements. In 2012, the Governor said, education, jobs development, gambling legalization, energy, and pension reform as some of his top areas for improvement.
Assembly Speaker Sheldon Silver gave his comments before Cuomo spoke, arguing for a minimum wage increase and a tax cut for low-income New Yorkers. Afterwards the Speaker praised the Governor for a "great speech."
"I think he framed his agenda for this year and perhaps for a few years to come," Silver said.
Read More
Tuesday, November 29, 2011
The New York State Department of Environmental Conservation will hold its final public meeting on hydraulic fracturing tomorrow in Lower Manhattan. It'll be the last chance proponents and detractors of the natural gas extraction process have to go on the record before the state agency puts out its drilling regulations.
While it's uncertain when DEC will actually get around to doing that, one thing is for sure: downstate elected officials have been some of the biggest advocates for postponing or outright banning the process in New York State.
Tomorrow's meeting will be a testament to how well the message of urgency over potential ecological disaster has been retained by New York City residents, a quarter of whom have regularly admitted to not be paying attention to the issue. But not every downstate politician is committed to the anti-fracking cause.
"I'm not convinced one way or another," Bronx Democratic State Senator Ruben Diaz, Sr. said over the phone earlier today. "On one hand we need fuel. We need to be sure that we become independent. That's one issue that I'm considering. On the other hand people are saying the water could become contaminated. So I'm debating."
After elaborating a bit further, the Senator sounded more like a proponent of the drilling process than not, saying his inclination was towards the independent fuel argument. "We've got to find a way to be independent," he said.
Diaz is no stranger to iconoclastic positions inside the liberal Democratic conference. But a key Senate vote on the other side of the aisle made it clear he, too, was looking for a safe way to support the practice.
"Hydrofracking, if it can be proven to be done safely, is something the state should be doing," Republican State Senator Martin Golden said when reached by phone. Golden had previously missed the big vote on extending the moratorium back in August. Since then he's indicated his support for the measure, saying that "it actually doesn't affect the city of New York" because of measures put in place to protect the New York City watershed.
On the Assembly side dissent has been few and far between. Of all the votes cast on June 6th to extend a moratorium on drilling, only members of the New York City delegation voted against the extension: Democrat Dov Hikind and Republican Lou Tobacco. Neither could be reached by publication time to see if they remained committed to giving hydrofracking a chance.
Read More
Monday, October 31, 2011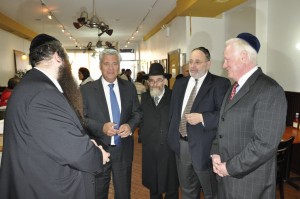 City Hall News had a note about this this morning, and it's something I had wanted to point out last week when it happened. Republican Senate Majority Leader Dean Skelos of Long Island and the only Republican State Senator in Brooklyn, Marty Golden, did a photo-op at an Orthodox Jewish-backed soup kitchen in Brooklyn.
Skelos has been eyeing the communities of the 27th Senate District, currently held by indicted Democratic State Senator Carl Kruger, and more specifically the Orthodox community as a possible pickup to the Republicans' slim majority in the Senate. From City Hall:
The majority leader was there last week to help chop vegetables and serve food at the Jewish Met Council's Masbia soup kitchen in Midwood, but also took some time to consider the possibility of capturing Kruger's district in next year's election. Skelos said Rep. Bob Turner's win in the neighboring Ninth Congressional district bodes well for the Senate Republicans' chances of winning in the 27th district.
Watch for changes in the redistricting map produced by Senate Republicans, as they seek to strengthen their push for another seat in deeply Democratic Brooklyn.
Read More
Monday, April 11, 2011
By Kate Hinds
Seattle looks at how to replace a highway: dig a tunnel - OR put in a surface boulevard with "new public transit options"? (New York Times)
The Texas legislature is considering a bill that would raise speed limits to 85 mph on some highways (Houston Chronicle).
Funding trouble for New York's MTA? Cuts in federal support look likely. Meanwhile, a state senator wants to eliminate the 50-cent surcharge on city taxis. (Crain's NY)
The New York Daily News reports on misdemeanor sex crimes on the subway --  "the No. 1 quality-of-life offense on the subway," says one former official.
As Washington DC gains whites and Latinos, some talk about the city's demographic change -- including one political strategist, who says: "The new white voters....want doggie parks and bike lanes. The result is a lot of tension." (Washington Post)
A professor from the Netherlands has designed a six-wheel electric 'super bus' with top speeds of 155 mph. Video, in Dutch, below. (Jalopnik)
Arizona public transit drivers competed in a 'Rural Transit Roadeo', which consisted of an obstacle course, written test and safety skill demonstration. (KNVX-TV)
The Colorado cities of Loveland and Fort Collins are looking at establishing a regional system. (The Coloradoan)
Top Transportation Nation stories we're following
: the former head of the NTSB
criticizes
both bus companies and the government. NJ Transit got
$38.5 million
to replace a balky bridge. We take a close
look
at New York's parking placard reform efforts. Texas
wants
high-speed rail money for a Dallas-Houston line. And: does DC
need
a second Beltway?
Follow Transportation Nation on Twitter
Read More