Mark Weprin

Wednesday, October 01, 2014
By Kate Hinds
If everything goes according to plan, next month the city's default speed limit will drop from 30 to 25 miles per hour. But culture change takes more than new signs.
Read More

Thursday, November 21, 2013
By Brigid Bergin : Reporter
The race is on to replace outgoing Council Speaker Christine Quinn. It's considered one of the most powerful positions in City Hall - second only to mayor. For years, it's been a race controlled by party bosses and decided through backroom deals. You can almost smell the smoke-filled room. But there's a serious effort underway to change all that. Here's are four things that make this Council Speaker race (which you can't even vote in) worth-watching:

Thursday, October 25, 2012
By Beth Fertig
The D.O.E.'s chief academic officer came under fire at a City Council hearing for not publicizing enough information about the organization of the city's 1,750 schools into networks. One council member said a series of reorganizations had created a "bureaucratic nightmare" for parents.
Read More

Monday, April 16, 2012
By Brigid Bergin : Reporter
Assemblywoman Grace Meng got the unified endorsement of four probable 2013 mayoral candidates - Public Advocate Bill de Blasio, Comptroller John Liu, City Council Speaker Christine Quinn, and former comptroller Bill Thompson - for her Congressional campaign.
Read More
Wednesday, August 17, 2011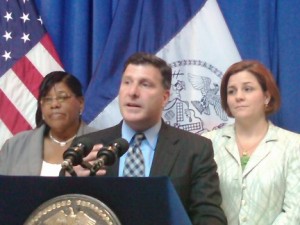 The City Council passed a measure this afternoon that changes the way employers can use exemptions for employees' religious observance, ending a so-called 'turban ban' in the New York City Police Department.
Currently, employers can declare the accommodation of a religious practice or expression to be a hardship, allowing them to deny employment or positions. The new law will raise the bar for what is considered a hardship, giving religious individuals more protections and forcing employers to try harder to find accommodations.
"The point of this bill is to make sure that, in the five boroughs, people who have particular requirements, as it relates to their religious observance…have the legal ability to do that in work," Quinn said in a press conference before the vote. The bill covers religious practices, such as prayer, as well as the need to take time off or wear religiously mandated clothing.
Read More
Wednesday, July 06, 2011
By Alec Hamilton : Assistant Producer, WNYC News
The special election to fill the seat left vacant by the resignation of Anthony Weiner in the 9th District has been set by Governor Andrew Cuomo for September 13. While local party bosses mull their options for candidates, the deadline for their nominations is nearly here.
In accordance with special election rules, it will be the local party bosses who nominate the candidates for the seat. Queens Republican Party Chairman Phil Ragusa says the candidate each party is backing must be chosen by July 11. That is the date by which the party has to submit paperwork to the Board of Elections, declaring that their party has decided to nominate the candidate.

Wednesday, June 29, 2011
New York Democrats are lining up to fill Anthony Weiner's seat in the 9th District special election, which is scheduled to take place later this year. But there's more for party bosses to consider than just who makes the strongest candidate.