Marist Poll

Wednesday, April 17, 2013
A new Marist poll released today shows former Congressman Anthony Weiner (who resigned in the wake of a Twitter sex scandal) trails only to Christine Quinn.
Thursday, January 26, 2012
Governor Andrew Cuomo can't get high enough. At least not with votes.
Which is to say: according to a new NY1/YNN-Marist poll, 58 percent of New Yokers surveyed approve of the job the Governor's doing. This is up from 55 percent in the previous NY1/YNN-Marist.
New Yorker's are also feeling better about the direction the state's headed in. For the first time in nearly a decade, a majority of voters--52 percent--feel the state is moving in the right direction. The last time this was the case? 2002.
"This represents a dramatic shift in public sentiment after a decade of frustration," said Dr. Lee M. Miringoff, Director of The Marist College Institute for Public Opinion, in a statement. "Positive reaction to Governor Cuomo is influencing how voters feel about the future of New York."
Other highlights from the poll:
65 percent of registered voters in New York approve of how Governor Andrew Cuomo is handling the state's budget
Half of those polled now support allowing non-Indian gambling in New York, down from 60 percent in November
The State Senate's approval numbers are up 7 points to 19 percent last November
The Assembly also saw a bump, but smaller: 24 percent approve, up 4 points from before
The survey of 681 New York State adults was conducted on January 18th and 19th, with a margin of plus or minus of 4 percentage points. There were 554 registered voters in the pool, their subset having a margin of plus or minus 4.5 percent.
Read More
Friday, November 04, 2011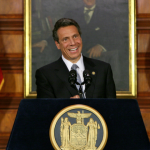 Courtsey of the Governor's office
Governor Andrew Cuomo continues his string of good poll numbers. A NY1/YNN-Marist Poll released today says 55 percent of New York voters say the Governor is doing a good or excellent job. According to the poll 70 percent of those surveyed said they had a favorable impression of Cuomo.
"Governor Cuomo is successfully navigating against a difficult economic current," Lee Miringoff, Director of The Marist College Institute for Public Opinion, said in a statement. "What makes his numbers particularly impressive is his popularity despite the anti-government, anti-incumbent sentiment in our politics today."
Case in point: Only about 20 percent of voters think either the Assembly or the State Senate is doing an excellent or good job.
Part of the Governor's popularity is likely stemming from the impression voters have that he's kept his campaign promises, with 65 percent of those surveyed saying he did. His ability to connect word and deed in the voters eyes helping his image as an Albany reformer (63 percent say he's changing the capital for the better) who is the right sort of leader for the state (75 percent).
Read More
Friday, November 04, 2011
Happy Friday! Here's some uplifting news from the good folks of Marist and NY1/YNN. According to a poll put out yesterday, nearly 80 percent of voters surveyed said they believed the state was (still) suffering from a recession.
The poll also said 86 percent of voters think the state's economy will stay the same (as in, we'll remain in a recession) or will be getting worse (...depression?). And 54 percent believe the worst is yet to come when it comes to the economy. That number was 47 percent when the question was asked of voters back in February 2011, and at 53 percent in May.
Read More
Wednesday, August 17, 2011
In a new NY1/YNN-Marist poll about energy issues, New Yorkers show a wide-range of feelings about energy issues. No majority view on whether or not closing Indian Point was a good idea--49 percent are in favor of keeping it open--even as 51 percent of those polled think a nuclear catastrophe at the site is likely or somewhat likely to happen. Governor Cuomo has said he is in favor of closing the plant.
"After all these years, this remains a highly charged issue," Dr. Lee M. Miringoff, Director of the Marist College Institute for Public Opinion, said in a statement. "Governor Cuomo still has some convincing to do."
New Yorkers are even more fractured when it comes to the issue of hydrofracking, with 37 percent of registered voters opposing hydrofracking, 33 percent supporting it, and nearly a third-- 30 percent--are unsure. According to the poll, 43 percent of Republicans support hydrofracking, which makes Senator Ball's growing opposition very interesting.
Read More
Wednesday, August 10, 2011
A little tidbit from yesterday's Marist poll on biking in New York City that I neglected to pull out.  The poll asked whether group X is "mostly respectful or not respectful when sharing the roads?"
Not surprisingly, the most "not respectful" are taxi drivers, at 78 percent.  Then, really motorists, cyclists and pedestrians are kind of clustered: Motorists are the next, at 53 percent.  Then come cyclists, with a 46 percent not respectful, and pedestrians, at 44 percent.
The most respectful?  Bus drivers.  Only 28 percent are seen as "not respectful," compared to 67 percent "respectful."
Read More
Tuesday, August 09, 2011
Some interesting cross-tabs in today's NY1-Marist poll, which shows a pro-bike lane margin even larger than Quinnipiac's:  by a nearly 40 points, 66 to 28, New Yorkers support bike lanes.
Who do you think likes bikes lanes the most? Turns out the answer is Manhattanites (73%), Latinos (72%), and people who earn less than $50,000 a year (70%).  Younger people (under 45) prefer them to older people 68 to 62 percent.
Some other interesting findings in the poll, which delves a bit deeper than Quinnipiac's into people's attitudes:  40 percent say traffic is worse because of bike lanes, 25 percent say it's better, and 30 percent say it makes no difference.
Forty-four percent say the number of bike lanes is about right, 27 percent say there should be more, and less than a quarter want the number of bike lanes decreased.
The poll of 808 NYC adults was taken July 20 through July 27 and has a margin of error of 3.5 percentage points.
Read More
Wednesday, August 03, 2011
The polls continue with the good news for Governor Cuomo. A new NY1/Marist poll out today indicates New Yorkers are ever so slightly leaning towards the state moving in the right direction. It's the first time in four years that the majority of respondents weren't feeling pessimistic about the future.
According to the poll, 46 percent report New York State is moving along the right path while 45 percent say it is on the wrong course.
"New York State voters are responding to what they see as change in Albany," Dr. Lee Miringoff, Director of The Marist College Institute for Public Opinion, said in a statement. "Governor Cuomo still has a way to go before confidence is restored, but this represents a step in the right direction."
Additionally, 56 percent give the governor high marks on his job performance, and 67 percent view him favorably.
Read More
Tuesday, August 02, 2011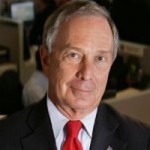 A NY1-Marist Poll released today showed New York City voters have remained unmoved in their negative feelings on Mayor Bloomberg. Only 39 percent of those polled gave the mayor positive marks, which was virtually unchanged from a similar poll taken in March.
Additionally, even as Bloomberg has made reforming schools a top agenda item, the public remains firmly against his policies--54 percent disapprove of how he's handled the educational system. And this is an improvement: prior to the resignation of his short-lived appointee Cathie Black as head of the school system, 65 percent of voters disapproved.
Read More