Liz Krueger
Thursday, June 13, 2013
Slate columnist Fred Kaplan tells us why he thinks Director of National Intelligence James Clapper lied under oath at a congressional hearing and should be fired. Plus: New York State Senator Liz Krueger talks about her push for the senate to act on Cuomo's proposals for women; Meet New Jersey senate candidate Rush Holt; Floyd Abrams looks back on his legal career defending first amendment rights; and Amy Stewart, author of The Drunken Botanist: The Plants That Create the World's Great Drinks, talks about turning plants into cocktails.  
Friday, March 02, 2012
This article has been updated.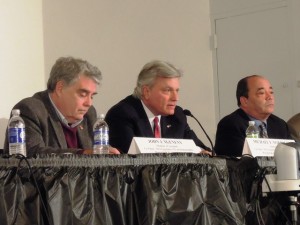 Assembly Speaker Shelly Silver's press office just released a statement on behalf of Assemblyman Jack McEneny, the Albany-based Democrat representing the Assembly's Democratic majority in the state's redistricting process. The statement, according to McEneny, is in response to the criticism being levied against the reported language of a constitutional amendment that appeared this morning in the Albany Times-Union. The amendment would be part of a compromise that would allow the Governor to sign a second, supposedly improved set of district lines for the state senate and assembly.
The statement appears to put daylight between what Assemblyman McEneny described in the TU article, and some of the push back coming from Senate Democrats, in particular Senator Michael Gianaris, who was the co-sponsor of a bill last year to establish an independent redistricting process in 2012:
While we share a common goal of permanently reforming New York's redistricting process, the constitutional amendment currently being discussed by the Assembly is stronger than the Senate Minority's proposal in several key respects. Future redistricting plans will be subjected to tough standards not contained in the plan put forth by the Senate Minority and, as well, the amendment would be accompanied by a statute implementing those changes.
According to the statement, in the event the plan drawn by the future "independent commission" was rejected by the legislature, lawmakers would "be limited to those that affect no more than two percent of the population of the district being altered, making it much harder to modify the commission's proposals."
The statement goes on to say the Assembly proposal would "provide crucial protections for language and for racial minorities," as well as require a justification for district population deviations, and give greater restriction to political activities for the commission members.
The statement comes after a day of push back from lawmakers and good government activists incensed over the details of a possible constitutional amendment on redistricting.
Common Cause held a conference call earlier to discuss the status of both congressional and state redistricting efforts. The group's executive director Susan Lerner addressed the constitutional amendment issue.
"We would just like to say we have consistently been calling for an open discussion about what should be in any constitutional amendment," she said, according to City and State's Laura Nahmias. "We think quite frankly it would be a scandal if massive changes to the redistricting process were introduced under cover of darkness."
Democratic state Senator Liz Krueger issued her own statement on the state of the process saying, "The reports I have heard of a deal on a constitutional amendment make two things clear: the proposed amendment is too weak to work, and New York's voters would have to accept ten more years of hyperpartisan, racially discriminatory maps to get this too-little, too-late reform."
And earlier today, Democratic state Senator Michael Gianaris told the Empire, "The entire point about the constitutional amendment is that we could change [the ability of the legislature to have the final say over the lines]. So to actually enshrine in the constitution that the legislature would have the final say would be regress."
Read More
Wednesday, January 18, 2012
Today on "The Capitol Pressroom":
Reaction to the Governor's budget address from Majority Leader Dean Skelos.
and
Senator Liz Krueger, ranking Democrat on the Senate Finance Committee
Eric County Republican Senator Pat Gallivan has been pushing an incremental freeze to the local share of Medicaid. We'll hear his thoughts on the Governor's plan.
And how will any shifts from localities to the state be paid for? It's a concern to advocates for long-term care. We speak with Joanne Cunningham of the Home Care Association and Bill Ferris of AARP.
Read More
Tuesday, January 17, 2012
Downstate lawmakers, both state legislators and city elected officials, are reacting positively, generally, to Governor Andrew Cuomo's budget speech given today in Albany. The biggest pieces of the Governor proposed—pension, education and Medicaid reform—took center stage.
They all could have significant impacts on the city's finances and public workforce. The Governor's pension reform would affect all future new public employees, including New York City first responders, while his teacher evaluation proposal could affect the ongoing battle between the city and teachers. And with billions being spent by the city on Medicaid each year, any change in the payment process is significant for the city.
"Governor Cuomo put forward a budget that demonstrates a bold commitment to tackle some of the toughest challenges facing our great state. He has my strong support," Mayor Michael Bloomberg said in a statement. Bloomberg has been a strong support of much of what the Governor proposed for education and pensions. The Mayor also said he supported Cuomo's plan to "reduce onerous local Medicaid costs."
Council Speaker Christine Quinn signaled she, too, supports the Governor's plan:" This is the strongest state budget that New York City has seen in a long time. With this new budget, Governor Cuomo is establishing a stronger financial basis for a more vibrant and healthy New York."
Up in Albany, city lawmakers signaled both support and concern for what they heard from Cuomo.
Read More
Tuesday, January 10, 2012
Today on "The Capitol Pressroom":
If you have something to say about hydrofracking, you need to tell the DEC today. Why? Tomorrow is the deadline for public comment on the issue. Advocates on all sides are expected to rally in Albany today. We will speak to members of a pro-drilling land owners coalition, as well as to a contingent of anti-frackers from Tompkins County including Jannette Barthe and Martha Robertson.
One analysis of the State Senate majority's plans for an additional seat suggests that the extra representation would negate the effects of the GOP's loss in the prison gerrymandering lawsuit. Whew. That's a mouthful. With analysis from the Democrat's perspective, we speak with Senators Michael Gianaris, D – Astoria and Liz Krueger, D – Manhattan.
We also hear analysis from the Republican's perspective.
Lara Kassel of Medicaid Matters updates us on the progress of the Medicaid Redesign Committee.
Yesterday SUNY's Chancellor Nancy Zimpher presented her State of SUNY address. Today she joins us with details. We will also ask her to weigh in on the explosive teacher evaluation issue stemming from New York City's failure to come to an agreement on the issue, prompting State Ed Commissioner Dr. John King put the brakes on some funding.
Read More
Monday, November 14, 2011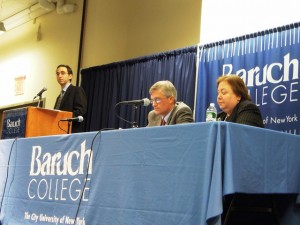 Last week's elections upstate elections were partially driven by the debate over hydrofracking. This week, the issue enters a new phase. As the Innovation Trail's Matt Richmond reports, the state's Department of Environmental Conservation begins its last round of public hearings that will guide its recommendations on the controversial gas extraction process.
Read More
Thursday, August 18, 2011
By Karen DeWitt, WXXI Capitol Bureau Chief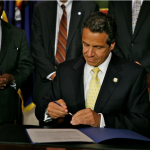 When Governor Andrew Cuomo signed ethics oversight legislation into law yesterday, he said it was a "major step forward" in restoring the people's trust in Albany. He touted the stricter disclosure requirements for lawmakers' outside income, a 14-member ethics panel empowered to probe corruption charges, and the elimination of pensions for future elected officials convicted of felonies.
The deal was indeed a major step but one with big flaws, say anti-corruption champions in Albany. And they want to see the governor tackle "Round Two" of ethics reform ASAP.
"Like in boxing, round two follows up very quickly after round one," said Senator Liz Krueger, a Manhattan Democrat.
Krueger says she's irked that the pension forfeiture only applies to new lawmakers and spares current or former elected officials found guilty of felonies. She also doesn't like the rules for who can sit on the corruption panel.
[At least eight members of the board have to agree to an investigation, and at least two must be of the same political party, a rule that could mean just three commission members could block the wishes of 11 other members of the panel.]
At the time the bill was passed, legislative leaders and Cuomo admitted compromises were made to get something done on ethics reform which had eluded state government for years.
The next step, says Barbara Bartoletti of the League of Women Voters, should be campaign finance reform, including public financing and a ban on politicians using campaign funds for personal expenses.
She says it's "the lynchpin" to returning New York State government to the constituents and out of the clutches of special interest groups. The goal: to upend what Bartoletti calls the "incumbency protection program" in which about 96 percent of state lawmakers get re-elected, over and over again.
Read More

Tuesday, January 04, 2011
By Anna Sale
We're spending about a billion dollars a week on Medicaid, so when you have a 10 billion dollar deficit, anyone who thinks we're going to somehow walk away from this problem without touching Medicaid is divorcing themselves from reality.
—John J. Flanagan, Republican State Senator from Suffolk County