Livery

Tuesday, April 23, 2013
By Kate Hinds
New Yorkers will soon be able to lift their smartphones instead of their arms when they want to hail a yellow cab.
Read More
Wednesday, June 06, 2012
By Kathleen Horan : Reporter, WNYC News
(New York, NY - WNYC) New York isn't planning to appeal a temporary injunction against the city's five borough taxi plan — even though Mayor Michael Bloomberg called the decision "worrisome."
Supreme Court Judge Arthur Engron's ruling Friday against the plan has put the sale of 18,000 outer borough livery permits, as well as the auction of 2,000 yellow medallions on hold. That sale was estimated to bring in about a billion dollars to the city's cash strapped budget.
Bloomberg told reporters on Tuesday that money is key.
"If we were to not get it, it would be very serious," he said. Bloomberg believes the city is on the "right side of the law" and the courts will eventually rule in their favor.
The court's ruling is in response to a lawsuit filed by yellow medallion owners and lenders. It alleges the city's plan to allow livery taxi street hail service outside Manhattan violated the state's constitution because Bloomberg went to Albany for approval instead of the City Council.
Michael Woloz, a spokesman for the Metropolitan Taxicab Board of Trade (one of the plaintiffs in the case) said, "we hope the city realizes that the law is unconstitutional and unsalvageable – and that we can work on a clean slate so the city can get real revenue."
While the city said last week that the court was "mistaken" in its analysis and was exploring its appellate options, Corporation Counsel's Michael Cardozo said on Tuesday that the city isn't appealing the ruling because the judge's decision is only an interim one, expected to be in place for only a few weeks. "We believe that immediate resolution rather than appealing one interim ruling is in everyone's interests," he said.
The court will be receiving submissions from all parties in the case on June 19 in connection with motions for summary judgment.
The livery permit sale was to begin this month; the medallion auction was set for July.
Read More
Wednesday, May 16, 2012
(Ailsa Chang -- New York, WNYC) The city has settled a federal lawsuit charging that the New York City police department has been unlawfully detaining, questioning and searching passengers for weapons in livery cabs as part of a city livery cab inspection program.
The two passengers who filed the lawsuit last May, Terrence Battle and Munir Pujara, are both men of color. They alleged they were pulled out of their cabs and searched for weapons even though the officers did not suspect either them of criminal activity.
Neither of them was charged with any offense after their encounters.
As part of the settlement, Police Commissioner Ray Kelly has committed to retraining officers and instructing them that passengers riding in livery cars participating in the Taxi/Livery Robbery Inspection Program, or TRIP, can only be removed on certain conditions: if the officer fears for his safety, or if he suspects the passenger is armed or has committed a violent crime.
Kelly issued a new operations order commanding all officers to follow these rules. Although the department issued a similar operations order detailing this policy about a decade ago, criminal justice advocates said too few officers heeded the rules.
"The problem was no one knew about that operations order and there had never been any training on it, so police officers around the city mistakenly believed that they could frisk and search passengers without suspicion," said Chris Dunn of the New York Civil Liberties Union, which represented both plaintiffs.
Dunn said they interviewed more than a dozen livery car drivers who claimed they were getting stopped routinely and their passengers were getting pulled out without any reasonable suspicion of criminal activity.
TRIP is meant to protect livery drivers from crimes perpetrated by passengers, especially robberies. Drivers who voluntarily participate in the program consent to being pulled over by a police officer at any point to check on their safety. Participants display a decal in their windows stating, "This vehicle may be stopped and visually inspected by the police at any time to ensure driver's safety."
The plaintiffs didn't challenge the actual vehicle stops in their lawsuit -- only the manner in which they were treated after the officers pulled the livery cabs over.
In addition to promising the retraining of officers, the city paid Battle and Pujara $10,000 each.
City lawyers called the TRIP program "entirely constitutional" and noted that the program itself was not challenged in the lawsuit.
"The police department remains committed to ensuring that the program is run correctly and to ensure the continued safety of livery cab drivers and their passengers," said Mark Zuckerman of the city's Law Department.
Dunn said, as with the the stopping and frisking of pedestrians, TRIP resulted in unwarranted frisks and searches that disproportionate impacted minorities.
"Yellow cabs just aren't available in the outer boroughs, the communities where blacks and Latinos primarily live," said Dunn. "Really the targets -- and the victims -- of this practice wer blacks and Latinos."
Read More
Thursday, April 19, 2012
By Kathleen Horan : Reporter, WNYC News
The New York Taxi and Limousine Commission voted 7-2 to approve a new plan for outer-borough livery drivers — the last major hurdle before the city can start issuing new licenses so livery drivers can pick up street hails outside of Manhattan.
It was a raucous public hearing ahead of the TLC's vote.   Two yellow cab drivers were ejected for shouting.  One owner called it "the biggest taking of property ever by New York City."
The topic of street hails is a hot-button issue for some in the yellow cab industry, which  filed a suit to block the proposed plan on Wednesday.
The plan would allow 18,000 livery drivers who purchase the new street hail permits to pick up street hails in the outer boroughs and parts of upper Manhattan.
The first 6,000 street hail licenses are scheduled to be sold in June.
Read More
Thursday, December 29, 2011
By Kate Hinds
Top stories on TN:
Medellin gets a mega escalator (link)
To deal with slow walkers, whip out your bike bell (link)
2011 Year in Review, Houston (link)
Ray LaHood on new FAA, trucking rules: "Ultimately, we've given pilots and truck drivers the time to rest. Now, they must exercise the personal responsibility to use that time wisely." (USA Today)
The reduction in the federal commuter tax benefit will look like a fare hike to transit users nationwide. (Star-Ledger, San Francisco Examiner)
Baltimore Sun editorial: "If anything, transit ridership ought to be given an advantage over driving — at least the kind that doesn't involve a car pool."
Disability activists hope the transformation of the city's taxi and livery system will also lead to similar change in transportation services already provided to disabled New Yorkers. (Crain's New York)
The school bus is going electric. (Wall Street Journal; subscription req.)
2011 has been very very good to Chrysler. (NPR)
Forget face detection, this Japanese car seat can tell who's sitting in it through butt recognition. (GizMag)
Read More
Friday, December 23, 2011
By admin
(New York, NY -- Kathleen Horan, WNYC) The path for Mayor Michael Bloomberg's outer borough taxi plan was much like long a cab ride: bumpy and expensive.
It's been a mix of big political personalities and deep pockets that will lead to the virtual dismantling of the way New York's  for-hire transportation industry will operate in the future.
Now that the Bloomberg sponsored legislation has Governor Andrew Cuomo's signature, and both sides have called the agreement a win, much of the rest of the industry is trying to assess what the changes will actually mean.
Street Hails for Livery Cabs Causes a Stir
It all began last January, when Bloomberg announced he'd push for legislation that would allow all New Yorkers to hail a cab, whether it was black or yellow. That  raised the ire of much of the taxi industry, who said the Bloomberg administration never consulted with them or gave them a heads up that the mayor intended to change the way the taxi business operates.
Bloomberg's people said they worked hard to reach out to all sides as the legislation was being drafted and agreed upon.
The mayor only needed Albany's approval to sell more yellow medallions. But he hoped to by-pass the yellow medallion industry's pull with the City Council --  and the industry passionately opposed sharing the exclusive right to accept street hails with livery counterparts.
In the six months between the announcement of the plan in January and the passage of the legislation in June, there were feverish negotiations and loud rallies organized by various factions of the yellow and black car stakeholders. Lobbyists were hired to fight the proposal upstate.  In those first months alone, the Metropolitan Taxicab Board of Trade, the group representing 23 yellow taxi fleet garages, enlisted three different lobbying firms, paying out more than $100,000.
Bloomberg said in a written statement  at the time that "The legislation marks an historic turning point for the riding public in New York City and solves a problem that has proven intractable for decades."
What it marked was another serving of intractable for the mayor.
The Bill's Loud, Vocal Opposition
Bloomberg's Senate sponsor, Martin Golden, said he signed onto the plan too soon without understanding the "repercussions." Critics said Golden agreed to sponsor the bill, in part, because Bloomberg is generous to Republicans, in the city and upstate. But the state senator didn't realize how many in the industry opposed the plan.  His phone — as other lawmakers' — rang off the hook. Angry livery base owners and others in their constituency complained that the plan would hurt their business.
As insiders continued to fight the plan or support it, the legislation seemed to be getting the cold shoulder from Governor Cuomo.
Then, in October, Cuomo showed his political hand by commenting on an opinion letter the U.S. Attorney filed on a lawsuit alleging the city violates the Americans with Disabilities Act by not having enough accessible cabs in its fleet (about two percent of more 13,000 taxis).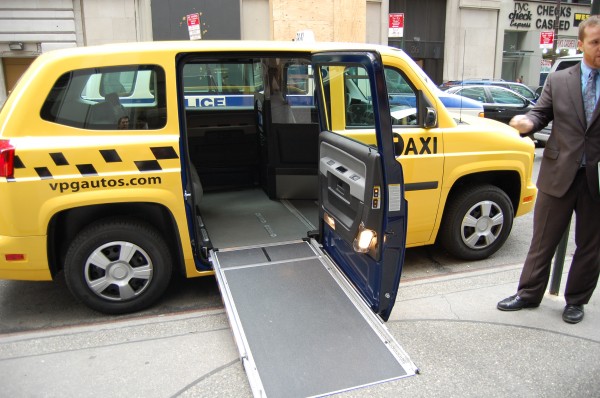 Cuomo said, "I understand and appreciate the concerns raised by the U.S. Attorneys office. Moreover, I understand the human needs of the disabled community when it comes to taxis. We will be addressing the issue as we consider modifications to the pending legislation."
The governor continued to hammer Bloomberg and Taxi and Limousine Commissioner David Yassky about wheelchair accessibility. In his public comments, Cuomo didn't shy away from threatening veto if it wasn't changed.
Cuomo held 2 "taxi summits" calling industry stakeholders to his office. One was held in New York City and the other was held in Albany last month — chaired by the man himself.
At one point, a deal was said to be struck, and details were leaked. The number of outer borough permits would be cut and the number of accessible medallions would increase. But Cuomo denied any 'plan.' Insiders said the governor resented officials in the Bloomberg administration discussing the deal and shut it down as punishment.
Countdown Begins: To Veto or Not Veto
The bill landed on Cuomo's desk without changes and the ten day clock began to tick.
Bhairavi Desai, head of the drivers group the Taxi Workers Alliance said, "Cuomo's meeting was very surreal. We've always known our opposition was wealthy and politically connected. Everyone around that table had like millions of dollars or more in assets."
There were yellow fleet owners, lenders, financial institutions and credit unions, along with their lobbyists. Livery groups and representatives from the disability community were also in attendance.
Desai said the city offered her group some sweeteners, but it was also about opposing the fat cats. "They say it's about the medallion value—but it's about the monopoly—their sense of control."
The last couple days before the deadline, political insiders and industry stakeholders forecasted a veto by Cuomo. He himself said on numerous occasions that outcome was possible. When Bloomberg was asked by reporters each day if a deal would be passed he dismissed questions with a yes. But each successive day his mantra seemed less likely.
On the ninth day, the governor's office sent out a release at 5:20 PM saying a taxi deal was struck.
At the press conference Cuomo and accessibility activists were there, along with TLC Commissioner Yassky. But Mayor Bloomberg was not. He made his comments via loudspeaker, not unlike the Wizard of Oz.
When asked at Bloomberg's celebratory press conference, surrounded by livery and taxi drivers on Wednesday, why he didn't attend the event announcing an agreement he had fought for the whole year, Bloomberg said, "My job is here, I've got to work here. I was honored to speak, I don't need my picture on TV all the time. I had the person there in the administration [David Yassky] that did the work. I was pleased and as I remember I had to cut my presentation short to light the world's tallest menorah!"
Bloomberg also denied there was any bad blood between him and the governor. He said the negotiations actually resulted in a better bill. "What I wanted was 500 more yellow cabs for more city revenue and the Governor was focused on more accessibility."
Waiting for the Final Language
Both camps have quieted down now that an agreement has been reached, but likely not for long.
Several issues still remain, such as will the city actually get over $1 billion from the sale of 2,000 yellow medallions and what the long-term Disabled Accessibility Plan will look like.
Marty McLaughlin who works with the lobbying firm Connelly, McLaughlin and Wolowz, forecasts much less revenue for the city than it projects.
"When you dilute a market — any market — the product itself is diluted," he said. "No way they'll get a billion dollars for these medallions, they've been diluted."
The Livery Roundtable's Guy Palumbo said industry opponents are taking the holidays to rest after actively fighting the plan for a year. "It's taken a big physical toll, people are relieved either way. There's a feeling of let's cool our heels till January 1st then decide what to do."
He said they're also waiting to see what the actual language of the law will be and if the chapter amendment passes both houses of the legislature in January. "All the advisors have been telling everyone it could be good or it could be terrible. What's in the law? No attorney will go to court without the law. We understand what's agreed upon but without the actual language it's never-never land."
Read More
Friday, December 09, 2011
By admin
(New York, NY -- Kathleen Horan, WNYC) New York City Mayor Michael Bloomberg said Friday he remains optimistic New York Governor Andrew Cuomo will sign a bill that would put $1 billion in the city's coffers and allow street hails of some livery cabs in residential areas.
Bloomberg said on his weekly WOR Radio appearance Friday that he'd spoken to Cuomo the day before. He didn't disclose the details.
Cuomo said Wednesday that talks had failed to resolve significant issues with the bill. He said that without agreement, he'd veto it and wait for it to be brought up again next year.
The plan to allow a new class of livery car to accept street hails in upper Manhattan and the outer boroughs was at the center of Bloomberg's legislative agenda this year.
The bill passed the state legislature last summer and is finally expected to be sent to Cuomo on Friday to sign. He said Wednesday he will veto it because a myriad of issues  remained unresolved, including ensuring more wheelchair accessibility into the plan.
"I've said from day one, if we don't have a resolution of these issues I'm going to veto the bill because you don't have an agreement. We have been trying we've had numerous meeting over the past few weeks but we failed to reach resolution."
The bill has faced passionate opposition from yellow taxi fleet owners, some in the livery industry and advocates for the disabled.
When Bloomberg was asked by reporters on Thursday if the bill was going to die, he appeared to be holding out hope for his plan, which he has said will increase taxi options beyond Manhattan.
"Many times the governor has assured me this would pass with some minor changes," he said. "We've worked on it with the governor's staff, the state senate staff, the state assembly staff for months now."
Cuomo has 10 days to decide whether to sign the bill or veto.
He has said that if he vetos the legislation it could be reintroduced early next year.
Read More