Liu

Wednesday, September 04, 2013
The leading Democrats running for mayor took turns going after front-runner Bill de Blasio in Tuesday night's final debate before the primary election. A Quinnipiac poll released Tuesday shows the Public Advocate with a substantial lead.
Wednesday, October 17, 2012
By Kate Hinds
New York will be accelerating more than $1 billion worth of work on infrastructure projects already in the city's capital plan.
Mayor Michael Bloomberg cautioned that these are not big ticket items. "The bulk of them are completely unglamorous," he said, adding that most of them can be completed within a 20-month time frame. The city is accelerating the work to take advantage of low interest rates.
A description of the authorized projects includes road and bridge repairs, waterfront infrastructure development, and improvements to city buildings and libraries. The mayor said an additional 300 miles of city roadways will be resurfaced, and it will also speed up the removal of PCBs from lighting fixtures in schools.
These are projects that are "ready to go, need to happen, and will be finished in the fixed timetable," the mayor said. He estimated that the work would create 8,000 jobs, mostly in the construction industry.
Read more about the project here, or watch a video of the announcement.
Bonus: hear the mayor announce the initiative in Spanish.
Read More
Thursday, July 14, 2011
Pensions, Sunny-side Down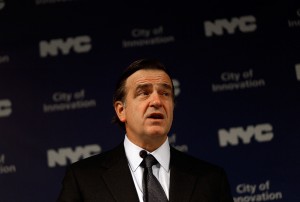 Getty Images/Chris Hondros
Mayor Bloomberg's economic capo, Deputy Mayor Robert Steel, presented the administration's case for pension reform this morning at a breakfast put on by the Citizen's Budget Commission. Considering CBC and the mayor's stance on city pensions, the gist of the forty-minute talk wasn't a surprise.
The city's pensions were unsustainable. Their costs had risen seven fold and now represent nearly 13 percent of the city's budget. Only education spending costs the city more. And the big problem, said Steel, isn't that the fund hasn't performing well enough—it's that we've promised more than we can cover.
"Pensions are to the City of New York what entitlement reform is to the federal government," Steel said. "These are difficult, hard issues that require political risks to be taken to make the hard choices that we need."
Read More