Lewis Fidler

Thursday, October 25, 2012
By Beth Fertig
The D.O.E.'s chief academic officer came under fire at a City Council hearing for not publicizing enough information about the organization of the city's 1,750 schools into networks. One council member said a series of reorganizations had created a "bureaucratic nightmare" for parents.
Read More
Tuesday, March 20, 2012
SPECIAL ELECTION RESULTS FOR THE STATE SENATE

SPECIAL ELECTION RESULTS FOR THE ASSEMBLY

Read More
Tuesday, March 06, 2012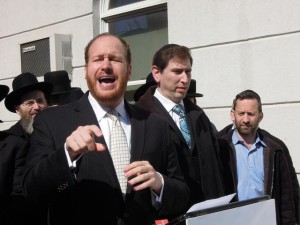 Colby Hamilton / WNYC
Speaking with a few dozen members of the southern Brooklyn Jewish community behind him, Councilman David Greenfield denounced the creation of a so-called "super Jewish" state senate district during this year's redistricting process, calling it instead a "super ghetto."
"We're not going to allow for a backroom, smoke-filled deal to dilute the strength of our community," Greenfield said during a press conference in the Borough Park neighborhood of Brooklyn.
A number of speakers from various community groups and religious organizations spoke, including Chaim Deutch of Flatbush Shomrim, Rabbi Chaim Goldberger of Satmar, Mendel Zilberberg of Community Board 12, and Rabbi Yechezkel Pikus of the Council of Jewish Organizations of Flatbush.
"We are opposed to this so-called 'super-jewish' district. This district may be super for other people, but it's not super for the Jews," Greenfield said.
The proposed district in question is part of the first draft of state senate lines drawn up by LATFOR, the task force made up of state legislatures who are responsible for drawing the new lines. If created, the 17th district would stretch from Borough Park down through the Midwood section of Brooklyn (see below).
Greenfield compared the creation of a senate district carved out for the predominately Orthodox Jewish community in the area to the creation of the Venetian ghetto 500 years ago.
"They told the Jews, 'It'll be good for you; why do you want to live with everybody? We're going to separate you. We're going to put you in a neighborhood.' And they came up with a brand new name for this neighborhood. They called it a 'ghetto'," Greenfield said. "This, folks, is nothing more and nothing less than a ghetto district."
The Councilman refused to say who, specifically, it was that wanted to create this "ghetto district" but the push for the high-density district has come from the Senate Republicans, who both drew the maps and see it as a potentially winnable seat this year. Greenfield said he testified before LATFOR, calling for more concentrated districts in the area that is now divided among as many as six senate districts.
"They gave us one--one senator. A senator that can be easily marganilized. A senator who can be dismissed. A senator people don't have to pay attention to," the Councilman said.
The battle over the future district lines has been playing out behind a special election for the nearby senate district recently vacated by disgraced former senator Carl Kruger. Another local council member, Lewis Fidler, is running against Brooklyn Republican Party vice-chairman David Storobin.
The candidate was unable to attend at least two recent debate appearances due to illness. But the illness was announced ten days ago and Fidler has been scarcely seen publicly, with just two weeks left to go in the campaign.
Requests were put in to Councilman Fidler's campaign for an update on his status. They have yet to be returned.
Read More
Wednesday, February 29, 2012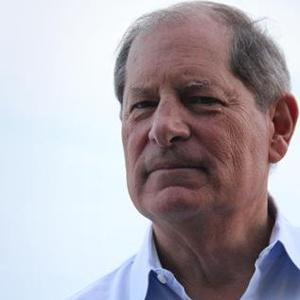 According to a Senate source, the GOP congressional maps that will be released today will show why they want to preserve the NY-09 seat of Bob Turner. According to the source, under their plan the seat would move further into Brooklyn, consolidating the Orthodox Jewish community inside Turner's district.
Earlier reports on the proposed maps say that while both Assembly Democrats and Senate Republicans have agreed to carving up upstate seat of Democratic Representative Maurice Hinchey, who will retire at the end of this term, there is particular disagreement over the Turner seat.
According to reports, Assembly Democrats want to cut up the mostly-Queens 9th district, which Republican won in a special election last September—something that had been anticipated even before Turner's win.
But with the redrawing of Turner's seat to include a larger portion of the Orthodox Jewish community in southern Brooklyn, Republicans are pushing for a seat they're drawing to win.
This is the latest in a series of Republican moves to consolidate the Orthodox community they see as a potentially natural constituency. On the state legislative side, a new senate district is being proposed that would itself consolidate the Orthodox community in southern Brooklyn. A special election being held next month to fill the seat vacated by disgraced former senator Carl Kruger is setting the stage for a battle in the proposed seat that Senate Republicans they believe they can win, even if Democrat Lewis Fidler beats Republican David Storobin on March 20.
A call to the Assembly speaker's office hasn't been returned to confirm the difference between the lines in question.
Read More
Monday, February 27, 2012
A group of 49 rabbis urged followers not to vote for Councilman Lew Fidler in the special election to replace disgraced former senator Carl Kruger. In a letter titled "A Message for the Community", the rabbis detail Fidler's support for same-sex marriage, declaring:
It is therefore considered to be a great Chilul Hashem [desecration of God's law] to vote for or provide funding, campaign assistance, public recognition or any type of campaign support to Mr. Fidler. To do so would amount to being mesiy'ayah ovrei aveirah (abetting transgression of the Torah's commandments).
Fidler's campaign has released a list of 266 endorsers of his campaign, but the Politicker blog found that"at least a handful of these backers, mostly rabbis, are no longer on board with Mr. Fidler as he campaigns in the heavily Jewish, southern Brooklyn district."
The letter from the rabbis did not go so far as to endorse a vote for Fidler's opponent, Republican David Storobin.
The letter is after the jump. [h/t to the Orthodox Pundit.]
Read More
Tuesday, February 21, 2012
[Note: There were a number of errors in an earlier version of this article, including the misspelling of Congressman Bob Turner's name. They've been corrected and I apologize.]
In a month, voters in the 27th State Senate District in southern Brooklyn will go to the polls for a special election to replace former senator Carl Kruger.
This race has generated a considerable amount of interest in what would normally be a sleepy off-season political event. But Senate Republicans are making a strong run for the seat, buoyed by the strong showing in the Brooklyn side of Congressman Bob Turner's district, which he won in a special election last fall. That Brooklyn slice just happens to represent about half of Senate District 27.
They've settled on David Storobin, a trial attorney and vice-president of the Republican Party in Brooklyn, emigrated from Russia two decades ago. He's reflective in many ways of the young, Russian Jewish population Republicans are hoping to mobilize on Election Day.
On the Democratic side, the man who had long been seen as Kruger's likely successor, City Councilman Lew Fidler, was chosen to keep the seat in the "D" column. Early on the Fidler campaign stirred up controversy by suggesting Storobin had ties to neo-Nazi and white supremacist groups. He later backed off that line of attack,saying he never called his opponent a neo-Nazi, while Storobin's campaign has used it as a rallying cry. At least some in the Orthodox Jewish community appear to be listening.
Behind the rushed campaigning of this special election has been the impending redistricting process. No matter who wins the special election next month, they'll be running again later this year in a district that will likely look very different than the one they win in.
Read More
Friday, January 13, 2012
Another announcement that surprises no one: City Councilman Lew Fidler will announce his campaign for State Senate on Monday. He'll be running in a special election to fill the seat vacated by former Senator Carl Kruger.
The election is on March 20.
Read More
Thursday, December 22, 2011
Councilman Lewis Fidler
In the fallout over disgraced former state Senator Carl Kruger's resignation, rumors have been swirling in the press over who will be running to fill the seat. On the Democratic side, it is almost sure to be City Councilman Lew Fidler. In conversations with Democratic officials, it was clear that Fidler has the backing of the Brooklyn Democratic Party (there are no primaries in special elections, so the party organization picks its candidate). Adding to this assurance is that labor groups, which back the Working Families Party, are content enough with Fidler that they won't run someone to his left.
The Councilman has been not-so-subtlety suggesting he'd be gunning for the seat for some time. This is partly because he will be term limited out of his position in the city council in 2013 (he got a new lease on life when the Mayor Bloomberg-backed term limit override allowed him to run for a third term). Fidler has been showered with city council discretionary funds over the years, and has been close to Speaker Christine Quinn. That wasn't enough, though, to help him secure the most coveted of council chairmanships—finance--back in 2009. The spot went to the Bloomberg-backed Domenic M. Recchia, Jr.
On the Republican side, it's been reported that David Storobin, a Brooklyn GOP official, is angling for the seat. The Observer reports that he's meeting with key Republican officials today. There are a number of factors that could make this a competitive race—the district is relatively conservative, it voted for Republican Congressman Bob Turner by a 2-1 margin back in September, if the special election is held on the Republican presidential primary date—but Fidler, with his name recognition and fundraising ability, would be a difficult candidate to beat.
Read More