Lew Fidler

Thursday, May 31, 2012
It appears that the race to replace disgraced former state senator Car Kruger in the 27th District is over ― and the winner of the special election is Republican David Storobin.
Read More
Wednesday, May 30, 2012
By Kate Hinds
Let's go back in time to December 2010. The city's tabloid editorial pages are just beginning to sink their teeth into the transportation commissioner, Janette Sadik-Khan, for -- among other things -- her avid support of bike lanes and pedestrian plazas. In Brooklyn, well-connected residents are preparing to sue to remove a bike lane.
On December 9, New York's City Council holds a standing-room-only, overflow-room-inducing, five hour-plus hearing on bikes and bike lanes in New York City. Bronx councilman James Vacca, who chairs the council's Transportation Committee, kicks things off first by warning the crowd to be polite, then sets the stage by pointing out "few issues today prompt more heated discussion than bike policy in New York City."
In the hours that followed, he was proven correct: Sadik-Khan was grilled, interrupted, and accused of ignoring the will of the public, prevaricating, and acting by fiat.
And she was put on the defensive, repeatedly exclaiming "That's what we do!" when yet another council member excoriated her for not soliciting sufficient community input.
At one point, Lewis Fidler, a council member from Brooklyn, told Sadik-Khan her answer was "kind of half true. I don't say that to be snooty. I say it because I think maybe you're not aware."
And then he reeled himself him. "This is not like you've got to be for the cars or you've got to be for the bikes or you've got to be for the buses. It's really not...the cowmen and the farmers can be friends."
The mood at this week's Transportation Committee hearing, held in the same hearing room as the 2010 hearing -- and with many of the same players in attendance -- was markedly different.
Now more New Yorkers are biking. More than two-thirds give the city's bike share program, which is launching in July, a thumbs-up. Traffic fatalities are at record lows.
"I want to first off say thank you to the agency," Fidler started, before launching into an encomium. "Quite frankly I don't always get the answer I like from DOT, but we get a lot of answers from DOT. And they're very responsive, your agency, your Brooklyn office continues to be a very responsive one."
He then waxed on about major construction work going on on the Belt Parkway -- a roadway almost entirely in his council district. "I will say for a project of that size to have gone on, without my getting repeated complaints from constituents -- that says something all by itself, and the work that's been completed looks really good."
Back in 2010, Fidler's questioning of Sadik-Khan was one of that hearing's most contentious exchanges, with the two of them repeatedly interrupting each other. Fidler at that time told Sadik-Khan that her answers were "half true;" he later accused the DOT of failing to solicit community input on bike lanes -- a charge Sadik-Khan repeatedly denied.
On Tuesday, Fidler asked Sadik-Khan to look into repairing a bike lane in his district (a lane under the Parks Department jurisdiction since it's on their land. Sadik-Khan said she'd make sure her office reached out to the Parks Commissioner, Adrian Benepe.)
So maybe the cowmen and the farmers might be friends after all.
(You can listen to the audio from the 12/2010 hearing -- and read the transcript -- here. A video of the 5/29/12 hearing can be found here; the transcript isn't available yet.)
To be fair, Tuesday's hearing was not one in which members of the public could comment (public hearings on the budget will be held next week), and biking wasn't the only topic on the agenda.
But still:
Peter Koo is the Queens councilman who represents Flushing (a neighborhood so heavily trafficked by pedestrians that the DOT said Tuesday that it's slated for a sidewalk expansion project.) At the 2010 hearing, Koo complained that bikes lanes had been implemented at the expense of motorists and pedestrians, and that they were empty. "I hardly see any people using the bike lanes," he said at the time. (Transcript here; Koo's remarks begin on page 39.)
At Tuesday's hearing, Koo had a different complaint. "I find a lot of bicycles chained to the fence, to the trees, light poles, meter poles, everywhere." He wants the NYPD to cut the chains of bikes that are illegally parked. But before that happens, he said, "we have to find a place for them to park."
Letitia James   -- long a bike lane supporter, put the cherry on the Charlotte Russe. "Commissioner, I want to thank you for all the docking stations in my district. I want to thank you for the bike share program. I want to thank you for using my picture, my image, on your website, on the bike -- it's absolutely fabulous. Thank you for the plazas in my district...thank you for all the street renovations...thank you for the bike lanes, thank you for recognizing that we all have to share the space and no one is entitled to a city street."
A few minutes after James spoke, the May 29th hearing ended.
"I do think since that hearing in 2010, many actions my committee has taken, and the legislation that we have passed, has brought New York City DOT to a realization that they could do a better job when it comes to community consultation," Council transportation chair Jimmy Vacca said in a phone interview.  "I think there's been more outreach, there's been more involvement, so I think that the strongly held views that existed in 2010 have somewhat been mitigated by DOT realizing that it's better to work with local neighborhoods where possible and to try to seek areas of consensus."
And is he happy with bike lanes? Yes -- even though he said the ones in his Bronx district weren't heavily used. "I do think in time, though, people will be bicycling more in neighborhoods where they are not bicycling now. And I think the groundwork that we've laid legislatively will make that reality more positive, have a more positive impact on neighborhoods throughout the city."
Vacca said the Bronx bike lanes have been successful in reducing speeding.  "They've had an impact in slowing down vehicular traffic, and that's always a positive thing," he said, adding that that's a persistent issue for his constituents. "In my neighborhood there's not a block party I go to, there's not a civic association I go to, where people are not demanding speed bumps, where they're not demanding police enforcement for ticketing of people who speed in their cars."
Next up for the City Council: reigning in rogue delivery people -- a project they're collaborating with the DOT on. "We cannot have commercial bicyclists driving the wrong way on one-way streets, we cannot have them ignoring red lights, we cannot have them on sidewalks," Vacca said, adding that he's working on legislation to address this. "I think within the next several weeks we should have a consensus bill that will reflect my views as well as the views of the Department of Transportation. We're working together to come up with type of bill, and I think we're making good progress."
Read More
Thursday, March 22, 2012
Yesterday, in the midst of all the SD-27 election discussion, I emailed the Orthodox Pundit to get his sense of what had happened. The discussion led to a post on his website today that argues Storobin's near-win--a victory in many ways, even if he ends up the loser after paper ballots are counted next week--is the continuation of a voting pattern that's seen the Orthodox Jewish community resist the conventional wisdom of the front-runner.
"[M]ore than anything, the last few elections showed that there is a strong anti-establishment mood in the Orthodox community. There is an insurgent segment that hates the inevitability mantle created by politicians around their candidates," OP writes.
The pattern, according to OP, started back in the 2009 city council contest between Brad Lander and John Heyer:
Dov Hikind – and if I recall correctly Agudah leaders -- supported Lander, but a group of activists, notably Shia Ostereicher from Belz, supported Heyer, pointing to his traditional marriage stances. Lander is today our councilman and Heyer ended third in the district overall. Still in [another] staggering defeat for Hikind and Agudah, Heyer won Borough Park 74-13 against Lander.

Ostereicher and company were seen as the new kingmakers in town, and some started to count Hikind's days, believing [he was] losing out to the Hasidim who long ago overran the Hikind types in the Borough Park.

Shortly afterwards a special election for Simcha Felder's seat came up. Hikind decided to align with the new Hasidic powers, and they 

settled

 on Joe Lazar as their candidate. Ostereicher worked hard for him, even 

pushing

 out others from the race[.] Hikind, 

Lander and Heyer

, Agudah leaders and a '

who is who'

 list of the community also banded together to back Joe Lazar, creating an environment of inevitability. Result: David Greenfield, the insurgent, went on to a landslide in the district, and even the Hasidic BP split their vote almost evenly.

...

In the current election, Councilman David Greenfield was trying his magic, cloaking Fidler with the inevitability mantle, while Storobin didn't have too many Orthodox Jewish political leaders publicly supporting him. Fidler also had the support of the highly celebrated [Russian kingmater], 

Gregory Davidzon

,

whose star rose dramatically thanks to the Turner upset

.

I, for one, sensed an atmosphere a lot like the lead-up to the Greenfield-Lazar race, but thought that Greenfield had the advantage of the Bloomberg machine and that he led a more sophisticated targeted campaign than Storobin's. For these reasons, I still felt that Fidler will win the seat and the establishment will win for a change.
OP's time line and thesis were mentioned in more than one conversation I had yesterday. If OP and others sense of things is correct, this should be good news for Democrats. At the very least, it will allow voters--not the county organization--to decide on a candidate. OP sketches out what could be the election strategy for both parties heading into this year's elections.
"My sense is that there is an active Orthodox electorate that hates to be told what to do and that the outcome is pre-determined," OP writes. "They rather like beaten down candidates who fight for their votes – it doesn't matter if it's with substance or with dirty attacks, as long they don't come with high-profile names directing to them how to vote. I'd advise the next candidate to take a more humble approach."
Read More
Wednesday, March 21, 2012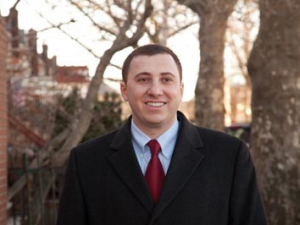 The later it got on Tuesday night, the more it became apparent that the special election in Brooklyn's Senate District 27 wasn't going to be decided in one night. In fact, the neck-and-neck race that has Republican David Storobin with a 120 vote over Councilman Lew Fidler, the Democrat, probably won't be finalized until next week, when the Board of Elections counts the more than 700 absentee and affidavit ballots.
The seat might not yet be won, but the race had a clear winner. David Storobin and his Republican allies will have knocked off—or come very close to knocking off—the Democratic Party pick who was seen as the front runner and likely winner throughout the campaign.
"Tonight, we'll go to bed as winners when nobody outside believed that we had a shot to even compete, when every story about this campaign began with Lew Fidler, the heavy favorite," Storobin said after the election.
Republicans in southern Brooklyn are now two for two. Congressman Bob Turner' upset win over Democratic Assemblyman David Weprin last September happened because southern Brooklyn turned out for the Republican. Now, conservative Orthodox Jews and the immigrant Russian community (itself heavily Jewish) have upset yet another candidate handpicked by the county Democratic organization (i.e. The Machine) in a special election.
What's happening in Brooklyn in the last two years is as much a story of a few, at-times overlooked, and increasingly assertive communities fighting to be heard, as it is a partisan realignment. The muscle flexing is a story as old as New York City politics. But two special elections don't mark a permanent political trend, Democrats and observers say. A special election, a divisive social issue like same-sex marriage and a 15 percent turnout may add up to a Republican victory in District 27, but is it the exception or the rule?
Read More
Friday, March 16, 2012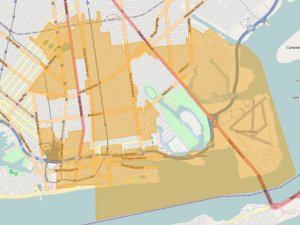 Next Tuesday voters in southern Brooklyn will go to the polls to pick who will replace disgraced former state senator Carl Krueger in the 27th District. The race between Democratic City Councilman Lew Fidler and Brooklyn county GOP vice-chair David Storobin has been short and anything but sweet.
The tone of the campaign might lead a casual observer to see this as a big deal. But the race is only a formality. Whoever wins on Tuesday will see the district they represent disappear at the end of this year. With Governor Andrew Cuomo and legislators coming to an agreement on new state senate lines, next Tuesday's election is really just the start of an entirely new campaign.
The actual issues in the race have spoken to the divide in the district's large Orthodox Jewish community. Same-sex marriage has been a major issue, as has school vouchers in a community with a high religious parochial school presence.
But whether on the issues or off, the race has been an ugly one. Both candidates are Jewish, but that hasn't stopped accusations of ties to neo-Nazi groups, hints of insufficient Jewishness via a kosher reference, and a general ugliness that's made what was always going to be a quick race seem slowed up by the amount of mud getting tossed around.
While the candidates have been busy bashing each other's brains in (in a political sense, of course), Senate Republicans were slicing and dicing Brooklyn's political terrain. When the redistricting proposal was done the Senate had carved out a promised "super Jewish" district, while cutting the current 27th between four new districts.
Whether Stororbin or Fidler wins, each will have to make a decision—or they may have already—as to which district they want to run in. City and State pointed out recently that Fidler is debating between running in the new "super Jewish" 17th District, or challenging long-time Republican Senator Marty Golden. Golden's new district is one of the four that cannibalizes the current 27th.
Meanwhile, Storobin, who wouldn't be a resident of the proposed 17th district, has saidhe's interested in running for it. Either way, the winner of next week's election will look for the victory to catapult them into the next election this November—something that has in many ways already begun.
Read More
Thursday, February 23, 2012
The Orthodox Pundit blog has a great rebuttal to my posts on the new Orthodox Jewish majority district that's included in the proposed redistrictingmaps. My argument, made over a couple of posts, is that voting trends and registration suggest the new district isn't a sure thing for Senate Republicans and, more importantly, the dividing up of conservative voters into two senate districts in Brooklyn may end up backfiring.
In the response, the OP blogger points out the string of Republican-over-Democrat results--from McCain to Paladino--in Assemblyman Dov Hikind's district. Hikind, while a Democrat, has often sided with Republicans over social issues, and his district would be the heart of the proposed 17th Senate seat.
"They clearly lean republican," the OP blogger says. "Their registration as democrats and electing democrats is solely for political expediency. Democratic primaries are where most local races are decided, and they want to be a part of the process, and a republican city member is virtually worthless, so they will elect democrats.
"In national and statewide elections, they vote their conscience, and republicans generally do well. In local elections, where the candidates and their positions are less known, they will elect officials based on community leaders' wishes, the candidates' chances, and their support for the community, without any regards to party lines. This calculus until now favored democrats, because Orthodox haven't had a chance to sway elections in places where republicans matter."
These points are well taken. OP's arguments are certainly the ones Senate Republicans had in mind when they went and drew the seat they did. The district's political leanings have far more to do with individual candidates and the issues inside the community than party registration.
The problem, though, is that senate districts are significantly bigger than assembly districts. The larger the seat, the more diverse the voting pool. In a place like Brooklyn, that means bringing in people that are actually Democratic voters.
That doesn't make anything OP is saying wrong. But the lens here is wider than just the Orthodox community, even as they will surely be the anchor to whatever district gets drawn. In trying to carve out two seats for Republicans in southern Brooklyn, Senate Republicans may be stretching themselves precariously thin.
But a lot of what happens at the end of this year will be determined by what happens in the election next month, as OP points out:
As of the current round, Lew Fidler is the clear front runner for Kruger's seat. He's a known in the community, and Storobin have yet to get a single community leader in the non-Russian Orthodox community behind him.

But Fidler haven't nailed it down yet. The establishment is not firmly behind him. The two Borough Park Orthodox elected officials – even the councilman strongly behind his candidacy - have yet to endorse, and the leading Askunim are still wavering between the clear front runner and majority leader Skelos' pick.

In essence, it's clear that the seat is Lew Fidler's to lose, but it is still a possibility. Should Storobin get the community leadership behind him.
Read More
Wednesday, February 22, 2012
The largest private-sector union in New York is throwing its support behind New York City Councilman Lew Fidler in his race to replace disgraced former Brooklyn state senator Carl Kruger in the 27th Senate District in southern Brooklyn.
"Councilman Fidler has a record of championing the rights of working people throughout the city," said 32BJ's president Mike Fishman in a statement. "We are committed to supporting candidates who will make New York a state that works for working people."
The union says it will work to mobilize the more than 1,500 members it has in 27th Senate District in southern Brooklyn.
"I am proud to have the support of the hardworking men and women of 32BJ," Fidler in a statement. "I've spent my time as a public servant dedicated to advocating for working and middle class families. This endorsement is a true indicator that I've succeeded for these communities. But our work here is not done and I look forward to continuing this work in Albany and delivering for Working and Middle-Class families in this district and throughout the state."
While Fidler is accepting the backing of labor, he's not appearing on the labor-backed Working Families Party line. He didn't appear on the line for his 2009 council run either.
Calls to the campaign of Fidler's opponent, David Storobin, for a comment were not immediately returned.
Read More
Thursday, January 19, 2012
A reader sent over photos of Councilman Lew Fidler, who's running to replace Carl Kruger, campaigning among the ladies in the ultra-Orthodox community in his district last night. The event was a fundraiser for an organization called MEKIMI, which, according to the reader, is a "cheer up squad for the sick."
Fidler spoke to the women at about 11 pm before heading out to talk with the men outside.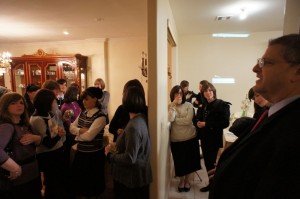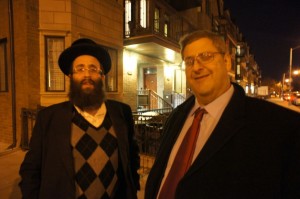 Read More

Monday, January 16, 2012
By Annmarie Fertoli : Associate Producer at WNYC
Brooklyn Councilman Lew Fidler announced his candidacy for the state Senate on Monday, seeking to win the 27th district seat vacated by embattled former state Senator Carl Kruger, who resigned and plead guilty to corruption charges last month.