Latfor
Monday, August 22, 2011
The senator put out this statement just a bit ago:
Senator Martin Malave Dilan has submitted an amicus brief ("friend of court") to the State Supreme Court in Albany supporting the constitutionality of the 2010 law requiring prisoners to be counted at their prior "homes of record" for state legislative redistricting.  At stake are state legislative districts reflecting proper "one person, one vote" populations.

The amicus brief is submitted in connection with Little v. LATFOR, a challenge to Part XX of Chapter 57 of the laws of 2010.  The amicus brief  supports the law and urges the court to deny the plaintiffs' summary judgment motion.  LATFOR (Legislative Advisory Task Force on Demographic Research and Reapportionment) is the state legislative task force that develops new legislative redistricting plans and is charged with implementation of the new prisoner counting law.

Included within the brief are copies of written communication between Senator Dilan and the Department of Corrections and Community Services (DOCCS) while he was Co-Chair of LATFOR in 2009-2010 and began implementation of the law.  Also included are communications between Senator Dilan and current LATFOR Co-Chairs Senator Michael Nozzolio and Assemblyman John McEneny regarding the need to continue the technical work of reassigning prisoners to their prior residences.

Senator Dilan remains a vocal proponent of LATFOR following current state law and has made repeated demands for LATFOR to continue the work he began.  Senator Dilan's amicus brief filing makes it clear to the court his interest as a LATFOR member to see the law upheld.

A copy of Senator Dilan's court submission is attached.
Read More
Monday, August 08, 2011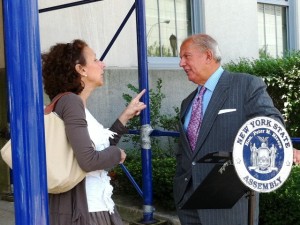 A lot of attention has been paid to the roll other minority groups play in the state's decennial redistricting process, most notably where predominantly African American prisoners--incarcerated in upstate prisons--will be counted as part of the population.
Today Assemblyman Peter Rivera held a press conference to announce a study he's adding to the mix of considerations: how to increase Hispanic elected representation in the upcoming redistricting process.
"The time for our communities to be represented on all levels of government has come," Assemblyman Rivera said in a statement. "Now we have to remove the last systematic barriers that exist that prevent proper representation of minorities in government."
According to the study, New York's Hispanic community has grown over the past decade by 600,000 to 3.4 million people who now make up nearly 18 percent of the state's total population. In Westchester--the focus of Rivera's report--they make up nearly 22 percent of the population.
The growth of the Hispanic population outside of major urban areas pointed to a need for reform, the reported said, taking Westchester County as an example.
"Westchester is now 21.81 percent Hispanic," it noted. "Yet the growth in population has not corresponded with a growth of political power. Westchester only has one Hispanic County Legislator."
The report recommended that local municipalities should draw district lines around communities where there is a higher population of Hispanics. The report comes two days before the state's redistricting panel is set to hold a hearing in Westchester.
Read More
Friday, August 05, 2011
[A great explainer on prisoner populations and why they're counted how they appeared on It's a Free Country in May. Read it here.]
By Karen DeWitt, WXXI Capitol Bureau Chief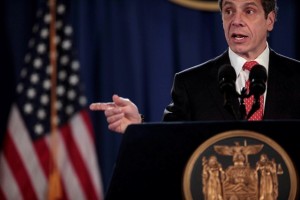 The 2012 elections for the state legislature will be influenced, more than anything else, by the mandatory redistricting process, required every ten years after a new census.
In the past, Democrats, who have long dominated the Assembly, and the Republicans who have controlled the Senate in all but two years in more than a half century, have allowed the majority party in each house to have free reign in drawing the district lines, largely to the advantage of the incumbent politicians.
In recent decades, that arrangement has especially benefited Senate Republicans, who are losing party voters to Democrats in the increasingly blue state.
A law passed in 2010, during one of the rare times that Democrats held the State Senate, also has the potential to further erode the GOP's remaining base. The new law says prison inmates can no longer be counted as residing in the prisons, located mostly in remote rural upstate legislative districts, but must be counted in the districts where they lived before they were put in jail. For decades, Republicans had counted the prisoners as living upstate to help boost population for their Senate districts.
Alice Green, with the Center for Law and Justice, who testified at a legislative hearing, says that's fundamentally unfair. She says nearly half of the state's 57,000 prisoners are from New York City.
90% of African American inmates, or around 24,000, are serving time in prisons upstate. She says white rural communities have benefited from counting the inmates as residing in the prison towns because it artificially boosts their populations, at the expense of mostly poor urban communities, where populations then appear to decline.
"This is tantamount to airlifting the population of zip code 10039 out of Harlem and dropping it somewhere in the middle of the Adirondacks," Green said.
Read More
Friday, July 29, 2011
After getting a letter earlier this weekfrom a coalition strongly urging the state's redistricting committee to comply with the law, one of its members, Brooklyn senator Martin Malavé Dilan is saying the senate GOP is dragging its feet on counting prisoners where they're from, not where they're incarcerated. Dilan, who is on the LATFOR committee, says the committee has all the information it needs, but hasn't responded to requests for update on compliance.
"There is absolutely no reason, excuse or legal reason for the majority's defiance of state law," Dilan said in a statement. "LATFOR has the resources, time and legal obligation to comply with the law." The letter was sent to Senator Michael Nozzolio of Seneca Fall, co-chair of LATFOR.
Last night, appearing on YNN's "Capital Tonight," the Brennan Center's Democracy Program Director Wendy Weiser said she believed "there is certainly no legal justification that LATFOR could put forward for not complying with the law" and hinted that a lawsuit might be in order should LATFOR not comply.
That would, of course, be the second suit brought against LATFOR. The senate Republicans are currently suing to keep the prisoner counting law from being enacted, saying the law was passed illegally and will disenfranchise voters that house and count prisoners, counting them in their population.
The senate Republicans have good reason to not want prisoners counted where they're from, as many prisoners are in upstate Republican districts. The population drain would benefit mostly downstate, Democratic districts. This would only exacerbate any "nonpartisan" redistricting process that would likely add Democratic seats to the senate.
Nozzolio's office is expected to provide a statement later.
UPDATE: Statement from Senator Nozzolio's office.
"It is very surprising to learn of Senator Dilan's partisan statements regarding the redistricting process. These comments appear reckless, disingenuous and completely without merit.
I firmly believe that all the members of LATFOR are strongly committed to complying with every State and Federal law and establishing a transparent and fair redistricting process. There have been no substantive issues or votes requiring Commission approval at this point. For Senator Dilan to suggest otherwise is totally inaccurate.
Senator Dilan's baseless attack is nothing more than a political smokescreen and is the ultimate misuse of the redistricting process for political purposes."
Read More

Monday, July 18, 2011
By Stephen Reader / Alec Hamilton : Assistant Producer, WNYC News
Newly released Census data makes it possible for New York's prisoners to be counted at their home address rather than their jail cell. But internal divisions in the state redistricting committee and a lingering lawsuit leave the reapportionment process in doubt.