Kirsten Gillibrand
Friday, October 08, 2010
By Azi Paybarah
Democrats have commanding leads in two US Senate races in New York, but the race for attorney general is closer, according to a Quinnipiac poll of likely voters.
Kirsten Gillibrand leads former GOP congressman Joe DioGuardi, 55-34 percent. That's up from the 48-42 percent race that Quinnipiac had in their poll two weeks ago.
Chuck Schumer leads Republican Jay Townsend 63-32 percent, with 65 percent of respondents saying they don't know enough about Townsend to have an opinion.
In the attorney general's race, Democratic State Senator Eric Schneiderman leads Republican District Attorney Dan Donovan 43-32 percent. Another 24 percent of voters remain undecided.
Donovan leads Schneiderman among independent voters, 36-30 percent. Schneiderman narrowly leads Donovan among upstate voters, 37-35 percent, (which is within the poll's 2.9 percent margin of error), and nearly splits the suburban vote, 40-39 percent.
Schneiderman's biggest leads is among New York City voters, where he leads Donovan 54-24.
In the state comptroller's race, incumbent Tom DiNapoli (who was appointed to the position and has not run statewide before) leads his Republican rival, Wall Street financier Harry Wilson 49-31 percent.
Read More
Wednesday, October 06, 2010
By Azi Paybarah
Senator Gillibrand's latest campaign ad hits her Republican rival, noting not too subtly that he had a spotty record as a congressman in Washington.
At one point, a list of Joe DioGuardi's unflattering record ("big-spending congressman, tax violations, lobbyist") is listed alongside an image of DioGuardi. Then, his image fades away and is replaced with a dimly lit shot of the Capitol building - because really, who wants to be associated with Washington these days.
Read More
Friday, October 01, 2010
Kirsten Gillibrand (D) vs. Joseph DioGuardi (R)
Democratic incumbent Senator Kirsten Gillibrand, who was appointed by, is running to keep the seat she was appointed to by Governor David Paterson when Hillary Clinton became Secretary of State. Republican Joseph DioGuardi, a former Congressman from the late 1980s, is her opponent.
...
Wednesday, September 15, 2010
By Azi Paybarah
Democratic Senator Kirsten Gillibrand's first ad tries to defend herself against being associated too closely with Washington, or the Democratic establishment.
In a straight-to-camera shot, Gillibrand's first words are "I haven't been in Washington long…" Later, she makes a point of saying she "took on my own party."
Notably, she doesn't say which party of hers she took on.
Read More
Monday, September 13, 2010
By Azi Paybarah
From an email Senator Schumer sent to Maloney supporters this morning:
"Carolyn is a smart, forward-thinking and effective legislator."
The praise is particularly noteworthy for those obsessed with the New York political chatter, which often isn't kind to Maloney, as evidenced by this line in a recent profile of the congresswoman when she was contemplating a Senate bid against Kirsten Gillibrand: "Mr. Schumer, in particular, is known to have a low opinion of her abilities and her intellect."
Read More
Thursday, August 26, 2010
By Azi Paybarah
WSJ also picks up [$] on a key point in a recent GOP debate: all three Republican senate candidates looking to face Senator Kirsten Gillibrand in November agree on at least one thing: Ed Cox has not been a good state chairman of their party.
DioGuardi, Blakeman and Malpass each expressed their opinion during the "Lightening Round" portion of Tuesday night's televised debate.
A GOP insider takes umbrage with the candidate's answers, saying, they all sought Cox's support. There's also some airing of the intra-party factionalism that, as a spectator, I find refreshing.
Anyway, the view from a GOP insider:
All three Republican Senate candidates for the Gillibrand seat have actively sought Chairman Cox's support and endorsement. Since Bruce Blakeman is the party's official designee, Chairman Cox is supporting Blakeman. As a Mondello acolyte, however, it's no surprise that Mr. Blakeman was unwilling to defend Ed Cox or offer up kind words about the Chairman in public. As far as Malpass and DioGuardi are concerned, it's no surprise they're both upset at Chairman Cox's backing of Blakeman, though the mature reaction would have entailed the two of them acknowledging the position Chairman Cox is in, give that Blakeman is the party's designee.
Read More
Wednesday, August 25, 2010
By Azi Paybarah
Kirsten Gillibrand's three Republican opponents agree: Ed Cox has not been a good chairman for their party.
The answer came in the first televised debate between the little-known, under-funded Republican candidates, Joe DioGuardi, a former congressman from Westchester, Bruce Blakeman, a former local legislator in Nassau County, and David Malpass, who served in the administrations of Presidents Ronald Reagan and George H.W. Bush.
Arguably, none of them would be on stage to even answer the question about Cox's leadership if, as chairman, Cox had been able to lure a serious Republican challenger into the race.
As it stands now, DioGuardi, Blakeman and Malpass all trail Gillibrand in public opinion polls and fundraising, and have so far failed to demonstrate they'll have a bona fide field operation come November.
Each tried tying Gillibrand to President Barack Obama and the Washington establishment. DioGuardi, a certified public accountant, said Gillibrand is throwing around money we don't have to solve the state's job creation problem.
"New York loses more jobs every month than any other state in the union but one. And what is Senator Kristen Gillibrand's response to that? To spend money we don't have," said DioGuardi.
Malpass echoed the sentiment, saying Gillibrand "has been completely uncontrollable in her spending and in her ideas."
Blakeman's most pointed criticism of Gillibrand came when discussing gun control. As an upstate congresswoman representing Albany, Gillibrand had earned high marks from the National Rifle Association. But since being appointed senator, she's come out in favor of tougher gun control laws (enough to earn the endorsement of Long Island congresswoman and gun control advocate Carolyn McCarthy).
Blakeman said Gillibrand's gun control focus is misplaced.
"Gang members aren't licensed gun holders, they have illegal arms, illegal weapons. Stop punishing the people who play by the rules," said Blakeman, who acknowledged to owning two guns (a Smith & Wesson and a shotgun).
Blakeman, who flirted with running for New York City mayor briefly last year, appeared the most telegenic and articulate of the three candidates. DioGuardi, by comparison was more measured in his remarks, and substance. And Malpass offered the least amount of fireworks or notable YouTube moments.
When the three candidates were allowed to ask a question of any of their challengers, both DioGuardi and Malpass chose to focus on Blakeman (arguably making him the perceived front-runner).
DioGuardi accused Blakeman of raising taxes 9 percent while a Nassau County legislator, as the county saw it's bonds go to "near junk bond status."
Blakeman seized the moment and turned his notable blemish into a teachable moment.
"As an elected official, I've made mistakes in my life, but you have to know the full context," Blakeman explained. "We hadn't had a tax increase years and I was faced with a choice" of "whether or not to raise taxes on the average home owner $130 or whether I had to lay off police officers, correction officers,  probation officers, and not update our sewage treatment plant. I chose to go with safety first."
"Whether it was a mistake or not, I can't tell you. But I made that choice. I'm a leader, and so, leaders make choices."
Malpass asked Blakeman if he'd seek to reform the state pension system.
Blakeman said he'd work to end the practice of "loading up" on overtime in an employees final three years in order to pad their pension payout.
Blakeman fired shots at his rivals, accusing DioGuardi of being a paid lobbyist and saying Malpass took bailout money at Bear Stearns while writing opinion columns urging officials to deny relief aid to flood victims in rural parts of the state.
DioGuardi said he was not paid, but rather, worked as a "volunteer" lobbyist for humanitarian efforts in Europe. DioGuardi called it a "mitzvah" and said he helped create the state of Kosovo.
When questioned by Blakeman, DioGuardi admitted to going on "one or two" fact-finding trips when he was a member of Congress, but said, "I wasn't one to abuse that."
Malpass said Blakeman was taking his flood victim article "completely out of context" but later said he was unaware of the specific article, and challenged Blakeman to produce a copy of it.
The most memorable part of the night came shortly after this skirmish among the candidates, when a debate host asked each candidate to say something nice about their opponents, including Gillibrand.
Blakeman's compliment about the woman he's trying to unseat: "I think Kirsten Gillibrand is an attractive woman. I think she's bright, and I think she's probably a good mom herself."
When asked about the "attractive woman," Blakeman said, "She's an attractive, bright woman who I believe is a good mom."
Read More
Friday, August 20, 2010
By Azi Paybarah
Now that the Working Families Party says the U.S. Attorney's office has decided not to press charges against it, the focus will return to the party's other pressing matter: whether Democratic gubernatorial nominee Andrew Cuomo will accept the party's nomination?
When the endorsement was offered to him, Cuomo said no, citing the ongoing investigation by the U.S. Attorney's office.
The party, in response, nominated a placeholder candidate they could swap out later.
But a number of prominent Democrats weren't deterred. Already appearing on the WFP line are people like Sens. Chuck Schumer and Kirsten Gillibrand and a bunch of Democratic congress members and state legislators.
I sent an inquiry to Cuomo's campaign seeking a response to the WFP news. I'll update when I get a response.
Read More

Monday, July 26, 2010
By Beth Fertig
United States Senators from New York and New Jersey are pressing for British and Scottish officials to testify before the Foreign Relations Committee, following more questions about the release of the Lockerbie bomber Abdel Baset al-Megrahi.
Friday, January 23, 2009
by Elaine Rivera
Today, Governor David Paterson selected Kirsten Gillibrand, a little known Congresswoman who represents parts of the Hudson Valley and upstate New York, to fill the U.S. Senate seat vacated by Hillary Clinton. His choice has drawn mixed reviews from around the state with liberal democrats expressing alarm at Gillibrand's conservative stances on some issues, like gun control. Among liberal Democrats there's an actual howl as one of the newspaper headlines put it.
Gillibrand changed her mind - it seems like overnight - on the issue of gay marriage which she says she now supports. And at today's news conference she extended an olive branch to Long Island Congresswoman Carolyn McCarthy - whose husband was killed in the Long Island Railroad massacre and is one of the staunchest gun-control advocates in Congress. Gillibrand says she's looking forward to working with McCarthy on making sure illegal guns don't get in the hands of criminals. But a spokesman for McCarthy says they're not buying it. McCarthy says she's very disturbed by the selection and is considering a run against Gillibrand in 2010. The NRA has given a 100 percent approval rating to Gillibrand for her voting record on guns.
Friday, January 23, 2009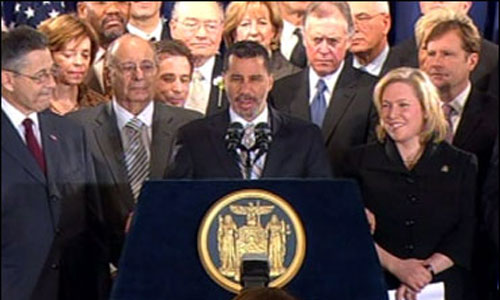 Gov. David Paterson has picked Democratic U.S. Rep. Kirsten Gillibrand to fill New York's vacant U.S. Senate seat. At the press conference announcing the governor's pick, take a look at who's right next to ...