Kevin Parker
Friday, February 10, 2012
Democratic Assemblyman Karin Camara and State Senator Kevin Parker announced today their introduction of legislation that would establish an New York City Police Department independent inspector general position. The office would be housed within the New York City Department of Investigations. As it stands, the police department's only oversight comes from internal affairs, which report to the police commissioner.
The announcement, which came out of Parker's office, used strong language in talking about the need for independent oversight of the police department:
In recent years we have witnessed serious abuses by the NYPD, whether for racially and religious discriminatory policies such as stop and frisk, the wholesale surveillance of the Muslim community in New York City and other jurisdictions, and the mistreatment of the Occupy Wall St. protesters. In some of these situations the public was given misinformation and even deliberately misled.
"No one is above the law, not even law enforcement," Parker said in a statement. This legislation seeks to restore the public trust and honor the heroism and service of thousands of officers. By creating an independent inspector general, the NYPD will have an independent watchdog to ensure the integrity of the Department like other state and federal law enforcement entities."
"While the overwhelming majority of NYC police officers are exemplary in their conduct and beyond dedicated in serving and protecting the public, several recent incidences of alleged abuse and possible egregious misconduct call for greater scrutiny and accountability of the police department," said Assemblyman Camara in a statement.
New York City Councilman Jumaane Williams, who has been a vocal critic of the department's actions after a run in with police officers near his district in Brooklyn over the summer, praised the bill, saying in a statement, "No agency should be allowed to police itself, including the police. Independent oversight is essential to making sure we enjoy the best possible NYPD, on that serves all of our communities equally and respectfully."
Another Brooklyn elected official, Republican Senator Martin Golden, was less enthusiastic about the intent of the legislation.
"I don't believe that the New York City Police Department needs an inspector general," Golden, a former police officer, said when reached by phone. He said he hadn't seen the legislation yet, but felt that the department's internal affairs bureau has done "an excellent job going into its ranks" to deal with police misconduct.
Read More
Tuesday, December 07, 2010
By Azi Paybarah
A disturbing trend continues:
Parker did not take the stand in his own defense and will be sentenced on January 27.

It continues a troublesome trend in Albany. Since the start of 2009, eight state Senators have come under scrutiny for wrongdoing.

Here's the tally:

Kevin Parker: Was found guilty today of beating up a New York Post photographer. Parker declined to take the stand in his own defense.

Vincent Leibell: Plead guilty to obstructing justice and not reporting as income money he took from two attorneys. Leibell's attempt to cover up the payments were secretly recorded by prosecutors.

Pedro Epsada: Allegedly steered tax-payer money from a local health care facility into his pocket. Espada maintains he's innocent.

Hiram Monserrate: Was found guilty of misdemeanor assault related to the night he says he accidentally broke a water glass against his girlfriend's face. Monserrate has said prosecutors unfairly went after him and ignored his side of the story.

Carl Kruger: Was investigated by federal authorities for allegedly seeking contributions in exchange for favors. The probe reportedly extended to one of Kruger's aides.

John Sampson: Allegedly passed along sensitive information to one of the Aqueduct bidders. Also, bidders sought to curry favor with Sampson once he took over the Senate leadership from Smith.

Malcolm Smith: Stood to benefit from deals with Aqueduct bidders before he was deposed by Sampson, according to the Inspector General's report [.pdf].

Eric Adams: Named in the IG's report, and, to clear his name, has convened a conference call with district leaders and will send a letter to his constituents explaining what he did during the Aqueduct bidding process. He says he did nothing wrong.
Read More
Tuesday, December 07, 2010
By Azi Paybarah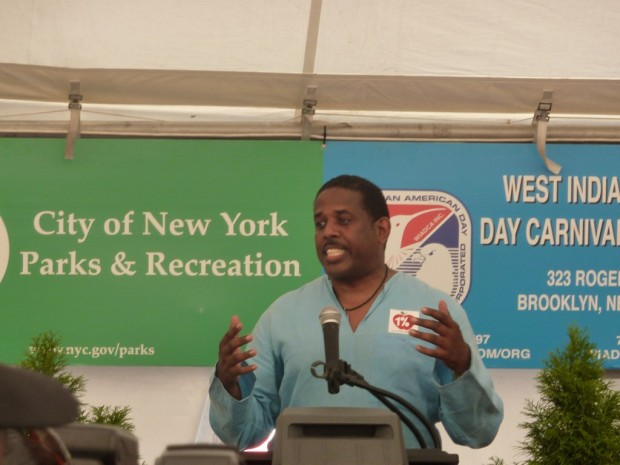 From the District Attorney:
Richmond County District Attorney Daniel M. Donovan, Jr. today announced that Brooklyn State Senator Kevin Parker has been convicted at trial by a jury in Kings County Supreme Court of 2 counts of Criminal Mischief in the 4th Degree, Class A misdemeanors, punishable by up to one year in jail. The conviction refers to damage the defendant caused to a camera and automobile during an incident outside his home in May 2009. The prosecution was handled by the Richmond County District Attorney as a Special Prosecutor.

District Attorney Donovan stated, "My office assumed the prosecution of this matter after our colleagues in Brooklyn obtained a felony indictment against Kevin Parker. With the available evidence and witnesses we presented the strongest possible case to the jury. We respect the decision of the jury and thank them for their service to the justice system. I believe that this prosecution demonstrated that no one is above the law. Regardless of your status in society, even if you are a State Senator like Kevin Parker, we are all equal before the law."

Kevin Parker was indicted by a Kings County Grand Jury following a May 8, 2009 incident in which he was alleged to have assaulted a photographer for the New York Post as well as damaged an automobile and camera belonging to the victim outside the defendant's home. The jury acquitted the defendant of the felony charges of Assault in the 2nd Degree, Attempted Grand Larceny in the 3rd Degree, Criminal Mischief in the 3rd Degree, and a misdemeanor charge of Assault in the 3rd Degree. The defendant faces a maximum of up to 7 years in prison if he was convicted of the top charge, Assault in the 2nd Degree, a Class D felony.

The defendant will be sentenced on January 11, 2011 by Kings County State Supreme Court Justice Neil Firetog, who presided at trial. The case against Kevin Parker was prosecuted by Assistant District Attorney Kathleen DiGiovanni, Head of the Career Criminals Unit, under the supervision of Assistant District Attorney Paul A. Capofari, Chief of the Supreme Court Bureau.
Read More