Kevin Cahill
Thursday, September 08, 2011
This story has been updated.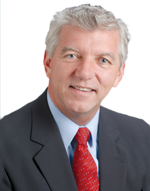 Courtesy of the Assemblyman's website.
By Karen DeWitt, WXXI Capitol Bureau Chief
The news has been dominated this week by two upstate stories that strangely have dovetailed, at least in one regard.
The additional flooding from the remnants of Hurricane Lee has only made the decision to limit the time for public comment on a hydrofracking report more problematic for critics.
Assembly Energy Committee Chair Kevin Cahill says he's disappointed with the Department of Environmental Conservation's decision to make the public comment period on a draft final report on hydrofracking 90 days long, an increase from 60 days but still not long enough largely because of the flooding.
Cahill says many of the key regions in the Marcellus Shale were flooded first by tropical storm Irene and now the remnants of Hurricane Lee, with several of them declared federal disaster areas. He says people there will be too busy cleaning up ruined homes and businesses to focus on attending hearings or submitting opinions on the future of natural gas drilling in New York.
Read More