Keith Olbermann

Thursday, July 19, 2012
By Steffen Schmidt : IAFC Blogger
It has, in the past, burned itself out when a majority of Americans realized that down that road lay a great threat to the stability of the American system.
Read More
Monday, January 24, 2011
I think Olbermann peaked in a way during the Bush administration because he was able to play offense, and he really touched a nerve with liberal viewers who felt the media had rolled over for President Bush on the Iraq invasion. Particularly in this Obama year, as he got angrier, people at MSNBC feel like his his anger kind of consumed him. I think he became more predictable, more strident, more partisan, and even some liberals got tired of him.

—Howard Kurtz, Washington Bureau chief at The Daily Beast, on The Brian Lehrer Show

Saturday, January 22, 2011
By Justin Krebs : IAFC Blogger
We can't know yet whether it was the Comcast deal, fear of Olbermann's antiestablishment approach, frustration with his temperament, or his own aggravation at being second-guessed by management that led to his departure. That story will shake out in the days and weeks ahead. What is clear, though, is that he has had his impact.
Read More
Friday, November 05, 2010
By Azi Paybarah
Brooke Gladstone underscores an interesting detail about Keith Olbermann: his donations to three Democratic candidates apparently violates a policy of NBC, the less-partisan parent company of MSNBC, which is decidedly more partisan and outspoken.
Word that a partisan news host played an actively role in politics is, according to journalist-turned-consultant Bob Liff, more about the industry's failings than a transgression of a reporter.
Liff, a former reporter with Newsday and the Daily News, said the flap about Olbermann "is not about the objectivity of the media but about pretending that the media is objective."
"If journalistic means you have to hide your opinion, is that honest to a reader or a viewer?," Liff asked. "Knowing Olbermann's bias is better than not knowing it. And pretending that media folks do not have opinions is dishonest.
"Olbermann and his ilk, including the [Sean] Hannity's of the world, are not reporters but commentators and opinion-spewers at their core. They are supposed to be opinionated. That's why people watch them," Liff said.
Read More
Friday, November 05, 2010
By Azi Paybarah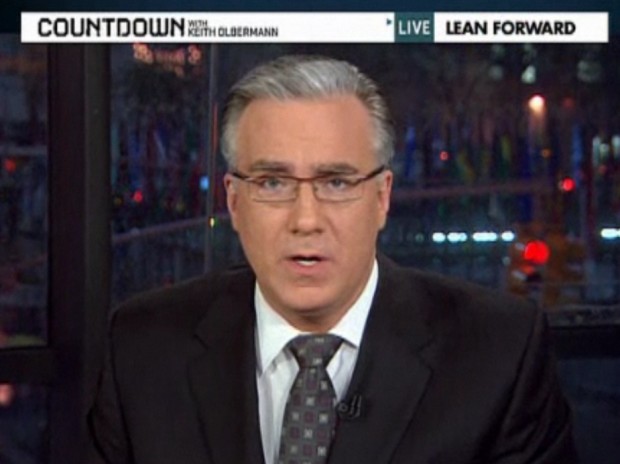 Reaction to Olbermann is mostly falling along traditional partisan lines:
Some are merely shrugging off the fact that a news anchor actively engaged in politics.

"Who did people think he was going to give money to…the Tea Party," asked Democratic consultant Hank Sheinkopf.

Others are using the opportunity to continue their criticism that certain media outlets are underperforming because of their emphasis on opinion journalism.

"He's a hack and considerably more biased than anyone on Fox," said Alex Carey, a spokesman for the New York State Republican Party. "Typical of MSNBC and indicative of why that network's ratings are so low."
Mark Green, the former president of the liberal Air America Radio, said he was "surprised at the suspension." But Green, an outspoken progressive and figure in New York Democratic politics, added, "Obviously MSNBC hosts are Dems and Fox hosts are R's -- so no one should be scandalized if they personally donate [but there] should be two dividing lines when it comes to private donations."
Green - who has clashed with right-wing news outlets before - added this unprompted shot at Fox's parent company:
"WHILE it was awful when Newscorp gave a few million to GOP party arms, probably not smart to include Fox in this analysis since they're so openly an arm of the RNC and their hosts so obviously lie for a living," said Green.
Read More