Joyce Purnick
Tuesday, February 14, 2012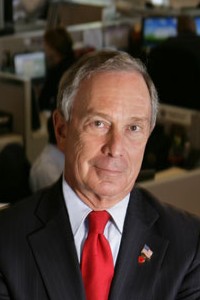 Courtesy of the mayors office
Joyce Purnick--WNYC political analyst, New York Times columnist and the author ofa Michael Bloomberg biography--has a piece up on the station's site today looking at the legacy of Mayor Mike Bloomberg as he turns 70:
Because of his wealth, Bloomberg was always more independent than politicians who have to worry about campaign contributions and support from special interests, ranging from real estate developers to unions. He was never one to pull many punches. But, especially when he was considering a run for the presidency during his second term, the mayor was sometimes cautious and did make some accommodations. He was not notably tough on municipal unions, did not champion same-sex marriage for many years though most assumed he favored the concept, knowing his politics.

Now, he is going for broke. His third term ends December 31, 2013, and he is not about to run for president this year, much less four years from now. There is nothing to hold him back, and Bloomberg not only wants to "make a difference" as he says so often, but, clearly, to influence his place in history.
Read More

Thursday, December 29, 2011
By Joyce Purnick : WNYC Political Analyst
All in all, 2011 was a decent year for New York. Compared with the widespread political dysfunction in Washington, New York seems to have regained some of its old moxie.
Monday, November 07, 2011
On today's Brian Lehrer Show Joyce Purnick recalled Mayor Michael Bloomberg's 2001 campaign issues with sexual harassment charges. As Purnick notes, Bloomberg's handling of the issue is something GOP presidential candidate Herman Cain--in the midst of his own scandal--should take note of. The conversation starts at 22:15.
Read More
Friday, February 04, 2011
By Azi Paybarah
Michael Bloomberg says he neither supports, or opposes, Wal-Mart's efforts to open their first store in New York City, but simply doesn't like the idea of a legislative body tinkering with the free market in an effort to block one store in particular.
During an interview with Joyce Purnick for her book, the mayor was more outspoken about the City Council's successful efforts at blocking the giant retailer.
"Everybody leaves to go to Nassau County or Westchester. Shirley Franklin, the mayor of Atlanta, she laughed at me in the face. They just got the biggest Wal-Mart in Atlanta -- she was thrilled. Only we can turn victory into shit.''
Read More
Friday, December 10, 2010
By Azi Paybarah
Michael Bloomberg is building his national profile on New York's success, which, isn't a good equation, says Joyce Purnick:
New York City simply has a different profile from the rest of the nation. Because it is still a city of renters and most co-op boards demand money up front, few of the risky financial instruments that hurt homebuyers elsewhere were in play in New York. And because manufacturing took a huge hit in this economic meltdown, New York was lucky to have lost its manufacturing base years ago. The city simply had few manufacturing jobs left to lose.

Those distinctions separate New York from the rest of the country, just as its progressive, unabashedly liberal politics distinguishes it from Washington's.
Read More
Monday, November 29, 2010
By Azi Paybarah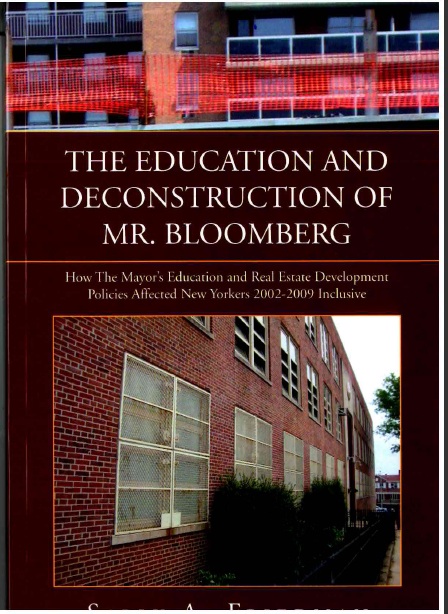 There's really never been much appetite in the publishing industry for lengthy exposes of the life and times of New York City's hard-driving, bachelor, billionaire Mayor, save for Purnick's bio (and his own).
But a colleague passes on this new book which promises a lengthy, and critical, examination of Mayor Bloomberg's education and real estate policies since he entered City Hall.
The author says the book is filling a void in Bloomberg coverage. From the intro:
"The media outlets exist to make money, too. Therefore, they are not going to want to cast aspersions on him. He owns media outlets that supply news to other media outlets, so there are not many anti-Bloomberg news sources. I notice that once in a while the prominent newspapers take a jab at him on trivial matters, just to pay lip service to objective news coverage. But it is rare to see a lengthy expose on him."
It's a self-published book by Sally A. Friedman, who identifies herself as a graduate from Barnard College and holds an MBA from Baruch. "My being a New Yorker makes this book ring true," she writes.
Read More
Friday, November 12, 2010
By Azi Paybarah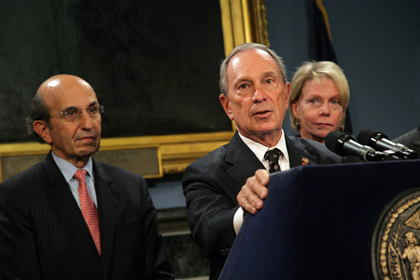 Joyce Purnick sees
Bloomberg's selection of a new schools chancellor as classic Bloomberg:
Black's husband, Thomas E. Harvey, is a significant contributor to Republican causes, including Senator John McCain's 2008 presidential race and the Republican National Committee. The couple has, like Ms. Taylor and the mayor, spent leisurely days at the Allen & Company's annual gathering in Sun Valley, Idaho, the summer retreat for the super-rich that few regular folk know much about because the media are banned.

"He didn't go outside when he chose Cathie Black, he went inside,'' said a Bloomberg friend and supporter, unhappy with the new schools chief. "It's him and Diana, Cathie and Tom."
Read More
Tuesday, September 22, 2009
Michael Bloomberg claims that the upcoming election is a referendum on his record. So, what does the record tell us? Joyce Purnick has just published the sweeping biography Mike Bloomberg: Money, Power, Politics, which tells ...