Jonathan Tasini
Saturday, September 04, 2010
By Azi Paybarah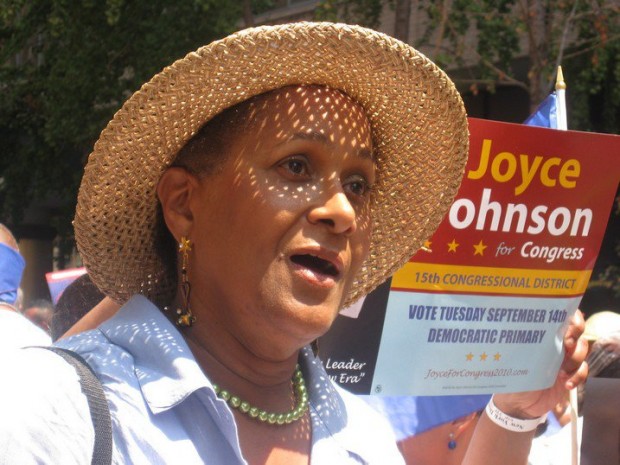 One more note about the New York Times endorsements made today.
Their endorsementof Joyce Johnson in the race to oust Rep. Charlie Rangel was, to me, a bit surprising, considering her penchant for avoiding pesky things like policy details. She told me in an interview she didn't want to have "an intellectual debate on anything," and in a recent debate refrained from taking a position on the latest maneuvers in the Iraq and Afghanistan Wars, saying she'll wait until she hears from military officials once in office.
The Times disqualifies Adam Clayton Powell IV based on his legislative record in Albany, which they say lacks anything mentionable.
Labor activist Jonathan Tasini, is dismissed as "a perennial liberal candidate," speaking a good deal more to his electability than his policy positions. Former congressional aide-turned community banker Vince Morgan is acknowledged as a candidate by the paper, but is left alone at that. He has had decent fund-raising and a respectably-run campaign so far. He's also positioning himself as something of an extension of Rangel's tenure, rather than a departure from it.
So, it's hard to imagine the paper putting their support behind someone who is, even tangentially, related to the incumbent whose ousting they've helped make possible.
Hence, Johnson.
Read More
Friday, September 03, 2010
By Azi Paybarah
If there's any affection between Rep. Charlie Rangel and any of the candidates looking to oust him, I'd say it's Vince Morgan.
In his closing statement at a recent debate, Morgan - who once worked for Rangel - says "I know you've done a good job in certain respects but we need someone who is going to carry on at this point in your career, this hard work that you've done."
At the end of the clip - posted on YouTube by Morgan's campaign - you can hear Rangel say, "You sound like my designee."
You can basically line up the field of candidates in this race based on their relationship to the incumbent:
Assemblyman Adam Clayton Powell IV: his dad was ousted by Rangel, and he's running as a repudiation of Rangel's positions that Powell says are not in sync with the White House (mostly on the war). Powell often invokes Obama's name in an attempt to show the wedge that sometimes exists between Rangel and the president.
Jonathan Tasini: the labor activist agrees with Rangel's nuanced position on the war (Range wants to reinstate the draft as a protest maneuver), but Tasini blames Rangel's votes on NAFTA and other trade and real estate deals for gentrifying the district. Tasini is also seeking to tie Rangel's ethical woes into a larger conversation about why Washington hasn't been responsive to the neediest people in the district.
Joyce Johnson: a business entrepreneur who has sought to get above the fray of the bitter fighting on the campaign trail. She's reserved judgment on key issues, like the war, saying she'll learn more about it from experts once in office. She's also had a lukewarm assessment of how the stimulus package has impacted New York. The goal, it appears, is to appear pragmatic, positive, and act as a receptacle of votes for everyone turned off by the Rangel-Powell slugfest.
Vince Morgan: as the head of a local small business association, he's often talking about the economy and job creation. He's also made direct reference to the district's changing demographics over the last four decades, and argued that he reflects today's Harlem better than Rangel. Morgan's small-business focus is, in many ways, the opposite of Tasini's more traditional progressive agenda. Morgan has also painted Rangel as someone who's career has come to a natural end, not someone who's tenure needs to be immediately reversed.
Read More
Friday, August 27, 2010
By Azi Paybarah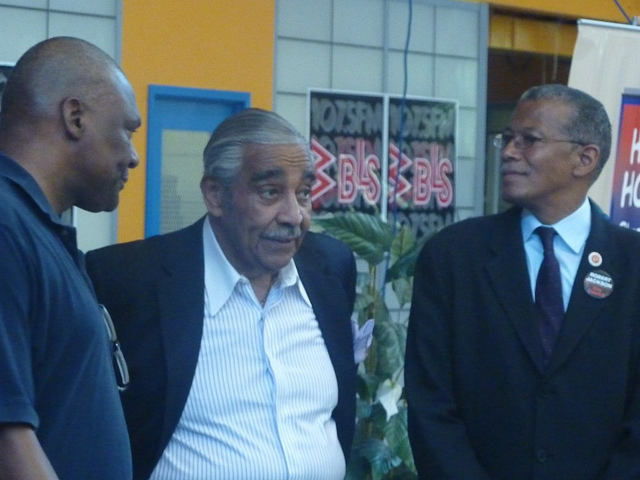 Azi Paybarah / WNYC
Who is Obama's best friend?
To hear Congressman Charles Rangel tell it, he is. Rangel, a 20-term congressman facing a five-way Democratic primary, defended his ability to be President Obama's biggest booster in Congress, even as a spotlight was brought on their disagreement about the wars overseas.
In a televised debate Thursday night, Rangel reiterated his belief that the presence of oil in Iraq and Afghanistan was a major reason for the presence of American troops in those countries. In June, Rangel told the Daily News editorial board, "The lack of an honest explanation is consistent with Bush and Cheney."
Thursday night, Powell seized on the comment in an attempt to paint the 20-term congressman as an insufficient supporter of Obama.
"Even if this war is about oil, it is not an opportunity to disrespect our president, Barack Obama, or even compare him to Dick Cheney. The fact is, Dick Cheney and President Bush engineered these wars. President Obama inherited these wars," said Powell.
Rangel responded by saying the troops need to be withdrawn immediately, and that nobody in Congress has passed more legislation in support of Obama's agenda than he has.
Earlier in the debate, Rangel broached the topic of supporting Obama. He said inside the Congress his challengers are "anxious to join they will find no support at all from the Republicans, and many of the Democrats are not supportive of the president."
Rangel went on the offensive against Powell, citing the Assemblyman's numerous absences from the Assembly. The New York Post, and WNYC, reported that Powell was absent more than 30 percent of the time from the Assembly, during its 2010 legislative session.
A spokesman for Powell told WNYC that the Assemblyman's absences were because in large part he was actively campaigning for congress, and that before the campaign, his attendance was better.
Throughout the hour-long debate, sparks flew in all directions, usually, but not always, at Rangel. Other debate participants included Labor activist Jonathan Tasini, who challenged Hillary Clinton for Senate in 2006 on an anti-war platform; business woman Joyce Johnson, who worked in the 2008 primary to get Obama elected, bucking Clinton, the New York favorite; Vince Morgan, a one-time aide to Rangel who now runs a small business group in the district; and Ruben Vargas, a retired perennial candidate who has run as a Republican and conservative in the past.
Tasini said the country's immigration problem stems from trade deals Rangel supported.
"You cannot look at immigration without asking why people come here," said Tasini. "And the reason people are coming here is because the United States of America is impoverishing people in other countries by, for example, trade laws, some of which Charlie Rangel has voted for."
Those trade laws "reduce people's wages, force them off the land. The reason people are coming from Mexico is because we passed NAFTA," said Tasini.
Tasini's remarks drew an immediate rebuke from Morgan, who repeatedly made a point of invoking small business concerns.
"People are coming to this country Jonathan, for the same reason they've been coming to this country for the past hundred, two hundred years. This is the land of opportunity. This country was built on immigrants and I'm ashamed that you'd say that, as the son of immigrants, that these people are coming over here for whatever reason."
In many ways, Tasini and Morgan are the most polar opposite candidates in the race. Tasini runs on a platform where he tries drawing as many distinctions with Rangel. Tasini blames the congressman for gentrification in the district, saying the incumbent accepts political donations from landlords, and in turn, supports development projects that push out poorer residents.
Morgan, who once worked for Rangel, espouses a gentler message. He argues that Rangel should be replaced not because of any policy reasons, but simply, that Rangel's time has come, and that a younger person should be allowed to start working immediately – while Rangel is still alive – in order to build on the progress he's already made.
After Morgan's closing remarks, Rangel quipped, "You sound like my designee."
Johnson – the early Obama supporter – said the "jury is still out" on what impact the federal stimulus package has had on New York.
"It has been slow to be draw down," Johnson said. "That's for the administration to work on."
Johnson has moderated her comments about Rangel, and chided Powell for constantly going after the incumbent.
"He does that everywhere we go," Johnson was quoted as saying, after Powell went after Rangel for his Bush/Cheney comparison.
The most entertaining elements of the debate came from Vargas, who, in addition to running for office before, is a retired member of the air force.
Vargas said he opposed plans to build an Islamic center near Ground Zero, but, added, "I would love to have them, even in my house, in my home, on my head. Anywhere, but not in the Ground Zero."
Vargas also advocated for, "a tax credit for pet owners."
Read More
Friday, July 09, 2010
By Azi Paybarah : author of The Empire blog
Rep. Charlie Rangel's claim that congress shouldn't spend any more money on the wars in Iraq and Afghanistan--except to leave--is challenged by Jonathan Tasini who says Rangel just voted to fund the war.
Tasini:
Charlie Rangel just voted, along with many Democrats, for billions of dollars more for the Afghanistan war, and he will not face another vote on the Afghanistan war until after the September 14 primary. This is unconscionable.
Read More