John Mceneny
Friday, March 02, 2012
This article has been updated.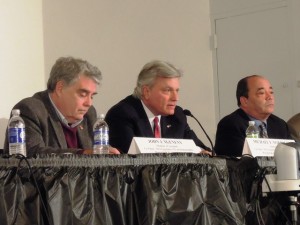 Assembly Speaker Shelly Silver's press office just released a statement on behalf of Assemblyman Jack McEneny, the Albany-based Democrat representing the Assembly's Democratic majority in the state's redistricting process. The statement, according to McEneny, is in response to the criticism being levied against the reported language of a constitutional amendment that appeared this morning in the Albany Times-Union. The amendment would be part of a compromise that would allow the Governor to sign a second, supposedly improved set of district lines for the state senate and assembly.
The statement appears to put daylight between what Assemblyman McEneny described in the TU article, and some of the push back coming from Senate Democrats, in particular Senator Michael Gianaris, who was the co-sponsor of a bill last year to establish an independent redistricting process in 2012:
While we share a common goal of permanently reforming New York's redistricting process, the constitutional amendment currently being discussed by the Assembly is stronger than the Senate Minority's proposal in several key respects. Future redistricting plans will be subjected to tough standards not contained in the plan put forth by the Senate Minority and, as well, the amendment would be accompanied by a statute implementing those changes.
According to the statement, in the event the plan drawn by the future "independent commission" was rejected by the legislature, lawmakers would "be limited to those that affect no more than two percent of the population of the district being altered, making it much harder to modify the commission's proposals."
The statement goes on to say the Assembly proposal would "provide crucial protections for language and for racial minorities," as well as require a justification for district population deviations, and give greater restriction to political activities for the commission members.
The statement comes after a day of push back from lawmakers and good government activists incensed over the details of a possible constitutional amendment on redistricting.
Common Cause held a conference call earlier to discuss the status of both congressional and state redistricting efforts. The group's executive director Susan Lerner addressed the constitutional amendment issue.
"We would just like to say we have consistently been calling for an open discussion about what should be in any constitutional amendment," she said, according to City and State's Laura Nahmias. "We think quite frankly it would be a scandal if massive changes to the redistricting process were introduced under cover of darkness."
Democratic state Senator Liz Krueger issued her own statement on the state of the process saying, "The reports I have heard of a deal on a constitutional amendment make two things clear: the proposed amendment is too weak to work, and New York's voters would have to accept ten more years of hyperpartisan, racially discriminatory maps to get this too-little, too-late reform."
And earlier today, Democratic state Senator Michael Gianaris told the Empire, "The entire point about the constitutional amendment is that we could change [the ability of the legislature to have the final say over the lines]. So to actually enshrine in the constitution that the legislature would have the final say would be regress."
Read More
Monday, February 27, 2012
It doesn't look like new congressional lines will be revealed any time soon.
Read More
Wednesday, February 01, 2012
For those that feel accustomed (or entitled) to public hearings to discuss draft redistricting maps—as are currently happening in the city—LATFOR co-chair Assemblyman Jack McEneny has some disappointing news: don't expect the same for the congressional maps.
McEneny reportedly made the comment at the LATFOR hearing in Brooklyn on Wednesday. "That's correct," he said when asked if he had said there likely wouldn't be time for a set of public hearings on the congressional lines when they finally get finished.
"I'm sure there will be concerns. Right now my main concern is finishing on time, thank you Judge Sharpe," McEneny said, referring to the federal judge who set June 26 as New York's primary date for congress.
He also pointed out the last redistricting process a decade ago had no public hearings. That's true. In fact, over the past 30 years there have never been public hearings over the proposed redistricting lines. That's because Democrats and Republicans couldn't come to an agreement. Only when the threat of a federal judge imposing lines were the two sides able—miraculously—to come to an agreement right before the deadline.
"Some decisions have to be made, they haven't been made yet," McEneny said about the status of line drawing process. "We have deadlines. The first deadline is to get these nine public hearings finished.
"In the meantime we haven't drawn the congressional lines yet."
He said that, "in an ideal world," he hoped to have draft congressional maps "done during President Week with legal descriptions so that we could present something to the legislature for a vote when they come back from the break."
McEneny's talking about the week of Presidents' Day on Monday, February 21. That would mean that the earliest the legislature could vote on lines would be their next session day, February 29.
"If things were a little different, we'd have a little negotiating room but right now the main thing is to get it done," McEneny said.
Read More
Tuesday, November 22, 2011
Over the weekend, the Times Thomas Kaplan wrote that Assembly Speaker Sheldon Silver was interested in striking a deal on redistricting:
In an interview this week, the Assembly speaker, Sheldon Silver, a Manhattan Democrat, sketched out what he said could be a compromise — an eight-member bipartisan commission, with equal representation for each party, that would be appointed by the Legislature but made up entirely of people who are not lawmakers. The Democratic and Republican leaders in the Assembly and Senate would each appoint two members who would have equal funding, access to data and control of the map-making process.

"I think that goes a long way toward reform," Mr. Silver said. "It wouldn't be a political advantage to anybody. Majorities cannot just draw districts to the exclusion and the detriment of the minorities."
The man Silver has heading up the Assembly's efforts on the LATFOR committee, Jack McEneny, said he was fine with the idea.
"I would have no objection to the kind of thing that the Speaker was advocating," McEneny said in a brief phone interview. That's likely because McEneny said he's been saying he would be open to something similar to what the Speaker proposed since at least July.
"It would seem some outside force, above reproach but knowledgeable, would be helpful for the governor to judge a plan in detail, and then make recommendations to the governor to be signed, or veto, or simply amended," he said.
In statements, Senate Republican Majority spokesperson Scott Reif has mantained what's sounding more and more like a mantra on redistricting for his side: "Senate Republicans remain committed to a redistricting process that is bipartisan, open and fair."
Read More
Friday, November 18, 2011
By Karen DeWitt, New York Public Radio Capital Bureau Chief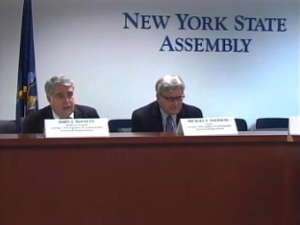 Deliberations over drawing new legislative and congressional districts continue in Albany, as legislators have hit a new hurdle in the complex process.
Lawmakers have decided where to count the prisoners, in the homes they were living before their incarceration, a change that benefits the districts of many Democrats at the expense of Republicans. But they are still arguing about how to count the prisoners, and what kind of computer software and database to use. Task force Co-Chair, Assemblyman Jack McEneny, a Democrat, offered an amendment, but it was rejected by GOP lawmakers.
"Unfortunately, we are still in disagreement," said McEneny, a Democrat from Albany.
Read More
Wednesday, November 02, 2011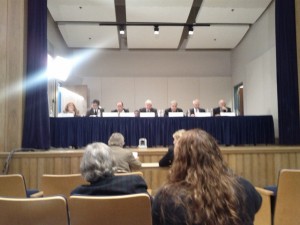 Colby Hamilton / WNYC
12:07 pm
The committee is going to meet on Friday, November 18, at 1:30 pm in Albany. At that point, the issues of prisoner reallocation are set to be decided, as well as the calendar for the second round of hearings.
The court's decision on the state's primary date should be decided on November 17, which will certainly play into the meeting. Specifically, if the primary date is moved up, as anticipated, it will compact the next round of hearings to review the maps.
11:55 am
"This does not end. this is only half-time," Nozzolio said, ending public comment section. The committee is going to meet now, and discussing issues.
Now the Senate and Assembly need to draw maps. More than one conversation I've had indicated that Senate Republicans have their maps drawn--but don't expect to see anything until the prisoner reallocation case is decided early next month.
I'll following up with a piece on where things stand later. If you have any specific questions, feel free to email me at chamilton @ wnyc.org.
11:50 am
Assemblywoman Janet Duprey is the final speaker today.
11:20 am
Nozzolio and McEneny have, at other meetings and in other reports, bristled at the idea that independent redistricting would be some sort of magic bullet. I've written here that, indeed, it's not.
A local Democratic Party leader, sitting next to his Republican counterpart, chastised the committee for not giving up the line drawing to an independent commission, which is heavily supported in the polls.
McEneny was--and has been--most forceful in rejecting the idea that there's such a thing as an independent redistricting process. He noted that most independent commissions are appointed by legislators, which makes the idea that the commission is truly independent a sham.
Case in point, noted McEneny: Arizona's independent redistricting chair was impeached yesterday over concerns over the way districts were drawn.
McEneny, who has chaffed at the Governor's veto comments, said it was irresponsible for the Governor to suggest he'd veto districts before he's seen the maps.
"Do you think its a good thing when a chief exec ... says that he's going to veto a piece of leg before he's read it," McEneny asked. "That's not good government."
Read More
Thursday, October 27, 2011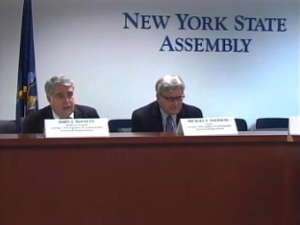 This morning the committee in charge of drawing political lines is meeting for the second-to-last time out in Nassau County. LATFOR's Old Westbury meeting is giving the public another chance to influence the process. But there are major outstanding issues that will certainly be brought up, if not fully addressed:
Prisoner reallocation
As we've reported, the Senate Republicans are being accused of dragging their feet in complying with a law that would have tens of thousands of mostly upstate prisoners counted back in mostly downstate districts. Assembly Democrats say they've already done the math—all they need is the Senate to approve. And the committee's Senate Republican co-chair Michael Nozzolio has said his side is reviewing. There's a chance a major announcement on the issue could come today.
Cuomo's veto threat
Yesterday the Governor made a number of statements regarding his veto threat. By the end it seemed (mostly) apparent that he remains committed to nixing whatever lines the legislators draw. But the Democratic Assembly co-chair John McEneny has told the governor he should see what the committee comes up with first. The problem, of course, is that there's a zero-sum game being played with Senate Republicans—if they draw "nonpartisan" lines, most observers see a likely Democratic majority in 2013. There are certainly conversations happening behind the scene. To what degree the Governor is pressuring the Senate Republicans, with whom he has a good working relationship, is unknown. The actions and words of the committee members may give a clue.
Communities of interest
Maybe more than anywhere else in the state, Nassau County is a hotbed of discontent for district lines. The county's Democratic Party won a huge court victory recently over Republican attempts at drawing them out of the majority. And a sitting lawsuit in Federal court over Voting Rights Act violations could, eventually, mean totally new lines. Civil rights and good government groups will make their final arguments before the committee draws linesin support of districts that take racial and ethnic communities more into account.
In all things redistricting, the key issue is time. With primary dates likely coming sooner, getting lines drawn and approved in time is on the minds of everyone involved. If the Governor remains committed to vetoing lines, the whole process will end up in court with even more uncertainty for, in the Governor's words, "chaos" in the final product. The degree to which avoiding mayhem creeps into the committee members' comments will be something to watch for.
Read More
Friday, September 23, 2011
By Karen DeWitt, New York Public Radio Capital Bureau Chief
Governor Cuomo says he's not changing his position on a threat to veto any legislative and congressional redistricting lines now drawn by an independent commission, though the co-chair of a legislative commission on redistricting remains skeptical that Cuomo will follow through.
Legislative Redistricting Task Force Co-Chair Assemblyman Jack McEneny says he doesn't believe that Governor Andrew Cuomo will follow through on a threat to veto the legislature's efforts to redraw legislative and congressional districts.
"I think for any chief executive to say he's going to veto a bill that's been legally put together before he's read the bill is a very bad precedent," McEneny said.
McEneny says he thinks Cuomo's stance has been softening in recent weeks, but the governor says his position remains the same.
"I believe independent redistricting is a necessity," said Cuomo. "I believe it's time has come."
The governor says he's not inclined, however, to call the legislature back to the Capitol for a special session on redistricting reform. McEneny says the task force could present the proposed new lines as early as October.
Read More
Wednesday, September 21, 2011
The state legislature's redistricting task force is holding public meetings this week in New York City. Today they were in Manhattan hearing testimony from elected officials, good government groups, and any normal people who were inspired to take a day off of work to attend the hearing.
Oh, and Ed Koch.
The former mayor, fresh off his party-crossing coup in the 9th Congressional District, came to shakedown the bicameral committee. He was joined by Dick Dadey, the head of the nonpartisan good government group Citizens Union, and former parks commissioner and founder of NY Civic, Henry Stern.
The Legislative Task Force on Demographic Research—known awkwardly as LATFOR—has been holding meetings around the state to get the public's feedback on how the decennial process of redrawing the state's legislative districts should go. Koch and his good government cohorts have been pushing for an independent redistricting plan for over a year.
The New York State legislature was unable to put together a plan before the end of the last session, and so the traditional process—the politicians in the legislature whose districts are being redrawn controlling the process—has begun. This hasn't made Ed Koch particularly happy.
Read More
Monday, August 22, 2011
The senator put out this statement just a bit ago:
Senator Martin Malave Dilan has submitted an amicus brief ("friend of court") to the State Supreme Court in Albany supporting the constitutionality of the 2010 law requiring prisoners to be counted at their prior "homes of record" for state legislative redistricting.  At stake are state legislative districts reflecting proper "one person, one vote" populations.

The amicus brief is submitted in connection with Little v. LATFOR, a challenge to Part XX of Chapter 57 of the laws of 2010.  The amicus brief  supports the law and urges the court to deny the plaintiffs' summary judgment motion.  LATFOR (Legislative Advisory Task Force on Demographic Research and Reapportionment) is the state legislative task force that develops new legislative redistricting plans and is charged with implementation of the new prisoner counting law.

Included within the brief are copies of written communication between Senator Dilan and the Department of Corrections and Community Services (DOCCS) while he was Co-Chair of LATFOR in 2009-2010 and began implementation of the law.  Also included are communications between Senator Dilan and current LATFOR Co-Chairs Senator Michael Nozzolio and Assemblyman John McEneny regarding the need to continue the technical work of reassigning prisoners to their prior residences.

Senator Dilan remains a vocal proponent of LATFOR following current state law and has made repeated demands for LATFOR to continue the work he began.  Senator Dilan's amicus brief filing makes it clear to the court his interest as a LATFOR member to see the law upheld.

A copy of Senator Dilan's court submission is attached.
Read More