Joe Crowley
Monday, March 19, 2012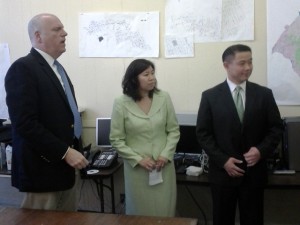 It must have been an amazing four days for Assemblywoman Grace Meng of Queens.
On Thursday March 15, late in the afternoon, 30-year incumbent congressman Gary Ackerman announced his retirement at the end of this session. She quickly let it be known she was interested in the new seat being drawn in Queens by a federal court—as did a number of other folks, such as Councilman Mark Weprin, Senator Tony Avella, Assemblyman Rory Lancman, Councilwoman Elizabeth Crowley and others.
The Queens County Democratic organization decided to take the weekend to talk with the candidates and their supports, but late yesterday the news leaked: the county organization chose Meng as their candidate.
This morning at Queens County Democratic headquarters in Forest Hills they made it official.
"It is rare in this business to meet someone like Grace Meng. She's hard not to love and she has character, commitment and confidence without a hint of arrogance—and in this business, that's rare," Councilman Mark Weprin said before officially nominating Grace to be the county organization's pick for the new 6th Congressional District.
"Grace, it seems to me, you are the future of the Democratic Party," said Senator Senator Toby Ann Stavisky in her seconding of Meng's nomination.
The future, past and present appeared to all be taken into account in the choice of Meng. In his remarks on the nomination, Queens County Democratic Party chairman and Congressman Joseph Crowley pointed out that not since Geraldine Ferraro had Queens sent a woman to congress (both Representatives Maloney and Velazquez have parts of Queens in their districts, but both live in other boroughs).
"To have someone from Queens running is incredibly important this year, especially when I believe women have been attacked so much in recent weeks," Crowley said.
And it's the growing Asian American community in Queens that opened up the door for a future potential Congresswoman Grace Meng.
"It really is, I think, time for the Asian American community to have this opportunity," said Crowley.
"Our greatest strength has always been our diversity," Meng said in her remarks after getting the nod. "Queens is famous throughout the world for diversity and tolerance. But really it's what we have in common that makes our neighborhoods work, our students succeed, and our families able to care for children and grandparents as they can."
Getting the county's endorsement won't mean Meng makes it on the ballot in November. At least one of the other candidates interested in the job, Assemblyman Rory Lancman, is still planning on running. He's scheduled a press conference for 3 pm this afternoon to officially launch his campaign for the job.
Congressman Crowley said he hopes the historical importance of Meng's potential election against whomever Queens Republicans run in November will dissuade Lancman and others from challenging her.
"Having an incredibly divisive primary will not be helpful to that cause," Crowley said.
Given the proposed district's demographic breakdown that seems unlikely. While the district's voting age population would be 60.1 percent minority voters, including the 38.8 percent Asian population in the district, it's still 39.9 percent white and most of those voters are Jewish. Democratic enrollment is high in the community, which could work to Lancman's advantage.
Read More
Tuesday, October 04, 2011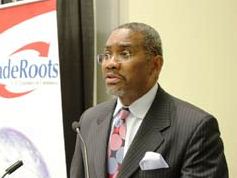 According to a number of individuals, both elected officials and long-time political observers, the secret meeting held to decide the successors to embattled Queens Congressman Greg Meeks never happened.
"The article was bullshit," said one Democratic consultant, who asked not to be identified.
One elected official who would potentially have a lot to gain if the Post report was true also denied the meeting took place. Councilman Leroy Comrie, who was said to be in line for a promotion to the state Senate after Malcolm Smith ascended to Congress, called the story a "fabrication", saying he couldn't imagine who would have been the Post's reported sources.
"That's just never the way it works," Comrie said. He went on to say that support for Meeks continued, and talks about him stepping down were unfounded. "No one has had any discussion--serious discussions, formal or informal--other than being supportive of him," the councilman said.
Yesterday, Queens County Democratic leader and central figure to the Post story, Congressman Joe Crowley, also denied any such meeting took place. While all those interviewed for this article agreed, it didn't stop some from agreeing with the central thesis of the article: Were Meeks to be forced or persuaded to step down, the county leadership would be left with slim pickings.
Malcolm Smith, himself, came under heavy scrutiny for his connections to the Aquaduct racino scandal of last year. His associations with people tied to the winning developer, AEG, have left many ethical questions unanswered. Even if the supposed meeting never took place, the cast of characters involved left more than one person questioning the decision making process of the Queens Democratic Party at the highest levels.
Read More
Wednesday, September 14, 2011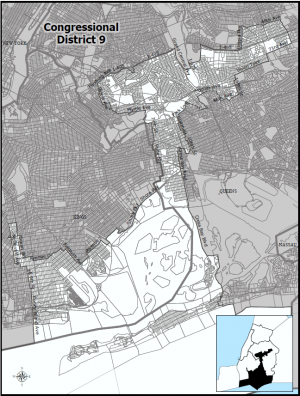 Even before Bob Turner's upset victory last night, a lot was made about the possibility that the 9th Congressional District might cease to exist soon.
But why, exactly? On a practical level, New York State is going to lose representation in Congress. We grew slower in comparison to other parts of the country over the last ten years, according to the US Census. Since the set number of seats in the House of Representatives are divvied up proportionally among the states based on population, New York is going to get two less seats come 2012.
This process happens every ten years, and in the past there has been an agreement between the Democrats and Republicans in the state legislature, which is responsible for drawing the political lines for all New York political districts. Since the Democrats control the Assembly, and the Republicans control the Senate, when they get together to carve up the state, each side would loses a seat. As the Democrats are strong downstate, they'd likely sacrifice a seat here and vice versa for the Republicans upstate.
It's an interesting arrangement, as the Federal elected representatives have to lobby their colleagues in the state legislature. Generally speaking, seniority and political influence rule the process, with junior and weaker members more likely to be redistricted out of a job.
"These are political decisions and the lines are drawn in regards to political balance," said Gerald Benjamin, a political science professor at SUNY New Paltz. "You're not dealing with math here."
Read More
Wednesday, September 14, 2011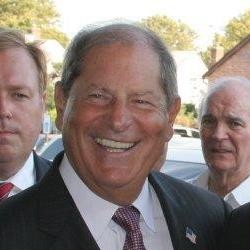 Morning! Looking to get a number of things posted, including rundowns of the other races last night, but really wanted to give a quick recap from last night.
While it wasn't a surprise, Bob Turner's upset victory over David Weprin sent shockwaves through the political world. National pundits are calling it a rebuke of Obama and a foreboding omen for 2012.
Certainly that's how the Turner people tried to paint it from Day 1: The special election to fill the seat vacated by Anthony Weiner was a referendum, and sending Turner to Washington would show the president people were fed up.
And they are. Let's be real--people in the 9th Congressional District are not jazzed about the Obama White House. But they never have been. Obama won there with only 55 percent of the vote in 2008. The only other New York City congressional district that had a lower return for Obama sent Republican Michael Grimm to congress. The district's been going red for a number of election cycles.
While I don't want to take away from the Turner win, it had as much to do with Obama as it did a weak Democratic candidate. Likewise, I don't want to kick a guy when he's down, but if the name Weiner had been on the ballot, this district would still be held by Democrats.
Read More
Tuesday, November 09, 2010
By Azi Paybarah
So, who is the NY delegation backing for House Democratic Whip, the current whip, James Clyburn of South Carolina or the more conservative alternative, Steny Hoyer, of Maryland?
So far, three New York Democratic Congressional members signed a letter Friday backing Hoyer:
Joe Crowley from Queens; Jerry Nadler, an uber-liberal from Manhattan; and Brian Higgins, a moderate from Buffalo.
I've reached out to the rest of the NY delegation and will update as responses come in.
UPDATE: Also with Hoyer are, I'm told, Maurice Hinchey, a progressive from the Hudson Valley; Eliot Engel, from the Bronx and Westchester; and Nydia Velazquez, whose district includes parts of Manhattan, Queens and Brooklyn. Undecided, at the moment, is Nita Lowey, a progressive from Westchester, is undecided.
Read More