Jfk

Thursday, January 13, 2011
The John F. Kennedy presidential archive goes digital today. It's a huge archive of everything that passed across the president's desk, including: the White House photo collection, all the Kennedy audio and video, and Kennedy family home movies. The holdings will no longer be filtered through journalists or historians, instead allowing the public first-hand access to history.

Monday, November 08, 2010
It was 50 years ago today that a young Senator John Fitzgerald Kennedy became the first 20th-century born President of the United States, defeating incumbent vice-President Richard Nixon.
We remember that historic election with the man who was coordinator of the Civil Rights section of Kennedy's 1960 presidential campaign, former Sen. Harris Wofford (D-Penn.).

Wednesday, October 20, 2010
In October, 1960 the United States imposed a partial embargo on Cuba. Two years later, it would be strengthened to a near-total embargo. To help explain the state of Cuba since the start of the 50-year embargo, we talk with Michael Voss, Cuba correspondent for our partner, the BBC.

Thursday, October 14, 2010
Fifty years ago today, the foundation was laid for the Peace Corps. (The organization was actually created in March 1961 when it was signed into law.)  We take a trip down memory lane, exploring the birth of this organization founded by President John F. Kennedy.
Monday, June 14, 2010
(New York, NY - Collin Campbell, Transportation Nation)  Jet Blue Vice President and Chief Operating Officer Rob Maruster has a refreshingly comprehensive view of transportation.  "I may be shooting ourselves in the foot here, with five daily flights from JFK to Boston.  But it just may not make that much sense for an airplane on a 150-mile route to fly over 300 air miles to get there.  Maybe there's a different mode of transportation that may be better to carry those customers from point A to point B," Maruster said today.
He was speaking at a forum on the future of airports and air traffic control.  It was an event filled with charts and maps that drove home how overwhelmed and outdated current air traffic control technology is.  One solution Maruster said was obvious is taking airline passengers off some routes, like New York to Boston. 
Read More
Wednesday, January 20, 2010
Wednesday, November 25, 2009
By Stephen Nessen : Reporter, WNYC News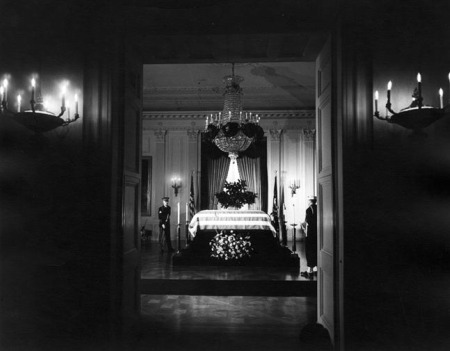 Friday, July 31, 2009
As July slips into August and summer travel season kicks into high gear, more and more passengers are taking the AirTrain.
It connects JFK airport to the New York City subway system and the Long Island railroad. Five years after its inception, the AirTrain has drawn five million passengers a year, despite confusing signage, insufficient information, and a bumpy transfer into New York's transit system.
It starts, or maybe doesn't, when you get off the plane.
Bernstein: "The AirTrain."
Passenger: "I don't know what it is."
At the Delta airlines terminal at JFK, information is hard to come by.
Woman: "I'd take the AirTrain but I don't know anything about it. I don't think they do a good job of getting out the information. Where is the information about the AirTrain?"
That the AirTrain exists at all is a bit of a political miracle. About 15 years ago, Mayor Rudy Giuliani tried to kill it because it didn't meet his vision – a non-stop train from the airport to Manhattan. But Governor George Pataki pushed it through. The result is essentially a shuttle from JFK that links passengers to the New York City subway system and the Long Island railroad.
The trains are clean, the seats are wide, the views are cool. This speechwriter from Los Angeles, was pleasantly surprised.
Man: "It was very easy. Not a problem. And I'm very bad at public transportation."
It's also WAY cheaper than the other options.
Man: "I think it's great. It's either this or pay $45 for a cab to Manhattan and back."
But to get on it – you have to study up, like this PhD from Estonia, traveling with five friends.
Estonians: "To Manhattan? Brooklyn, Queens no."
The problem? There are two possibilities: They can connect to the A train at Howard Beach, or the E, J, or Long Island Railroad at Jamaica.
Bernstein: "Did you figure it out?"
Estonians: "No, we didn't figure it out…but we will."
And after a few more minutes, they do.
Estonians: "Jamaica train! Ja, Jamaica!"
Signage is both art and science. Ask Sue Labouvie is the head of the design firm Studio L'Image. She's working on a project in San Francisco to use signs to help people transfer from one transit system to another. So I asked her to evaluate the signage at the JFK AirTrain. She has a mantra.
Labouvie: "Integrated. I can't help but stress the word integrated, so people feel even though they have to go on different modes, they feel they can find their way and its going to be a smooth transparent thing."
As we take the escalator up to the AirTrain platform, we're disgorged into minimalist space with the feeling of an empty art gallery.
Labouvie: "This is an area, that I even being in signage, I am always confused."
Friday, June 26, 2009
On June 26, 1963, President John F. Kennedy addressed a vast crowd of Germans on Rudolph Wilde Platz near the Berlin Wall. In his speech, Kennedy condemns the wall separating East from West, calling it a "vivid demonstration of the failures of the Communist system" and praised ...