Jay Jacobs
Tuesday, August 30, 2011
The state's highest court today overturned a lower court's ruling, negating new county legislature lines drawn by the Republican majority in Nassau county. In a unanimous decision, the Court of Appeals this morning said the redistricting plan ran afoul of the county's charter requirements for a lengthier process that involved public review. The current lines will be used in the upcoming county legislature elections this November.
In a statement released this morning, Nassau County Democratic Chair Jay Jacobs hailed the decision, calling the redistricting fight "an extreme waste of time."
"County Executive Mangano and Presiding Officer Schmitt are guilty yet again or overreaching and using their offices to simply retain power," Jacobs said in a statement. Later, on a conference call, he contrasted his party's actions with the legislative majority.
"They will put ethics aside and do whatever it takes to hold on to power at whatever cost," Jacobs said. "That's not how we operate. And never have."
Read More
Tuesday, February 08, 2011
By Azi Paybarah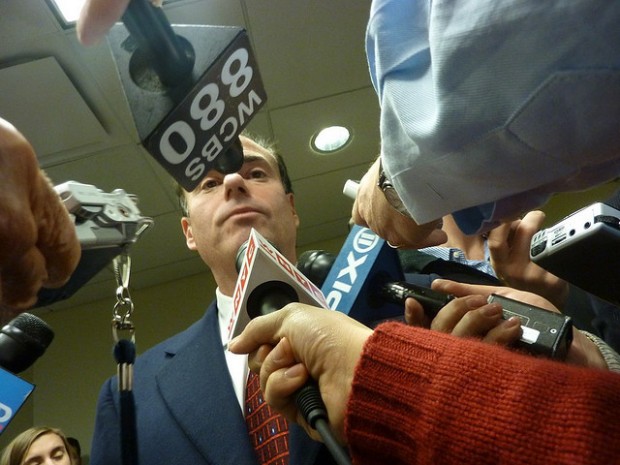 Page Six sent tremors through New York Democratic circles this morning with a blind item saying the head of the party, Jay Jacobs, was getting replaced by one of Governor Cuomo confidents, Charlie King.
The item included a terse-sounding comment from an unnamed Cuomo's spokesperson who said "Not true."
Of course it's unclear what exactly the "not true" means: "Not true at the moment" or "Not true; Jacobs has the full support of the governor and we have no plans to install King in his place."
Cuomo spokesman Josh Vlasto did not respond to an emailed request for elaboration. An email to Simon Brandler, who handled press for the state party during the campaign, bounced back. A telephone message left for King at the state party's office was not immediately returned. Jacobs said he did not want to comment publicly.
Jacobs went from Nassau County Chairman to State Party Chairman, thanks to support he got from Governor Cuomo's predecessor, David Paterson. Jacobs was re-elected to a 2-year term this past September.
Read More
Thursday, November 04, 2010
By Azi Paybarah
State Democratic Party Chairman Jay Jacobs seems to have accepted the loss of a State Senator Craig Johnson's seat. Jacobs told Newsday:
"The fact that Carolyn McCarthy pushed back a significant challenge is very important. Yes, we did lose Craig Johnson, it looks like, though for that race we supplied volunteers and did everything requested. "
Johnson trails by about 415 votes, with 3,300 absentee ballots yet to be counted.
Read More