Janet Napolitano

Tuesday, March 05, 2013
The nation's Homeland Security chief says that JFK airport could see major delays at as a result of sequestration.
Thursday, September 01, 2011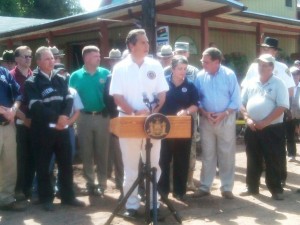 By Karen DeWitt, WXXI Capitol Bureau Chief
Tom McGlynn stood on the main street of his flood-ravaged town, waiting for Governor Cuomo's helicopter and the visit from the federal officials. The street bustled with National Guard troops, emergency medics, fire trucks and police. Dust from drying mud, gas fumes from fuel leaks, and the first wafts of rotting garbage filled the air.
McGlynn says he is still trying to process what happened, three days after the waters destroyed his home.
"There's nothing left of it," said McGlynn. "The whole first floor is gone, and a two-car garage with a room over it, that's in my neighbors' yard."
McGlynn says he and his wife escaped with their lives.
"What I have on me is what I left," McGlynn said. "It's unbelievable".
Read More
Friday, December 03, 2010
By Marianne McCune : Reporter, WNYC News
As lawmakers in Washington get ready to vote on the Dream Act, local advocates and critics are trying to rally support. The bill would allow high school graduates whose parents brought them here illegally to get legal by going to college or joining the military. Secretary of Homeland Security Janet Napolitano said the measure will help her agency focus on deporting dangerous criminals.

Friday, November 19, 2010
The Transportation Security Administration has begun more thorough pat-downs at airport security checkpoints just weeks before holidays' heavy travel season. Many passengers have already complained of inappropriate contact and others are upset with the intimacy of the search. Secretary of Homeland Security Janet Napolitano explains the new search procedures and the full-body scanning machines that have been set up in airports. She and the TSA are asking passengers to be patient and cooperate.
"The vast majority of the traveling public understands that this is a safety and security measure," Napolitano said. Read a full transcript. 
Thursday, July 01, 2010
(Todd Zwillich, Transportation Nation, Washington, DC) Transit systems across the country would have to abide by a common set of safety standards under a bill that cleared a Senate panel this week.
The bill forces public transit systems receiving federal money to adopt new minimum safety standards created at the Department of Transportation. The agency could conduct ad-hoc safety reviews, and it also gets new powers to conduct safety investigations and issue subpoenas after transit accidents.
The bill was approved by the Senate Banking, Housing, and Urban Affairs Committee earlier this week. It was largely motivated by the last year's Metro crash in Washington, DC that killed 9 people.
It's one of several transit safety bills circulating in Congress now. Another beefs up funding and clout at the National Transportation Safety Board.
Meanwhile, the Homeland Security Department is trying to give rail safety a boost. DHS Sec.Janet Napolitano was in New York's Penn Thursday morning launching a new safety campaign for Amtrak.The campaign is based on the "See Something, Say Something" message familiar to New York City subway riders.
Read More
Monday, May 17, 2010
(Andrea Bernstein, Transportation Nation, May 17) Apparently, the Department of Homeland Security was not happy with the very public beating the agency took in the New York tabloids and from New York pols on transit security funding last week.     Last week, after a Congressional Briefing, Senator Charles Schumer (D-NY) and Rep. Peter King (R-Long Island) went out guns a'blazing, hammering DHS for what they called a $42 million cut in transit security funding and an $11 million cut in port security. The White House says, if you account for stimulus funding, New York got an increase in both these areas.  (Here's the breakdown.)
WNYC's  Bob Hennelly got hold this weekend of a letter Homeland Security Secretary Janet Napolitano wrote to Representative Peter King, (R- Long Island)  claiming New York has more than $275 million in port and transit security funds it hasn't spent.  New York officials are blaming FEMA for tying up the funding.   Apparently,  Napolitano, who is from Arizona, has a bit of Brooklyn in her.
Yo! You wanna piece of me?
Read More
Friday, April 30, 2010
(New York - Collin Campbell, Transportation Nation) -- It's a strange sight, the bright blue uniforms of the agents who run the long lines and security machinery at airports, down in the crush of the New York City subway.  But here they are, the men and women of the Department of Homeland Security's Transportation Security Administration.  For now -- there are two teams working with the NYPD to check the bags of transit passengers.  This summer, the city and the federal government will discuss adding more.
"We're currently working with Amtrak and freight rail as well," said John P. Sammon, Assistant Administrator with the TSA's office of Transportation Sector Network Management.  "So no, there are not limits on which modes of transportation the TSA can work on securing." 
Read More