Jane Corwin

Wednesday, May 25, 2011
All but four Republicans already voted for the plan and they're running in districts just like New York 26 (or more Democratic) next year. Six were carried by Obama in 2008. So they probably have to think about an exit strategy, but the collateral damage is done, both to those who already voted for it and those in the Tea Party that wanted to control the direction of caucus.
— Nate Silver, blogger for The New York Times' Five Thirty Eight blog, on The Brian Lehrer Show

Friday, April 29, 2011
A new Siena poll released this morning shows Republican Jane Corwin leading Democrat Kathy Hochul and the Tea Party's Jack Davis in a special election for New York's 26th congressional district.
Tuesday, August 17, 2010
By Azi Paybarah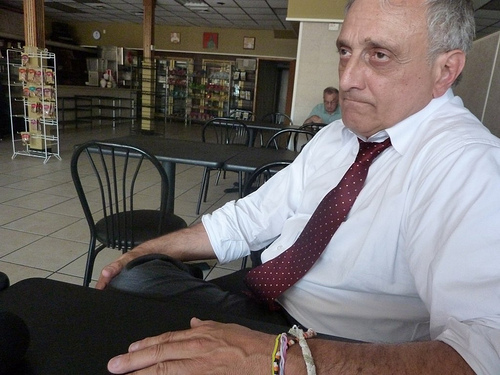 Azi Paybarah / WNYC
The Republican Party in New York is, slowly, coming to terms with the reality that is Carl Paladino's insurgent gubernatorial campaign, thanks to his deep pockets, quote-filled press releases and the seemingly low-octane performance of GOP nominee Rick Lazio, whose finances have been struggling.
Paladino today announced he was endorsed by Jane Corwin, the treasurer for the state Republican Party and an Assemblywoman. Also endorsing Paladino are the GOP chairmen of Niagara County, Cayuga County, Genesse, Orleans, and Erie.
"Announcements of other GOP leadership endorsements are imminent," the campaign says.
When I interviewed Paladino on Friday in Mineola, he still sounded like an insurgent, not yet extending an olive branch to the party he's trying to represent.
"What is the Republican Party today? It's a shell of what it was. It began falling apart when [former Senator Alfonse] D'Aamato and [former Governor George] Pataki decided they weren't going to leave any succession. They didn't like Tom Golisano. Tom Golisano probably would have been tremendous as a governor. But they wanted to keep the feeding at the trough system. They wanted to keep the decadent status quo. That's all that they were about."
Read More