Ipad
Thursday, April 08, 2010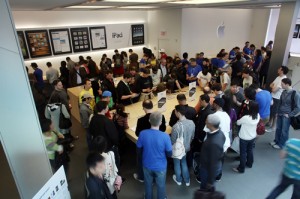 Thursday, April 08, 2010
By Jim Colgan
Apple's iPad has been turning heads since it was released last weekend. But it seems you can't walk down the street without someone asking you about it. Takeaway web editor Jim Colgan took his new iPad onto the streets of New York to find out just how much attention it can get you.
Read More

Thursday, April 08, 2010
Apple's new iPad device garnered so much interest ahead of its launch last weekend that it's almost impossible to display it in public and not get asked a million questions. Takeaway web editor Jim Colgan has been dealing with this iPad effect since he got the device last weekend. He took the new gadget to the streets of New York to see why strangers are moved to approach a complete stranger, just because he has an iPad.
Tuesday, April 06, 2010
In this week's Culture Gabfest, our critics Stephen Metcalf, Dana Stevens, Seth Stevenson and Julia Turner discuss Seth Stevenson's new travel book "Grounded", creating your own TV ad with a little help from Google and Apple's much hyped IPad.

Thursday, April 01, 2010
In a mere 48 hours, Apple will release its widely anticipated and newest product: the iPad. As with every other Apple product launch — including that of the iPod and iPhone — crowds are expected to line up around the block on Saturday, hours before the stores open, to buy iPad on opening day. But some might wonder: what's the point? Won't these early adopters just be wasting half a day, paying too much money, and buying a glitch-filled experiment?

Wednesday, January 27, 2010
By Sarah Muller
The worst-kept secret in geekdom was actually the focus of a 2007 Mad TV skit. Watch the video.