Independent Redistricting
Monday, March 12, 2012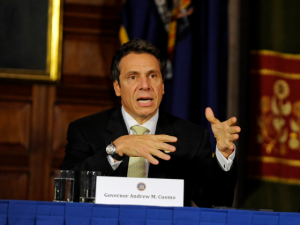 Courtesy of the Governor's office.
It's official: the sticking point over redistricting in Albany is no longer whether the lines will be drawn independently, nor whether they'll be less "hyperpartisan" in their second draft, but what the accoutrement tacked on—a constitutional amendment and a pre-emptive statute with similar language just in case the legislature fails to live up to its end of the bargain—will look like.
Now that Governor Andrew Cuomo has admitted he "just lost" the battle for redistricting reform for this year's lines, it looks like he'd like to turn all attention to the future. So now the big battle has become what a constitutional amendment, and the corresponding legislative backstop, will look like.
Read More
Friday, March 02, 2012
The Times-Union's Casey Seiler has a piece up today about the emerging details of a possible deal between Governor Andrew Cuomo and the state legislature for a constitutional amendment to change the state's redistricting process.
"A possible constitutional change to New York's redistricting process would create a 10-member independent panel to draw the state's political lines beginning in 2021, but would allow the Legislature to make final tweaks to the plan if the Assembly and Senate fail to pass it after two tries," Seiler writes.
Earlier this week we broke down the battle brewing over how to amend the state's constitution to get independent redistricting in New York. The debate comes down to how much the legislature remains in the process. According to Seiler's piece, the plan being discussed between Assembly Democrats, Senate Republicans and Governor Cuomo would look pretty similar to the Plan A we identified on Wednesday:
The deal being discussed would create a panel made up of eight members appointed by the legislative conferences: two appointees apiece from the majority and minority in each chamber. The eight would then independently select two additional members. Those eligible would have to be out of government service for three years before their appointment, and appointments would have to be made two years before map-drawing could actually begin.
Back in January we ran down what, based on past independent redistricting bills, a constitutional amendment could look like. It turns out this isn't too far off from the process Cuomo and legislators were proposing a year ago as legislation to make the current process more independent.
But now one of the sponsors of the bills from last year, Democratic Senator Michael Gianaris from Queens, is vocally criticizing an amendment that would codify the legislatures influence in a new redistricting amendment.
"I have trouble believing what I read in the paper [about the proposed amendment language] would pass the straight-face test," Gianaris said in a phone interview this morning. "You can be sure that the senate Democrats are firmly in support of truly independent and fair redistricting. What was proposed yesterday would be a disaster."
Gianaris appears to be in the Plan B camp we identified earlier this week, which would like to see the legislature cut out of future redistricting process. The plan details floated in a series of op-eds and statements would look more like the process California now uses. Professor Gerald Benjamin of SUNY New Paltz distilled the details in his op-ed in the Times-Union last weekend:
A constitutional amendment must provide for an independent commission with an odd number of members (5 to 13) appointed by a diversity of authorities exclusively from a pool of interested citizens. Lobbyists, elected officials and those directly or indirectly dependent upon them for employment could not serve. Members would reflect the political and demographic diversity of the state.

They would have a clear timetable and employ clear criteria, including in order of priority: compliance with federal requirements, observance of the integrity of the state's regions — defined by its natural and built environment — and recognition within regions of social and demographic communities of interest.

Use of data reflecting partisanship or incumbent residency in designing districts would be prohibited. Finally, the Commission's decisions would not be subject to revision by the Legislature.
Read More
Friday, January 27, 2012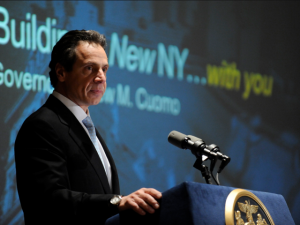 Courtesy of the Governor's office.
Jimmy Vielkind of both Albany Times Union and CapitalNewYork.com fame hassifted through the redistricting lines debris and tea leaves (I know, it's hard to picture but it's metaphorically happening) in a piece up on the aforementioned website. We've been on the hunt for much of the same, specifically around how a constitutional amendment fits in to the redistricting end game.
Governor Andrew Cuomo's office has for months been talking with the leadership in both the State Assembly and Senate about a resolution to the coming crunch over the Governor's promised veto. Both Speaker Sheldon Silver and Majority Leader Dean Skelos' offices have confirmed discussions are on-going about including an agreement on a constitutional amendment to hand the next redistricting process over to an independent commission.
The constitutional amendment piece is likely part of a broader effort by Cuomo to bring the redistricting together in a tidy bow. He's already demonstrated his ability to "evolve" on a thorny issue he's seemingly painted himself into a corner on.The last, greatest example of this three-dimensional approach was the millionaires tax.
It's worth reviewing some of the details of proposed independent redistricting legislation from lawmakers last year.
Read More
Thursday, December 22, 2011
ProPublica has a breathlessly delivered article about California's redistrict process that was "surreptitiously" hijacked by Democrats for maximum partisan gain in their new Congressional maps. It's an instructive tale of how arguably the most extremely "independent" process in the country led—at least at the Congressional level—to even more lopsided lines than before.
"What emerges is a portrait of skilled political professionals armed with modern mapping software and detailed voter information who managed to replicate the results of the smoked-filled rooms of old," ProPublica tells us. You can read the full article here.
In the end, there's something violently Californian about the whole thing. Like their solution to taxes—ever increasing mandates but an unwillingness to tax them—the redistricting process appears to be an extreme perfect-as-the-enemy-of-the-good situation: commissioners so thoroughly sanitized of any hint of partisanship they were blind to the partisan manipulations happening right in front of them.
Read More
Wednesday, December 21, 2011
As a new Quinnipiac poll says, support for an independent commission to try new political boundaries is on the rise. More than half--52 percent--of those polled said said it was time for the Legislature to hand over the line drawing to someone else.
"Drawing new legislative and congressional district lines will be high on Albany's 2012 agenda. Quinnipiac University has been tracking this sleeper issue for some time and we see support for an independent commission to draw the lines is edging up," said Maurice Carroll, director of the Quinnipiac University Polling Institute, in the report. Carroll noted that 56 percent of those polled believed that an independent commission should be devoid of legislators.
You can see what some non-partisan groups are proposing for maps here.
Lastly, the poll shows that more than two-thirds of those polled support Las Vegas-style casinos in New York.
New York voters are less sure when it comes to hydrofracking. The drilling process is supported by 44 percent of those polled, while 45 percent are opposed to it. New York City and upstate voters are less in favor of bringing hydrofracking to New York--49 and 48 percent respectively--while 53 percent of suburban voters support drilling.
"Another big 2012 issue – hydro-fracking – has New Yorkers split right down the middle.  Overwhelmingly, voters think it would produce jobs. A smaller majority worries that it would damage the environment," Carroll said.
The poll surveyed 1,143 registered voters and has a margin of error of +/- 2.9 percentage points.
Read More