Independence Party

Thursday, July 18, 2013
Our series of interviews with candidates for New York City mayor continues. Jack Hidary, technology executive running as an independent, talks about his bid and his policies proposals.

Tuesday, February 26, 2013
By Anna Sale
A week after he secured ballot access on the Independence Party line, former Bronx Borough President Adolfo Carrion officially announced he's running for mayor. In the crowded field of candidates, Carrion is casting himself as a business-friendly populist.

Wednesday, February 20, 2013
By Anna Sale
Adolfo Carrion, a former Obama appointee and Bronx Borough president, secured a spot on November's mayoral ballot, setting up a potential three-way race.

Thursday, October 18, 2012
Mayor Michael Bloomberg's 2009 campaign is no longer under scrutiny by the Campaign Finance Board for failing to disclose more than a million dollars in contributions to New York's Independence Party.
Monday, December 19, 2011
By JENNIFER PELTZ
Associated Press
NEW YORK (AP) - A political operative convicted of bamboozling Mayor Michael Bloomberg out of hundreds of thousands of dollars was sentenced to prison Monday un a case that brought the billionaire politician to the witness stand and gave the public a behind-the-scenes look at his campaign and City Hall.
John Haggerty agreed to pay $750,000 in restitution to Bloomberg in addition to his prison term of 1 1/3 to 4 years.
Haggerty, a veteran Republican campaign consultant, was convicted in October after a trial that jurors called a crash course in the workings of politics. Besides the business-mogul-turned-mayor, the case drew in the state's third-largest political party and featured a coterie of Bloomberg insiders sketching their roles in his political, philanthropic and business affairs.
Read More
Friday, October 21, 2011
WNYC's Bob Hennelly is reporting that John Haggerty, the Republican operative accused of stealing campaign money from Mayor Bloomberg's 2009 third-term effort, has been found not guilty of Grand Larceny, the most serious charge against him.
He has been found guilty of lesser charges. We'll post more when it becomes available.
Update 1
District Attorney Cyrus Vance sent out a release on the verdict.
"John Haggerty abused the electoral process to enrich himself," said District Attorney Vance. "I thank the jurors for their service and careful attention in this case."
Update 2
The indefatigable Azi Paybarah of CapitalNewYork.com caught Haggerty's lawyer, Dennis Vacco's, reaction after the verdict.
Read More
Monday, October 03, 2011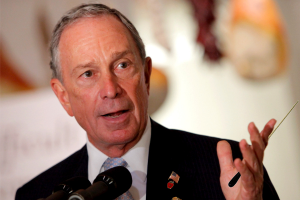 Getty
From the WNYC newsroom:
Mayor Michael Bloomberg is set to take the stand in a grand larceny trial Monday, answering questions from prosecutors who say he was bilked out of more than $1 million and from defense lawyers who claim he is using the case to cover up unsavory campaign practices.

John Haggerty, a political operative who worked on the mayor's re-election campaigns, is accused of convincing the mayor and his staff to pay for a $1.1 million poll-monitoring operation that never materialized, then using most of the cash to buy himself a house.

But much of the questioning so far has revolved around Bloomberg, as Haggerty's lawyers have sought to turn the jury's focus to the billionaire mayor, painting a picture of a high-rolling candidate surrounded by privileged insiders who skirted ethics rules, threw money at problems and didn't hesitate to bend the law.
Read More
Wednesday, September 28, 2011
The Empire blog alum and CapitalNewYork.com reporter Azi Paybarah has been closely covering the John Haggerty trial this week. Manhattan District Attorney Cy Vance is pursuing a case against the Republican operative after he allegedly stole over $1 million from Bloomberg for "ballot security" during Bloomberg's 2009 closer-than-expected third-term mayoral election.
Haggerty is a long-time Republican operative from Queens who allegedly failed to do his "ballot security" job, instead taking the money to buy out his brother Bart's share of their deceased father's family home.
But as Azi points out, the term "ballot security" alone suggests the mayor was dabbling in some shady electoral behavior, and the mayor likely knew more of what he was getting himself into than not.
"Ballot security" is a term used to describe activities at the voting booth that other people might call voter intimidation or suppression. The money Haggerty allegedly stole was first given by Bloomberg personally to the Independence Party, who had given the mayor their ballot line. The money was then funneled to Haggerty.
Read More

Tuesday, August 30, 2011
By Anna Sale
Banks Abandon Obama: America's six largest banks have dramatically changed allegiances since the 2008 presidential money race, and GOP candidate Mitt Romney is reaping the spoils. Recent campaign finance reports "offer a vivid illustration of how the president's first 30 months in office have fractured what was once a warm relationship with the largest American banks," reports American Banker, a daily financial industry newspaper. "You could sum it all up in a hyphenated word: Dodd-Frank," University of Virginia political scientist Larry Sabato tells the paper.

Tuesday, March 15, 2011
New York's Independent Party has found itself embroiled in controversy after being accused of a cover-up.
Prosecutors accused the state's third largest political party of obscuring a $1.1 million theft by political consultant, John Haggerty. The party has not been criminally charged but the judge in the case has frozen their bank account.
The large sum was a contribution from Mayor Bloomberg for poll-watching back in 2009 in the weeks running up to his city re-election bid.
Tuesday, November 02, 2010
By Azi Paybarah
In New York, political parties win or lose their position on the ballot based on the number of votes they get in a gubernatorial election.
Which is today.
Ballot position is part bragging rights, part political philosophy, and, in a very real way, an existential challenge (because what is a political party that doesn't have a designated slot on a ballot?).
A spokesman for the Working Families Party, Dan Levitan, chatted with me just now about where he and other minor parties may end up after tonight.
Levitan said rows "A and B don't matter" since those will be held by either Democrats or Republicans for the forseeable future. Voters are used to seeing those two parties battle it out there, he said.
"But it does matter who comes after that. We're the third time [Cuomo] is listed on the ballot. It makes it harder [for us]. If we were the second time, it would be easier," he said.
Cuomo is also appearing on the Democratic, and Independence Party lines.
The reason why ballot position matters, according to Levitan, is that "it's easier to find. The closer you are to the major parties and the farther you are from the Marijuana party, the better you are."
Levitan's prediction: "I don't think existing minor parties will change ballot position."
(A party needs to get at least 50,000 votes on their line in the governor's race to keep a designated row on the ballot for the next four years. If a party doesn't get that, they have to go through a painstaking and costly petition process to reappear.)
Read More

Thursday, October 14, 2010
I think the Democratic party nationwide represents clearly the left, and I think the Republican party nationwide clearly represents the right, both on economic  and social issues. And I think it's important not to be vanilla, you can't just be vanilla in this world and political parties have a responsibility to speak out both on economic and social issues.
-Michael Long, Conservative Party of New York State Chairman, on The Brian Lehrer Show

Saturday, September 04, 2010
By Julia Furlan : WNYC Culture Producer
On a normal day, 46th Street, which is marked with a small "Little Brazil Street" sign, looks like any other midtown side street. But on Sunday, 1.5 million people are expected to descend on the 25 blocks surrounding 46th Street for the annual celebration of Brazilian Independence Day, which falls a day later on September 7th.

Thursday, July 22, 2010
By Azi Paybarah : author of The Empire blog
Read More