Howard Wolfson
Thursday, May 31, 2012
By Kate Hinds
How are oversize sodas and bike helmets alike?
According to a New York City official, they're really not.
New York City Deputy Mayor Howard Wolfson -- an avid bicyclist -- was at a press conference Thursday for Mayor Michael Bloomberg's proposed ban on super-sized, sugary sodas. He was asked why the mayor didn't support mandatory bike helmet legislation for all riders (like the bill just introduced into New York's City Council by council member David Greenfield.)
You can listen to Wolfson's explanation below, or read his response.

"First of all, there's no other major city in the country that has a mandatory bike helmet law, and there's a reason why. The thing that actually saves the lives of cyclists is protecting them from drivers, which we have done more in this city than any other city in America. It's why our fatalities are down in this city, accident fatalities are down to an all-time low. So we are making enormous progress in keeping cyclists alive. I understand there is a council person who has promulgated this. He is not a friend of bicyclists. He is against bike lanes. So I'm not going to take -- and this administration is not going to take advice on protecting cyclists from somebody who has consistently been against the things that saves the lives of cyclists. As somebody who bikes to work nearly every day, I can tell you what saves the lives of cyclists. It's separating cyclists from cars. And we've done more of that in this city than any other city in America. We're going to keep doing that, we're going to keep driving down fatalities, we've been successful at it. We're not going to take advice from people who aren't actually on the side of cyclist safety."
_______________________________________
Wolfson also underscored his point by tweeting it at Greenfield.
Read More

Wednesday, November 30, 2011
By Anna Sale
Republican challenger targets incumbent's link to Bloomberg and "New York liberals." A fundraiser for Mitt Romney is disrupted by dressed-up Occupy Tampa protesters. Former presidential campaign strategist Howard Wolfson explains his move from Washington to local government. 
Wednesday, October 05, 2011
By Steven Greenhouse : New York Times Labor and Workplace Correspondent
The Bloomberg administration's push to assign blame for the latest round of layoffs, which will overwhelmingly affect workers from District Council 37, underlines the administration's strained relationship with that union and its executive director, Lillian Roberts.
Read More
Monday, May 23, 2011
By Kate Hinds
Bus rapid transit systems are on the rise, but not everyone is a fan. (Wall Street Journal, Globe and Mail)
Amtrak is seeking private investors for its Northeast Corridor high-speed rail line. (The Hill)
California's high-speed rail authority is disputing bills from Caltrain that are worth more than $108,000. (San Francisco Examiner)
Rep. John Mica's opinion piece in today's Politico: "Congress must act now" on transportation reauthorization legislation.
San Francisco's cabbies want their fares in cash instead of credit cards (Bay Citizen via New York Times). Meanwhile, NYC livery cab owners are fighting the city's outer-borough medallion plan (WNYC).
New York City Deputy Mayor Howard Wolfson, a supporter of the city's bike lanes, gives a reporter a taste of his two-wheeled commute. (New York Times)
Maryland's governor signed a bill forbidding a French government-operated company from competing to run that state's commuter trains, because of the company's activities during the Holocaust. (Washington Post)
The NY Daily News blames Mayor Bloomberg for not doing enough for the city's transit.
Boston unveils three electric car charging stations today. (Boston Herald)
Riders at two Brooklyn F and G train stations have their stations back -- for now. (WNYC)
Follow Transportation Nation on Twitter.
In case you missed it on Transportation Nation:
-- the Yankees' parking garage is losing money, plus it displaced a public park (link)
-- cab sharing on tap for this year's US Open (link)
-- bike commuting in Houston? You betcha. (link)
-- carpooling in Houston? Yep, especially as gas prices fluctuate (link)
Read More
Saturday, April 02, 2011
(Andrea Bernstein, Transportation Nation)  The most interesting thing about Assemblymember's Jim Brennan's scientific poll of people living in neighborhoods around Prospect Park is how remarkably consistent opinion is on the two-way, protected bike lane.  It was installed last June, reducing automobile traffic from three lanes to two.  But there has been noisy discussion around it -- and a lawsuit to remove it -- ever since.
When Councilmember Brad Lander did a 3000-person survey back in December, 49 percent of respondents said they wanted to keep the bike lane as is, 22 percent said they wanted to keep it with changes, and 29 percent said they wanted to remove it.
When Brennan hired a national polling firm to do a statistically significant survey of how some park-bordering communities felt, 44 percent of respondents said keep it as is, 25 percent said it should be altered in some way,and 28 percent wanted to remove it.
Thus, in December of 2010, 71 percent of those surveyed wanted the bike lane to remain, 30 percent did not.  Today, 69  percent of respondents want the bike lane to remain (albeit some want changes) while 29 percent wanted it removed.  That difference is minuscule, and certainly well with the margin of error on Brennan's poll, 4.5 percentage points.
Given all the press that the lawsuit against the bike lane has gotten -- and all the opportunities for both sides to make their arguments, the sentiment has been remarkably consistent.  Nothing is moving these numbers.
"This is only the most recent proof that bike lanes and this particular bike lane are and is popular," Deputy Mayor Howard Wolfson told me in in a telephone interview. "Sixteen points is a pretty overwhelming margin. If you have a sixteen point electoral victory they call it a landslide." (Wolfson, having been a top aide in Hillary Clinton's campaign for President, knows something about elections.)
But if this were an election campaign, it's almost impossible to think of numbers holding like this.   Some public officials have been loudly and vocally berating bike lanes -- the lanes have literally become a punch line.  The tabloids have run anti-NYC DOT headlines for days in a row.  Even the NY Times and NY Magazine have raised the question of whether bike lanes can turn New Yorkers against Mayor Michael Bloomberg.
Apparently not.  The Lander survey -- not scientific, but sampling a broad range of opinions using an array of techniques, the Brennan poll, and a recent Quinnipiac poll showing overall, 54 percent of New Yorkers say bike lanes are "a good thing" vs. 38 percent who do not -- would seem to indicate that, actually, bike lanes are one of the more popular things Mayor Bloomberg has done.  (His education numbers by contrast, show only about a third of New Yorkers approve what he's doing in the schools.)
Now, this doesn't mean there isn't dissent.  The Brennan poll probed depths of feeling, and found that both sides felt strongly about their positions, but more of those who are opposed felt strongly in their position.  That's exactly the kind of feeling that gives rise to angry testimony at the city council, lobbying of elected representatives, and, even lawsuits.
But apparently, these strongly held beliefs are not persuading people on the other side.
Now, there were some interesting secondary questions in the poll.   More people than not said  the bike lane made traffic, presumably automobile traffic, worse.  But that's what the members of Community Board were aiming for -- cars were speeding, they wanted them to slow down, they thought trimming Prospect Park West to two automobile lanes from three would have that effect. In general, slower speeds are experienced as more traffic-- whether you like to drive,walk, or bike.
What would be really interesting to know, and traffic engineers have studied this in elsewhere ,is whether making Prospect Park West a less auto-friendly street has affected the overall volume of automobile traffic in Park Slope.
Gridlock Sam one related to me a tale of how, when the West Side Highway fell down, he and the other engineers at City DOT were convinced that surrounding streets would be inundated with traffic -- and they were, for a while. But as they studied the traffic patterns over time what they found was that traffic was dispersing through the grid, and that a full 1/3 of it simply disappeared altogether as people switched to other modes.
A highway, former Milwaukee Mayor John Norquist once argued to me, draws traffic.In fact, because drivers will go out of their way to take a route they see as faster. But if you remove a highway (as he did) it doesn't mean 40,000 cars traveling on the highway will suddenly be plunked down into the surrounding streets.  Ultimately, what happened in Milwaukee is that traffic volume dropped as cars dispersed around the street grid.
Was Prospect Park West functioning in the same way, pre-bike lane,when it was faster to drive on?  Were drivers going out of their way to take PPW versus, say, Seventh Avenue, two blocks over, a notoriously slow commercial street?  (PPW is mostly residential.)
But back to the poll.  Jim Walden, the attorney for the group suing to remove the bike lane, was clear in his dismissal of this poll:  "Safety is not a popularity contest," he said.
But he couldn't resist parsing the numbers, anyway.
"Pedestrians feel less safe crossing Prospect Park West, as this poll decisively shows.  But DOT's own data tell the same story, and the numbers don't lie:  people feel less safe because they are less safe.  In the end, safety is not a popularity contest."
The poll does not decisively show pedestrians feel less safe:  It shows most of the respondents -- a plurality -- feel neither safer nor less safe.  In fact , 44 percent either feel no impact  (38 percent) , or aren't sure (6 percent).  Thirty three percent feel less safe, and 22 percent feel safer.
The lawsuit argues that the DOT manipulated safety data to make it look as if the bike lane were making the street safer.
Some other interesting numbers -- two thirds of respondents said they owned a car that they used regularly, while only a third said they biked regularly.  Which means that drivers are for the bike lane in pretty big numbers.
Unfortunately, the poll didn't ask a follow up question to the 25 percent who said they were "in favor of altering the bike lane and traffic pattern to address driver and pedestrian concerns," so its impossible to know what those people meant -- putting in pedestrian signals, islands, and adding parking spaces, as Councilman Lander has advocated?  Make the bike lane one-way, instead of two way, as some bike lane opponents have articulated?
The battle now really does move to the courts, as the court of public opinion seems to have weighed in.  The first hearing is scheduled for May 18.
Except, somehow, I'm guessing we haven't heard the last word.  From anyone.
Read More
Thursday, March 24, 2011
(Andrea Bernstein, Transportation Nation) Speaking on  WNYC's Brian Lehrer Show today, deputy mayor Howard Wolfson gave New York City Mayor Michael Bloomberg's administration's most full-throated endorsement in recent months of the city's policy of expanding bike lanes and pedestrian plazas.
"The Mayor is foursquare behind the commissioner," Wolfson said. "He believes this is the right thing. At the end of the day, when you take away all the overwrought rhetoric, it's about providing choices to New Yorkers."
Wolfson was also asked to respond to anti-Prospect Park West bike lane attorney Jim Walden's charge, made yesterday on the Brian Lehrer Show, that the Quinnipiac poll showing 54 percent of New Yorkers think bike lanes are "a good thing" means "a very, very significant minority do not, and you can feel the pulse around the city and people are largely extraordinarily upset that the administration has been so fast and loose with the data, promised a robust study, and failed to deliver."
Wolfson said: (about a minute in) "If you had a political candidate who won by fifteen points in an election, you'd call it a landslide. And so fifteen points is a significant margin, especially considering some of the adverse press that bike lanes have gotten.  And you do have a minority of people who don't like bike lanes  -- and they're certainly entitled to that.  In this instance they've hired an outstanding attorney with a very, very prestigious law firm to engage in legal process and that's fine too, people are entitled to do that.
"We have thousands of lawsuits filed against the city every year.  If we let lawsuits or the threat of  lawsuits deter us from heeding the will of the people, the vast majority of the people, in making positive change, we'd never get anything done in the city...In this instance the DOT did nothing wrong and I am quite confident of the outcome of the legal process that the minority of people opposed to this bike lane have chosen to engage in."
(Note: Walden and his firm, Gibson Dunn and Crutcher, are working pro bono.)
Brian also Wolfson whether it's "a coordinated strategy from city hall to have the NYPD enforce" traffic laws for cyclists in Central Park and elsewhere.
Wolfson: (about 9 minutes in) "We have a strategy of providing greater transportation choices for New Yorkers, that certainly includes bike lanes, and we have a strategy of insuring our laws are obeyed on the roads."
You can listen to the interview below.
Read More
Thursday, March 24, 2011
By Kate Hinds
(Kate Hinds, Transportation Nation) Yesterday, it was attorney Jim Walden's turn; today, it's Howard Wolfson's. The New York City deputy mayor will be on WNYC's Brian Lehrer Show this morning at (about) 10:25am to talk about the city's bike lane program. In the New York area, you can find the program on AM820 and FM 93.9; it also streams live on wnyc.org.
Read More
Thursday, March 24, 2011
By Kate Hinds
NYC deputy mayor Howard Wolfson goes on the Brian Lehrer Show this morning at around 10:25 (give or take a few minuites) to counter charges that the city has gone too far with its bike lane program.
Long Island Bus may put the brakes on 27 of their 48 lines this summer because, according to MTA chairman Jay Walder, Nassau County is not paying enough toward the service's $134 million annual budget. Walder said 16,000 people may lose bus service and 200 workers will be laid off. (WNYC)
After two planes landed without being able to reach an air traffic controller at Reagan National Airport, DOT head Ray LaHood ordered an additional controller to staff the overnight shift (Washington Post) -- and a study of air traffic controller staffing at airports around the country. (AP via BusinessWeek)
Towns in the Boston area are exploring a regional bike share program. (Boston Globe)
Accused of raiding local transit money, a Republican-led Minnesota House committee  dropped a provision from a major state transportation bill that would have shifted money from new rail projects to existing bus operations. (Minneapolis Star-Tribune)
The Queensboro Bridge will soon be known as the Ed Koch Bridge. (WNYC)
Vice President Joe Biden chastised Gov. Rick Scott in Tampa, saying he cost Florida thousands of jobs and cutting-edge infrastructure improvements by rejecting $2.4 billion in federal funding for high-speed rail. "Your governor, God bless him — I don't know him — but I don't get it," Biden said at a private fundraising reception for Sen. Bill Nelson. (Miami Herald)
Changing Gear's Micki Maynard looks at Detroit's decline. "Sixty years ago...people in all parts of the city could walk to work, or take a streetcar or bus. Some of them chose to drive, because they earned enough to afford to vehicles they were making (something their parents and grandparents might not have been able to do)."
A day in the life of Manhattan parking court -- real life, in-person court, not the newfangled online court. (NY Times)
Top Transportation Nation stories we're following: The Central Park Conservancy is removing the confusing signs that led the NYPD to ticket nine cyclists improperly for speeding. What's more, the NYPD took the unusual step of making house calls to apologize for the erroneous citations.  Speaking of Central Park: a NYC council member has introduced legislation that would ban cars from both Central and Prospect Parks. The attorney litigating the Prospect Park West bike lane lawsuit appeared on WNYC's Brian Lehrer Show. And: a new transportation advocacy group grows in Houston.
Read More
Friday, February 11, 2011
By Azi Paybarah
Aram Roston tries connecting the dots between Bloomberg LP's legislative agenda in Washington, Michael Bloomberg's political operatives and a Bloomberg BusinessWeek story. Howard Wolfson figures prominently:
Roston:
Bloomberg's lobbyists quickly told the coalition members that it intended "to capitalize on the great Business Week/Bloomberg story this morning," according to an e-mail obtained by The Nation from a member of the coalition. The lobbyists wrote, "We'd like to flag it for reporters with a quick quote and topper." The coalition's press statement said of the article, "These donations…are part of a calculated attempt to buy approval for a merger that offers too many dangers for consumers and media organizations."

There is no evidence that the Bloomberg reporters wrote the story as part of a companywide strategy or were assigned the story because of corporate influence. A Bloomberg spokeswoman says there is an "impenetrable firewall" between editorial decisions and the other parts of the company. Still, it was a captivating confluence of forces: Glover Park Group, paid by Bloomberg LP, and acting with the coalition it had created on Bloomberg's behalf, was on the warpath to distribute a news story Bloomberg Businessweek had written about the issue that was the most important pending matter in Washington for the Bloomberg brand.

Glover Park Group, for its part, readily concedes that it organized the coalition and that Bloomberg was its paying client but insists that the coalition was not technically a lobbying operation. "Any lobbying work that's done is registered and fully disclosed," a spokesman wrote in an e-mail to The Nation. "The Coalition never did any lobbying." Here is the way to parse that: Senate lobbying definitions make it clear that lobbying includes "any oral or written communication" with White House or Congressional officials. But material "that is distributed and made available to the public" gets an exemption.

In a subsequent statement to The Nation after a request for clarification, a Glover Park spokesman said the coalition letters and other releases "are simply public communications."
Another highlight from the story: "One oddity of the Bloomberg news empire is that without exception, all of its journalistic operations lose money, and they always have, according to sources with knowledge of the company."
Read More
Tuesday, February 08, 2011
By Azi Paybarah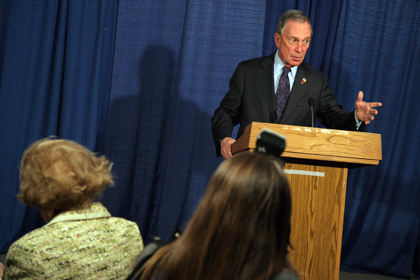 Senior Advisor Howard Wolfson offers this comment when asked about Mayor Bloomberg testifying before a grand jury about campaign operative John Haggerty illegally obtaining nearly $1 million of the mayor's money during the 2009 campaign.
"The Mayor was asked to testify regarding the DA's allegations that money was stolen from him and he did."
More on that from Liz Benjamin and Grace Rauh.
Read More
Tuesday, January 18, 2011
By Azi Paybarah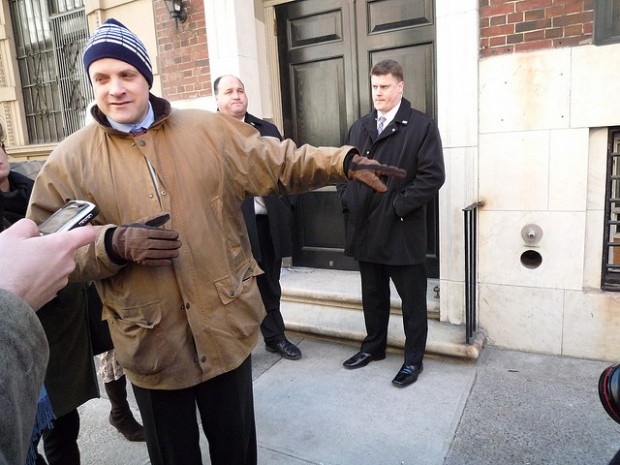 Except for the iPad, just about any of his appearances could have easily been mistaken for those back in 2007 and into 2008. The two major initiatives of his third inaugural, the deputy commissioner exchange program and a national pro-immigration push, had both all but disappeared, the former a victim of apparently middling results and the latter of a national political climate that was even less interested in hearing from him on border control than it has been on gun control.

[skip]

"You have an elite set of critics, who decided in the beginning of 2009 that they would push a third-term-malaise narrative—even before the mayor was re-elected," Wolfson said. "That was not the case prior to the snow, and the hope and expectation is that that Christmas snow was an anomaly, and that people will come to see that."
Read More