Honda

Monday, September 15, 2014
A new New York Times investigation examines how and why Honda failed, for years, to disclose widespread air bag problems that were causing fatalities.

Tuesday, August 26, 2014
Honda prefers decentralization over corporate control, simplicity over complexity, and experimentation over efficiency, which sets it apart from Toyota and other competitors.
Tuesday, January 08, 2013
(Paul Eisenstein - The Detroit Bureau) General Motors and Ford Motor Co. have ended 2012 with all-time sales records in China — but the news is nowhere near as good for Japanese makers.
Stung by a dispute between China and Japan over a chain of uninhabited islands in the East China Sea, Toyota, Nissan and Honda have all suffered a sharp decline in sales in what has become the world's largest automotive market.
While General Motors has yet to release its final figures for 2012, the maker already passed its previous peak by the end of November, the 2.59 million vehicles it sold for all of 2011. GM has set a goal of boosting sales in China to 5 million by mid-decade.
[Related story: GM Sets Another New Sales Record in China – And it's Not Alone.]
Ford, meanwhile, has confirmed its sales in China rose 21% last year, to 626,616, also an all-time high. The maker was a relative latecomer to the Chinese market but has been aggressively expanding both its product portfolio and production capacity over the last several years.
"Record 2012 sales highlight the positive response our customers have for our full portfolio of high-quality, safe, fuel-efficient and smart vehicles," John Lawler, chairman and CEO of Ford Motor China, said in a statement. "Their enthusiasm for Ford cars validates our aggressive plan to introduce 15 new vehicles, double production capacity and double our China dealership network — all by 2015."
Chrysler has also been pushing into record territory, though its volumes have been much smaller than its cross-town rivals. That's ironic because Chrysler was the first Western maker to build vehicles in China, or more precisely through its Jeep subsidiary. But its original operation was assumed by former partner Mercedes-Benz following the break-up of the ill-fated DaimlerChrysler AG.
[Related story: Chinese Reportedly Eyeing Stake in Daimler AG]
Under new partner Fiat SpA, Chrysler is again making an aggressive push to expand in China.
Japanese makers were also slow to enter the Chinese market, in part to long-standing enmity between the two nations dating back to Japan's brutal occupation of its neighbor during World War II. That simmering disdain came back to a boil when the Japanese government decided to buy what it calls the Senkoku Island chain last September.
That set off rioting in China, the bigger nation also laying claim to what it calls the Daioyu Islands. A number of Japanese-owned vehicles were destroyed and a Toyota dealership was even torched in what many observers believe were government-tolerated, if not sanctioned, riots.
Japanese industry executives had previously telegraphed the likelihood of declining sales in China which, they also cautioned, would hurt their earnings for the rest of the 2012 fiscal year – which closes on March 31, 2013.
Nissan took the biggest hit, sales declining 5.3% for calendar-year 2012, to 1.2 million vehicles. Nissan has been the most aggressive of the Japanese makers operating in China, among other things setting up the new Venucia brand with its partner there, Donfeng Motors.
Toyota suffered a 4.9% drop in volume last year, to 840,000. Honda's China sales slipped 3.1%, to 599,000. Prior to the dispute over the Senkoku/Daioyu Islands, Toyota had expected to see a 10% jump in sales in China, reaching 1 million for the first time.
The market for Japanese products has begun to improve, Toyota China spokesman Niu Yu telling the Wall Street Journal, "Sales are getting better day by day, but it's still hard to say when we can get back to the pre-protest level," said.
But it's unclear how quickly there will be a full recovery. Nissan, for example, suffered a 41% drop in demand in October, shortly after the dispute began, but sales were still off 24%, year-over-year, in December.
Follow The Detroit Bureau on Twitter.
Read More
Wednesday, December 21, 2011
By Kate Hinds
Top stories on TN:
Your TN Transportation and Infrastructure Holiday Gift Guide: New York Edition (link)
Deal Reached on Controversial NYC Taxi Plan (link)
Newt Gingrich: Rail Visionary, Lover of Oil (link)
Rating Agency Says Loss of Tax Revenue Could Hurt NY MTA (link)
Cashless Tolling In NYC – Not Yet, But Moving Toward It (link)
The Federal Aviation Administration will release new rules for addressing pilot fatigue today. (The Hill)
House Republicans are calling for a GAO audit into California's high-speed rail program. (McClatchy via Miami Herald)
Congress moves toward a tougher stance on pipeline safety, but is it enough? (ProPublica)
Now that Troy has rejected federal funds for a regional transit center, other Michigan cities are scrambling to claim it. (Detroit Free Press)
Battered by criticism and low sales, Honda will redesign its Civic -- just eight months after releasing the last version. (Changing Gears)
Reimagining highway routes as a transit map. (Cambooth.net)
The nostalgia train brought out New Yorkers' inner flappers/Southern gentlemen/vaudeville hosts. (Wall Street Journal)
Cap'nTransit asks: will Cornell's Applied Sciences campus on New York's Roosevelt Island be car-free?
TSA agents in Los Angeles are trying to get on passengers' good sides by singing holiday carols. (Marketplace; video below)

Read More
Tuesday, November 01, 2011
By Kate Hinds
Top stories on TN:
Why NYC taxi medallions are worth more than ever. (Link)
The federal government says so-called "Chinatown buses" have more accidents. (Link)
Safety concerns prevent Pittsburgh bicyclists from becoming regular commuters. (Link)
The cost of California's high-speed rail project has jumped to $98.5 billion, according to a business plan being released today. (Los Angeles Times)
The president's infrastructure bank proposal comes up for a vote in the Senate this week. (The Hill)
Atlanta's trying one more time to build a transit hub downtown. (Atlanta Journal-Constitution)
Ray LaHood says Republicans prioritize thwarting the president. "Republicans made a decision right after the election—don't  give Obama any victories. The heck with putting people to work, because we can score points." (The Daily Beast)
Parts shortages from three months of catastrophic flooding in Thailand have forced Honda to cut U.S. and Canadian factory production by 50 percent for the second time this year. (NPR)
Airlines are trying to cut boarding time on planes. (New York Times)
Transit wish list: the Triboro RX line, which would connect Brooklyn, Queens and the Bronx -- without coming into Manhattan. (Second Avenue Sagas)
An upstate county official slams the NY State Department of Transportation for not being prepared for this weekend's snowstorm. (AP via Wall Street Journal)
Transportation groups are pushing for a gas tax increase, but Congress and the White House aren't biting. (Politico)
Does London's bike-promoting mayor put cars first? The Guardian says yes.
Read More
Tuesday, May 03, 2011
By Kate Hinds
Christie said he won't repay ARC money: the NJ gov said the $271 million in federal funds that had been designated for the ARC tunnel "is not money that should be paid back to the federal government." His decision may cost the state $52,000 a week in interest. No word yet on his next move. (Bloomberg)
The winning automaker in New York's "Taxi of Tomorrow" contest will be unveiled soon. (WNYC)
Queens residents and politicians are fed up with New York's #7 subway line, which has had 106 service disruptions since January. (Queens Courier)
Rep. John Mica is worried that Osama bin Laden supporters might target America's transit systems. (The Hill)
The Netherlands has sent three experts on "cycling as transportation'' to Miami to help figure out how to make that city more bike-friendly. (McClatchy; hat tip to Good)
DC-area bicyclists not only battle cars, but the design of the roads. (WAMU)
Why yes, I would like to build a bicycle that also doubles as a pencil. (Instructables)
Toyota has sparked a controversy in Brazil for attempting to legally bar a media outlet that published spy shots of a new Corolla from ever mentioning the Toyota brand name again. (Jalopnik)
What happens to the neighborhood when a Borders disappears? Chicago wants to encourage smaller businesses, but parking remains a perpetual concern. (WBEZ)
Honda is recalling hundreds of thousands of vehicles over airbag concerns. (Detroit News)
Follow Transportation Nation on Twitter.
In case you missed it on Transportation Nation:
--DC's bikeshare gets a boost from a rally held in the wake of bin Laden's death (link)
--as gas prices rise, so does bus ridership (link)
Read More
Monday, April 25, 2011
By Kate Hinds
Japanese automakers release March numbers -- the first hard numbers since the earthquake and tsunami.  (The Takeaway)
Denver is pairing transit and development. (Denver Post)
A NYT op-ed piece compares the president's current plan for high-speed rail to the building of the transcontinental railroads in the 1800s; the writer says that both sacrificed public good for private gain. (NYT)
Not all of NYC's bicyclists are happy with the new bike lanes. (Wall Street Journal)
The St. Louis airport is operating at 85% after tornado damage.

A contender for New York's "Taxi of Tomorrow" says that if it wins the contract, it will build its vehicles in Brooklyn. (NY1)
After years of planning, Birmingham (MI) pulls out of a transit plan with neighboring Troy. (Detroit Free Press)
Follow Transportation Nation on Twitter.
In case you missed it on Transportation Nation:
- Membership in DC's Capital Bikeshare nearly doubles after an online coupon deal (Link)
Read More

Wednesday, April 20, 2011
Fuel efficiency is the buzz phrase at the 2011 New York International Auto Show — but the specter of production slowdowns and supply chain disruptions looms large for Japan-based manufacturers struggle in the aftermath of the earthquake and tsunami last month.
Wednesday, December 22, 2010
By Kate Hinds
NPR reports on how US ethanol subsidies affect food prices. "When the price of gas goes up, it raises the demand for ethanol — and that means consumers will feel it in two places: at the gas pump and on the dinner table."
The Federal Transit Administration awarded $25.7 million in grants to help communities analyze and expand their transit systems. One of the winners was Washington DC, which won $1 million for a feasibility study looking at running streetcars along DC's K Street. (WAMU)
Next American City asks: can a new streetcar save Atlanta's MARTA?
From four wheels to two wings: Honda just made its first flight in a FAA-conforming jet, paving the way for Honda Aircraft to sell planes in the American market. (AutoNews)
The Aurora (Colorado) City Council moved forward with a plan to implement bike lanes that will connect nine area schools. (Aurora Sentinel)
The New York State comptroller rejected a $118 million transit contract with Science Applications International Corp., saying the company's role in the CityTime contracting scandal remains unclear. (Wall Street Journal)
The New York Daily News wrote an editorial taking the MTA to task for "replacing subway literature with self-congratulatory ads." Reminder: write your own literary service announcement and post it to the WNYC website!
Read More

Wednesday, February 10, 2010
The recall is due to air bags that can inflate with too much pressure, causing the inflator to rupture and injure or kill the driver.
Thursday, April 09, 2009
By Ilya Marritz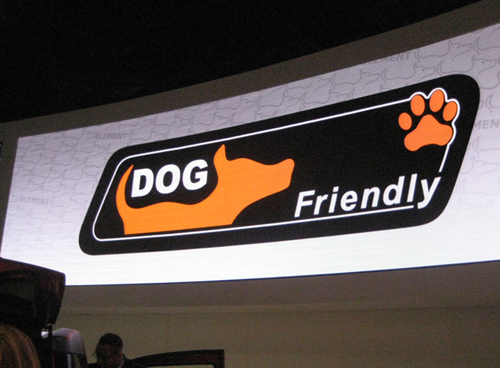 Just back from the NY Auto Show.
Every car maker is touting green creds and/or affordability...Great ideas, but very same-y after a while. How to stand out then?
Honda broke out of the pack with their 'dog friendly' Element, including 'leash ready' ...