Hakeem Jeffries
Friday, March 02, 2012
Reid Pillifant has the story on CapitalNewYork.com about the Communication Workers of America throwing their support behind Assemblyman Hakeem Jeffries in his bid to unseat Congressman Ed Towns.
"We believe that he has crossed over at least to the right wing of the Democratic Party," Pillifant has CWA District 1 vice president Chris Shelton quoted as saying.
Reached by phone, CWA District 1 legislative and political organizer Bob Master said, "On a range of issues, the incumbent has not stood with working people. The most glarin are all these votes on trade agree that we opppose.
"Someone who represents a district in Brooklyn like that should be a champion. We need more champions in congress and in Washington and Hakeem Jeffries has been that kind of champion for us in Albany."
This is the Jeffries third union endorsement in the race.
Read More
Friday, January 13, 2012
It isn't a big surprise but it's a big announcement: Brooklyn Assemblyman Hakeem Jeffries is officially launching his campaign for Congress in the 10th district this Sunday. The official invite is below.
Jeffries will officially be joining Councilman Charles Barron as a challenger to the man that currently holds the office, Congressman Ed Towns.
Some of the best reporting on Jeffries move towards running has been done by Reid Pillifant at Capital New York--definitely worth a review.
One of the most interesting things moving forward will be to see how redistricting--which will increase the size of the 10th by tens of thousands of voters--will affect the race. We'll be checking in on that as soon as the maps become available.
Read More
Monday, November 28, 2011
Brooklyn Councilman Charles Barron made it official yesterday: he's running for Congress (again) against Congressman Ed Towns in the 10th Congressional District. Back in 2006, Barron lost to Town by 8 points in the primary. Assemblyman Hakeem Jefferies of Brooklyn is also seriously considering a run at the seat.
In a three-way primary between the incumbent and two challengers, the difference may end up being the new voters absorbed into the district after its lines are redrawn. To meet the new population post-Census total for Congress, NY-10 will need to grow by nearly 40,000 people.
Read More
Thursday, October 13, 2011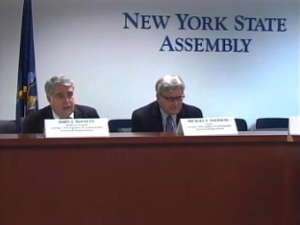 I caught up with Senator Michael Nozzolio yesterday, after I hadpublished my piece on LATFOR's progress with prisoner reallocation. Nozzolio is, of course, the co-chair of the committee, and the Senate Republican Majority's representative. In the piece I wrote about the Democratically-controlled Assembly's work to follow the current law that would count predominately upstate prisoners back in the predominately downstate communities for the purposes of redistricting.
Senator Nozzolio sent a letter to LATFOR at the end of last month instructing it to "immediately begin geocoding" the prisoner data. This, understandable, struck some on the Assembly side as odd, considering they'd already done the work and submitted it to LATFOR. Nozzolio made no mention of their work in his letter. He did, however, acknowledge receiving it when asked yesterday, saying the Assembly work deserved "great praise."
"They did a terrific job," Nozzolio said before making a clarifying statement: "They [the LATFOR staff] had a responsibility to just not accept [what the Assembly submitted] at total face value without scrutinizing the information."
Currently, the senator said, LATFOR's staff of cartographers and "census professionals" are analyzing what the Assembly staff did to see if it passes muster. So far, Nozzolio said, things were looking good.
Read More

Monday, June 20, 2011
If we are going to permit marriage equality for same sex couples, it seems to me somewhat problematic if we're then going to turn around and impose restrictions on the ability for those same sex married couples to raise children looking for a loving home.
— New York State Assemblyman representing central Brooklyn Hakeem Jeffries (D-57) on The Brian Lehrer Show.

Tuesday, March 22, 2011
If you look at the folks who are in that category, and most of us would certainly like to be in that category, they pay a whopping disproportionate percentage of the taxes right now so I think New Yorkers generally are over taxed.
—New York State Senator John J. Flanagan (R-2) on the millionaire's tax, speaking on The Brian Lehrer Show.
Friday, January 28, 2011
By Azi Paybarah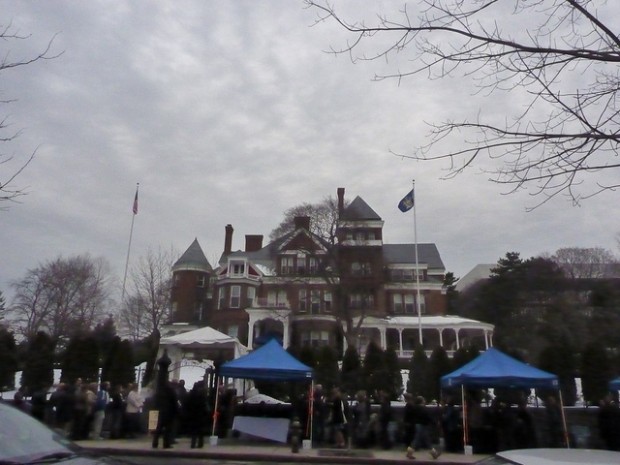 Thomas Kaplan has a good peek inside
the governor's mansion, where Cuomo has relocated much of the budget talks with legislators. There, the governor is plying his audience with food and beverages as he tries getting them to support what is expected to be a
painful
round of budget
cuts
.
Assembly Speaker Sheldon Silver - whose support is crucial for the governor - is quoted saying after his meeting, "They served too much."
Not everyone feels the same way.
On Monday, Cuomo hosted members of the Brooklyn, Bronx and Westchester delegations. Among the attendees was Hakeem Jeffries, a Democrat from Brooklyn. He said the wooing he got from the governor was more modest, and in keeping with his fiscally conservative talking points.
"I think the most generous way I can describe it was 'light refreshments,' " Jeffries, of the meeting. "Clearly it was consistent with the notion that we are in austere times and the days of wine and roses are over. And it was made clear to us in advance of the meeting: Don't cancel your dinner plans."
Read More

Friday, November 12, 2010
By Beth Fertig
Mayor Michael Bloomberg's appointment of Cathie Black to be the next schools chancellor this week caught the entire city by surprise. Black is a successful publishing executive, but has no experience in the public sector or education. Opposition to her appointment is growing, among members of the City Council and the state legislature.