Gracie Mansion

Sunday, January 05, 2014
Hot cocoa and cider helped warm visitors and pass the time but some complained about the port-a-potty only, no restroom option.

Wednesday, January 01, 2014
By Brigid Bergin : Reporter
There's more changing than who's at the helm of City Hall. Here are five things on the 2014 in / out list.

Wednesday, December 11, 2013
For the first time in twelve years, the mayor of New York and his family will be living in Gracie Mansion.

Friday, February 01, 2013
By Brian Wise
In 1978, mayor Edward I. Koch invited Aaron Copland to Gracie Mansion after hearing that the composer had never been there. "But you were born in Brooklyn and are one of our great composers," Koch exclaimed. "I am shocked!"
Read More

Monday, December 10, 2012
Former New York Mayor Ed Koch has been released from a Manhattan hospital.
Tuesday, August 24, 2010
By Azi Paybarah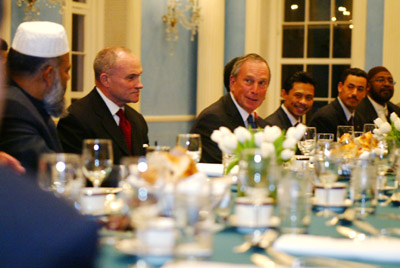 Kristen Artz / nyc.gov
Michael Bloomberg is hosting his annual Iftar dinner tonight at Gracie Mansion. Above is a photo from an Iftar dinner he held there in 2004.
It's the perfect venue for Bloomberg to reassert himself as the pre-eminent defender of the Park51 project, which, with one exception, has drawn a collective mumble from other city officials.
Read More