Governor Paterson
Thursday, March 05, 2009

Senate Republicans were the first at the state capitol to release their alternative to Governor Paterson's state budget, WNYC's Karen Dewitt reports from Albany.
The Senate Republicans, who are in the minority in that house by just one seat, rejected both Governor Paterson's dozens of new taxes and fees to raise revenues and a plan circulating in the legislature to raise taxes on wealthy. 'You can't tax your way out of this situation,' says Senate Republican leader Dean Skelos.
Friday, February 20, 2009
A coalition of New York groups, spearheaded by Common Cause/New York, is seeking to have Governor Paterson agree to a high level of disclosure standards (something New York state government historically hasn't championed) for economic stimulus money (in line with President Obama's promise that "every dollar" will be ...
Thursday, February 19, 2009
Okay, so, in case you were up all night wondering about Comptroller William Thompson's subway bail-out proposal (introduced in November, re-iterated in Senate hearings yesterday) here's how it breaks down, according to spokeswoman Laura Rivera. Under the proposal, motorists who pay an average of $40 now for vehicle registration would pay an average $400 increase for their biannual fee. People who own large, heavy vehicles could pay even more than that. In general, policy wonks approve of disincentives for behavior that might be seen as anti-social (in this case owning large, heavy cars and light trucks that heavily contribute to global warming.) Suburbanites own 3.5 million cars, New York City residents 1.8. million, so that's 5.3 million cars times $200 annually, or $1.06 billion.
Tuesday, February 03, 2009
Now there's just the $13 billion deficit in next year's budget to deal with.
Governor Paterson, Assembly Speaker Sheldon Silver and Senate Majority Leader Malcolm Smith announced a deal (click for press release with details of the plan) this evening to close the remaining $1.6 billion hold in the current fiscal year budget, and both houses of the legislature approved the plan shortly thereafter.
Here's Paterson discussing the cuts they settled on, and what they decided not to do in closing the budget gap:
But Smith says the real work will begin Wednesday, when lawmakers start trying to craft the 2009-2010 budget.  That budget has a $13 billion deficit by Paterson's latest projection.  Says Smith: "Health care, education, everything will be on the table."
Thursday, January 29, 2009
by Isaac-Davy Aronson
President Obama got a bit agitated today over a report showing that, as the economy teetered and the government pumped billions of taxpayer dollars into the ailing financial industry, Wall Street firms doled out $18 billion in bonuses last year. With his treasury secretary, and former New York Fed chief, Tim Geithner beside him at the White House, Obama told reporters:
"That is the height of irresponsibility. It is shameful. And part of what we're going to need is for the folks on Wall Street who are asking for help to show some restraint and show some discipline and show some sense of responsibility."
Friday, January 23, 2009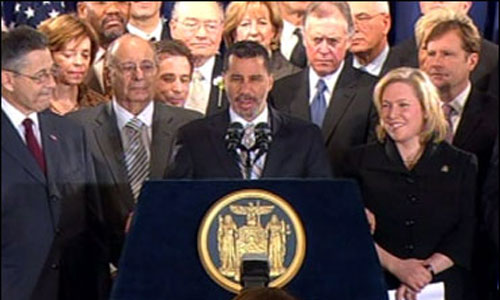 Gov. David Paterson has picked Democratic U.S. Rep. Kirsten Gillibrand to fill New York's vacant U.S. Senate seat. At the press conference announcing the governor's pick, take a look at who's right next to ...