Gerrymandering

Monday, November 03, 2014
When Congressional districts are redrawn, the shapes they form on a map are odd indeed. These artists make a virtue of that.
Read More

Thursday, March 08, 2012
By Justin Krebs : IAFC Blogger
In opposition to the Iraq War and the Patriot Act, Kucinich and Paul have shared a few critical and underrepresented positions. But the more important commonality is their role in voicing opinions that "serious" politicians in their party are afraid to speak.
Read More
Friday, October 21, 2011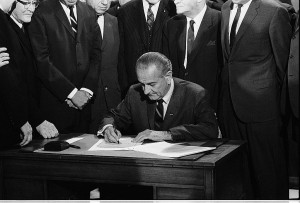 Last week we tried a thought experiment on the Empire. Following up on our reporting on ethnic and racial minority groups' efforts during the redistricting process to have lines drawn that better served "communities of interest" (i.e. racial and ethnic groups), we took up one of the ideas floating around. Is it possible to create a Congressional district in Queens that was at least 40 percent Asian?
The short answer was, yes—see below.
But, it turns out, just because it's possible to draw a 40 percent Asian district doesn't mean it's legal, if even likely, thanks in part to the long shadow cast by the landmark 1965 Voting Rights Act.
But isn't the VRA (that's the cool way to refer to it) all about helping minority groups, like, vote?
It is. But it's more than that. Let's take a step back to review what the VRA is, how it impacts and affects us here in New York, specifically during the redistricting process. Then we'll get to why our 40 percent Asian district in Queens would never fly.
Read More

Monday, July 18, 2011
By Stephen Reader / Alec Hamilton : Assistant Producer, WNYC News
Newly released Census data makes it possible for New York's prisoners to be counted at their home address rather than their jail cell. But internal divisions in the state redistricting committee and a lingering lawsuit leave the reapportionment process in doubt.

Thursday, May 26, 2011
The Justice Department just approved New York's right to count prisoners in their home districts, rather than in their county of incarceration. How will that change the state legislative map in a year when redistricting reform already has blood boiling in Albany?

Friday, April 29, 2011
With Republicans now controlling most state legislatures, the GOP has the luxury of steering the process. That likely means packing newly-distributed black voters into strategically drawn borders, siphoning them from swing districts that would become more solidly Republican as a result.
Obviously, there are big implications for the next decade of elections. In post-census years, it's good to be the king.

Thursday, January 27, 2011
Minority communities are arming themselves with mapping software, census data, and the intricacies of the Voting Rights Act to ensure that they get their say when districts are redrawn this year. They're determined to elect representatives in Congress, the state Legislature, and on the local level who will vote with their concerns in mind.

Wednesday, October 06, 2010
There's icing on the cake this year for the political party that takes control over the state legislature: the power to redraw districts for the State Senate, State Assembly and U.S. Congress that will last for the next decade. At the end of this year, the U.S. Census Bureau will have counted the total number of residents--and since New York's population has slightly decreased, it's expected the state will lose two seats in the House.

Monday, October 04, 2010
By Karen DeWitt : NYS Public Radio/WXXI
Albany, NY —
Government reform groups say the next election cycle presents the best chance yet for redistricting reform that they say would put an end to gerrymandered state legislative districts.