George Maragos

Friday, June 15, 2012
By Brigid Bergin : Reporter
Republicans haven't held a U.S. Senate seat in New York since 1999, when Alfonse D'Amato lost to Charles Schumer. But instead of rallying around one candidate, this year there is a three-way race for an unseasonably early primary on June 26.
Read More

Tuesday, April 24, 2012
By Brigid Bergin : Reporter
U.S. Senate candidate Wendy Long is challenging her two Republican primary opponents to a series of three debates before their June 26 primary.
Read More
Tuesday, April 17, 2012
Staten Island Borough President James Molinaro will endorse Republican Wendy Long in her bid for U.S. Senate this year, Long's campaign announced Tuesday morning.
Read More

Thursday, April 05, 2012
Democratic Senator Kirsten Gillibrand is in solid shape for her re-election campaign, which reported $9.1 million on hand. At the same time polls show that New York's junior senator currently leads in match-ups against her possible GOP challengers.
Read More
Friday, March 16, 2012
Three Republican candidates vying for the chance to take on Democratic United State's Senator Kirsten Gillibrand have secured spots on the GOP primary ballot in June.
Nassau County Comptroller George Maragos, Manhattan attorney Wendy Long, and freshman New York City Congressman Bob Turner all secured at least 25 percent of the vote at the party's convention today in Rochester.
Here's the official breakdown:
Wendy Long -- 47.4 percent
George Maragos -- 27.4 percent
Bob Turner -- 25.3 percent
Candidate statements:
Bob Turner
This was an amazing victory for a campaign that began just 72-hours ago.   I am enormously grateful for all the support I received at the convention and I am energized to deliver my message of job growth and fiscal responsibility in every corner of this state.  Senator Kirsten Gillibrand does not deserve re-election. She defrauded the voters of this state with promises that she would act as a moderate.  Instead she has governed from the far left, and is now ranked the most liberal senator in America. That is a firing offense.

This campaign has just begun.  My team and I will be working non-stop from now until Election Day to address the critical jobs and economic issues of our times.
Read More
Friday, March 16, 2012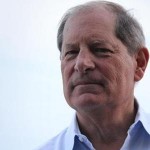 The New York State GOP convention is taking place in Rochester today. But before he could even get there, Rye town supervisor and prospective US Senate candidate Joe Carvin ended his campaign this morning.
"My number one goal in entering the race was to ensure that the Republican Party had a nominee capable of defeating Ms. Gillibrand in November," Carvin said in a statement announcing the end of his campaign. "But in the last several days - after Ms. Gillibrand was ranked the most left-wing senator in America by National Journal and after she voted for higher gas prices by opposing the Keystone XL Pipeline - I believe any of the candidates in this race can beat her."
The news is a boon for freshman congressman Bob Turner of (mostly) Queens. Not only did he lose a competitor, but he got back the team who had helped him win his surprise congressional victory last September. Communications wizard Bill O'Reilly and his former campaign manager E. O'Brien Murray. Both had previously been doing work with the Carvin campaign.
Turner has been on an endorsement roll since announcing earlier this week. This morning it was announced the Queens GOP switched its backing from Nassau County Comptroller George Maragos to Turner.
"Bob has taken on the status quo and fought hard to reverse Washington's reckless spending," Queens County chair Phil Ragusa said in a statement. "We worked hard to help elect him to congress and we look forward to doing the same in his race for U.S. Senate."
The primary for congress is scheduled for June 26.
Read More
Thursday, March 08, 2012
By Karen DeWitt, New York State Public Radio Capital Bureau Chief
George Maragos, the front running Republican to challenge US Senator Kirsten Gillibrand admits he faces an "uphill battle," but the former banker and current Nassau County Comptroller says he'll spend up to $5 million dollars of his own money to compete.
Maragos has secured 25 percent of the party's delegates support to guarantee a spot on the Republican primary ballot for the Senate seat. He says he expects more endorsements from county leaders in the coming days before the GOP convention March 16. Maragos is anti-abortion and personally against same-sex marriage, though he says he respects New York's marriage law. But he says he'd rather focus on improving the economy, and that too much attention has been paid to social issues in the GOP Presidential campaign lately.
"The crises that we're facing in our country are not the social issues, they're the economic issues," said Maragos. "We're losing sight of that."
Maragos says he needs $15 million dollars to run a credible campaign, and is willing to spend several million of his own fortune to do it. He's facing potential primary challenges from Rye Town Supervisor Joe Carvin and New York City Attorney Wendy Long.
Read More