Fundraising Scandal
Thursday, March 01, 2012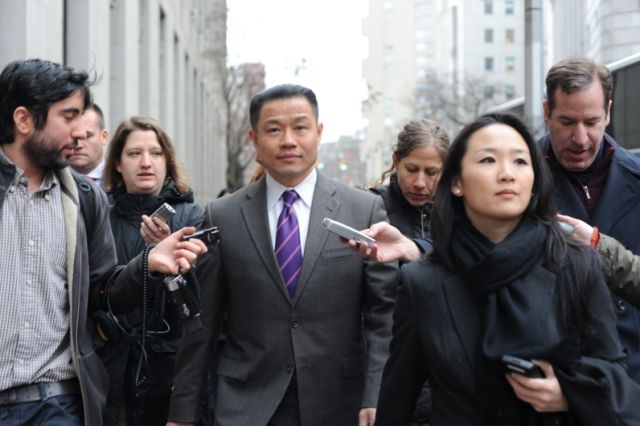 WNYC's Brigid Bergin brings us up to speed on Comptroller John Liu's fundraising scandal:
City Comptroller John Liu says he's still "stunned" by the arrest of his campaign treasurer, Jia "Jenny" Hou. He said, "at this point there are probably a few things that will stun me again."

Still, it was business as usual for John Liu on Thursday. He kept a busy public schedule, stopping to speak briefly with reporters on his way to an event at the Chinese Benevolent Association in the afternoon. He appeared stressed, but Liu said he was "moving forward."

"My campaign has been accused of many allegations. My supporters have been accused. My staff, my campaign staff has been accused," Liu elaborated. "At some point, as I've always said, like with every other candidate, I'm responsible for what happens with my own campaign and will continue to do so."
Read More
Friday, February 17, 2012
A day after his first ever state of the city speech--seen by some as essentially a 2013 mayoral campaign event--Comptroller John Liu continued to defend his campaign against accusations of inappropriate fundraising practices.
"We have always conducted ourselves honestly and with the highest level of integrity," Liu said, appearing on WNYC's The Brian Lehrer Show. "At no time did my campaign act improperly in any way and I've done nothing wrong, and I've not been accused of doing anything wrong."
Oliver Pan, the Liu fundraiser accused of helping a wealthy donor funnel funds through straw donors, is expected to be arraigned today. Liu's campaign is currently under federal investigation for its fundraising practices as far back as 2009.
Read More
Friday, January 20, 2012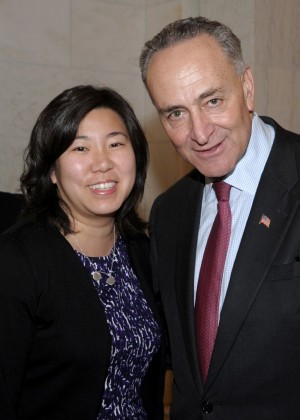 The New York City press corps waited excitedly for embattled Comptroller John Liu's latest campaign finance report. On top of a sort of a schadenfreude-like desire to see just how bad Liu got hurt by his fundraising scandal, reporters also anticipated the list of other bundlersthe Comptroller had been so reticent to reveal.
They were rewarded this week when the semi-annual filings came due on January 17. Within hours the world saw the list of intermediaries, who "bundle" multiple donations together on behalf of a candidate. The infamous Pan, who is accused of trying to help an FBI agent posing as a wealthy donor to skirt campaign finance laws, was there among them.
And so was Queens Assemblywoman Grace Meng.
Seeing Meng's name might have surprised some observers; it was the understandable but ultimately unfair negative association the term "bundler" has received, especially when connected with the Liu campaign.
"The issue is not that he used intermediaries, because intermediaries are built into the law. Otherwise, you wouldn't have forms to register and such," said political consultant Michael Tobman, who has worked with Meng since her 2008 primary. "The issue is who called, how much pressure, what was said, and where were the calls made."
All the potential 2013 Democratic candidates use intermediaries. Council Speaker Christine Quinn actually has more listed in her campaign filings than John Liu. Even so, Meng's name appearing in Liu's filing stood out.
For those who know Meng's history, the real surprise was that she was helping Liu at all.
Read More
Friday, November 18, 2011
Just in case the John Liu fundraising issue has you scratching your head.
Read More
Thursday, November 17, 2011
[Scroll down for additional updates]
UPDATE 2:
Reuters is reporting, and WNYC's Bob Hennelly has confirmed through the Liu campaign's lawyer Martin Connor, that the special investigator Comptroller John Liu hired to review his campaign's troubled fundraising practices has quit.
According to reports, former New York State Attorney General Robert Abrams sent a letter to the campaign today that he was resigning, saying its request that he wait until a Federal probe into the campaign was over before investigating, "compromises my independence, and my ability to do a thorough and effective job."
Abrams was hired after a New York Times article pointed to major issues with the Comptroller's fundraising practices. Abrams was hired less than three weeks ago.
Connor was quoted by Reuters saying, "It really doesn't make sense to have two investigations to be going on at once, and it's terribly expensive, and I think the federal government has more than enough resources to get all the information that's needed and they have subpoena power, and Mr. Abrams doesn't."
---
That's what some people are wondering after an event in Greenpoint last night. The Chinese-language newspaper World Journal reported that at a fundraising event, the Comptroller reportedly told the crowd of about 80 people, "I've never felt this strong a will to run, I will run for New York City's top job!"
He went on to talk about the changes he would bring to City Hall and to discuss the growing inequality in the city. The announcement came at roughly the same time the man accused of making illegal contributions to his campaign was released from jail on a $100,000 bond.
Liu's campaign has not responded to a request for comment or confirmation. We will post updates as they come in.
UPDATE: John Liu's campaign spokesperson, Chung Seto, sent this message in response to requests for confirmation on the Comptroller's statements last night:
The World Journal headline is erroneous.
Indeed, Liu never said "I'm running for Mayor." But it's hard to see the thin line of daylight between running for Mayor and running for "New York City's top job!" We're still waiting for confirmation on the actual quotes from the event.
If they're confirmed, it will be an amazing statement on John Liu: at the very moment he became more embroiled in questions about his fundraising practices, Liu was in Brooklyn giving everyone in the room at a fundraiser reason to believe he's still running for Mayor.
Read More
Wednesday, November 16, 2011
The US District Attorney's office in Manhattan today announced the arrest of another campaign donor who allegedly funneled illegal campaign funds into a 2013 mayoral contender John Liu's coffers. WNYC has confirmed through a Federal law enforcement source that the official in question is Comptroller Liu, who has been plagued by questions over irregular and potentially illegal fundraising activities.
Xing Wu "Oliver" Pan is accused of contributing $16,000--far beyond the legal contribution limit--to Liu's 2013 campaign through 20 "straw donors." The donations would have been matched six-to-one by the city's campaign finance matching system had they not been caught.
"As alleged, Oliver Pan engaged in a deliberate and flagrant attempt to subvert the campaign finance laws and manipulate the City's matching fund system," Manhattan U.S. Attorney Preet Bharara said in a statement.
"I am saddened by what I read today. If it is true then the conduct was clearly wrong and my campaign was not told the truth," Liu said in response to the allegations, via a spokesperson.
With another allegation of financial impropriety coming forth, political insiders are beginning to question not only Liu's 2013 mayoral aspirations, but his ability to function as the city's fiscal steward.
Read More