Forest City Ratner

Friday, October 10, 2014
By Janet Babin : Economic Development Reporter, WNYC News
Forest City Ratner began exploring modular construction to cut costs as it began to build thousands of apartments. But a dispute with a contractor has put the idea on hold.

Tuesday, September 23, 2014
By Charlie Herman : Business and Economics Editor
Behind schedule and costing millions more than expected, the future of the prefabricated, 32-story apartment building near the Barclays Center is unclear.

Wednesday, September 03, 2014
By Janet Babin : Economic Development Reporter, WNYC News
Construction firm Skanska and a Forest City Ratner affiliate sue one another over building a modular residential high-rise tower with affordable units next to the Barclays Center arena.

Friday, December 20, 2013
By Janet Babin : Economic Development Reporter, WNYC News
Additional information has been released about the pending joint venture between Atlantic Yards developer Forest City Enterprises and Shanghai-based Greenland Group and the development at Atlantic Yards.

Friday, November 15, 2013
By Annmarie Fertoli : Associate Producer at WNYC
Affordable housing at Atlantic Yards is receiving increased focus from lawmakers.

Friday, September 28, 2012
By Janet Babin : Economic Development Reporter, WNYC News
After almost a decade of fits and starts, the first part of the $4.9 billion Atlantic Yards project opens Friday. But the hoopla can't quell the controversy surrounding the project. Neighborhood groups continue challenging Atlantic Yards, arguing that a Community Benefits Agreement signed by some, doesn't include or apply to all.

Monday, August 06, 2012
By Janet Babin : Economic Development Reporter, WNYC News
The area around the new Barclays Center Arena in Brooklyn has become a new bar and restaurant hotspot. But it has some owners wondering if arena crowds and neighborhood locals can coexist at their eateries.
Thursday, May 17, 2012
By Kate Hinds
Opening season for the Brooklyn Nets is four months away, but signs are already going up in the Atlantic Avenue station to reflect its new name: Atlantic Avenue-Barclays Center.
The MTA has also updated the subway map on its  website to reflect the change. An MTA spokesman said the new name will appear on printed maps this summer.
Forest City Ratner, the developer of the site the stadium sits on in downtown Brooklyn, is paying the MTA $200,000 for 20 years for the naming rights to the station.
Read More

Thursday, November 17, 2011
By Mirela Iverac : Reporter, WNYC News
The design for the Atlantic Yards tower, a 32-story building which would be the world's tallest prefabricated structure, was unveiled on Thursday.
Monday, April 04, 2011
An arena rises in Brooklyn. But that's not the only way Forest City Ratner is reshaping our city. We'll take a look at the financial risks for one of the city's biggest real estate developers.

Tuesday, September 28, 2010
By Matthew Schuerman : Editor, WNYC
Developer Bruce Ratner said Tuesday morning what many of his critics and even some of his associates have been saying for years: there is no way the entire Atlantic Yards project will be done in 10 years.
Friday, August 20, 2010
(Andrea Bernstein, Transportation Nation) In New York City this week, Brooklyn residents have been getting a mailer from Forest City Ratner, the developer of the new Nets stadium and mega-building complex near what's called the "crossroads of Brooklyn," Atlantic and Flatbush Avenues. The mailer tells the residents that Flatbush Avenue, a major thoroughfare that connects the Manhattan Bridge to the Atlantic Ocean, will be reduced from six lanes to five until the summer of 2012 for a block at that crucial intersection.
The stadium project was approved only after a prolonged controversy. The mailer seeks to soften the blow by positing that the road closure is to make subway improvements.
We're working getting a traffic analysis, but transpo experts, if you're out there, let us know what you think in the comments page.
Read More
Thursday, September 17, 2009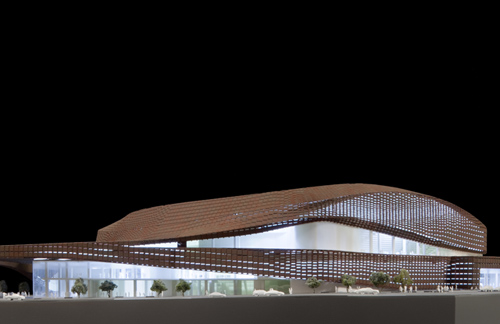 The state economic development agency gave final approval today to a revised plan for Atlantic Yards in Brooklyn.
...