Ethics Reform

Monday, February 09, 2015
By Karen DeWitt : NYS Public Radio/WXXI
Some of them would directly address problems that led to the arrest of Sheldon Silver, the former assembly speaker.

Tuesday, April 01, 2014
Susan Lerner, executive director of Common Cause New York, discusses the ethics reform changes that were included in the New York State budget deal, and the ones that fell away during negotiations.

Thursday, May 02, 2013
A former prosecutor in then Attorney General Andrew Cuomo's office is resigning her post as executive director of the state's Joint Committee on Public Ethics. Ellen Biben has led the ethics panel since its launch in February of last year, and is the second member to resign in recent weeks.
Tuesday, December 20, 2011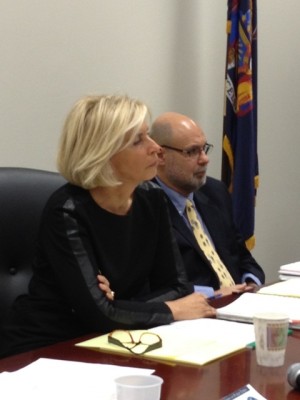 That's pretty much the way today's first public JCOPE meeting went. You can review the agenda here. For the first 15 minutes, the members of the commission went around introducing themselves. For the public's benefit, I presume, as they've already met in private so you'd guess they'd have gotten that out of the way.
For the remaining half hour the commission was briefed by the chair of the earlier ethics commission incarnation, Barry Ginsberg, on the host of things the new commission needed to take care of.
"We have an enormous amount of work ahead of us," said JCOPE Chair Janet DiFiore. What that consisted of--for the public portion of the meeting at least--was the Chair stating the need to find an executive director, and the commissioners giving her the green light to search for that person.
Then Ginsberg ran down the outstanding issues that JCOPE needed to deal with, including the development of guidelines for per diem payments to commissioners, the review of current (rather, the former) ethics commission's rules that are on the books, and the commission's own ethics and conflicts of interest guidelines.
And when they were done discussing the seemingly most basic organizational needs of the commission, DiFiore asked for the commission to adjourn their public meeting so they could be their executive, behind-closed-doors meeting.
The Associated Press' Michael Gormley then asked why the commission felt the need to go into special executive, non-public session--what was the specific reason. DiFiore essentially told Gormley, "Because I said so."
As we all know there is an exemption in the [open meetings] law. I think all of us would agree, given the nature of the work here, we should endeavor to do as much of our work in open view and have the public be able to tune in and hear what we're thinking, and talking about and working on. But there are some matters that requires confidentiality and I think that as we go we will figure out what those matters are. Today, the matters that are on our agendas, that we will discuss in executive and closed session meeting, I think are appropriate. Any further discussion?
This isn't to say that DiFiore doesn't have a point. JCOPE definitely needs time to discuss highly sensitive matters behind closed doors. This is probably one of those times, but without knowing some, even slightly more specific details, we'll never have a sense as to whether going into special private session is necessary. And for an ethics panel, that becomes a concern.
Still, DiFiore got approval from the board to move the session into private, with the exception of Ravi Batra, who voted against going in to executive session. He did not vocalize why he was against going behind closed doors.
Meanwhile, a State Senator resigned today ahead of pleading guilty to bribery charges that could land him in jail for up to 20 years. Perhaps JCOPE's private conversations can help keep other legislatures on a more honest track.
Read More
Monday, December 12, 2011
By Karen DeWitt, New York Public Radio Capital Bureau Chief
Governor Andrew Cuomo and legislative leaders have released the names of their appointments to the newest version of the state ethics commission Monday.
The Governor appointed Janet DiFiore, the District Attorney of Westchester County, to chair the new Joint Commission on Public Ethics (JCOPE). He also appointed Seymour Knox IV, Vice President of Corporate Relations for the Buffalo Sabres, as well as the chair of a private equity firm, and Mitra Hormozi, who worked for Cuomo when he was Attorney General.
Senate Leader Dean Skelos picks include former Western New York State Senator Mary Lou Rath. Assembly Speaker Sheldon Silver chose former state budget director Patrick Bulgaro.
Since the new ethics law was signed last August, there has been a kind of limbo period, with no active investigations of lawmakers for any alleged ethics violations. Cuomo, speaking on Long island earlier in the day, says that now changes.
"The commission will begin immediately," Cuomo said.
Read More
Tuesday, December 06, 2011
Today on "The Capitol Pressroom":
JCOPE, or the Joint Commission on Public Ethics is slated to rev up by Monday December 12th. It's Albany's latest iteration of legislative and lobbying oversight, designed to replace the CPI – the Commission on Public Integrity, but to also have power over state lawmakers. Before JCOPE, and before CPI, there was the State's Temporary Commission on Lobbying headed up by ethics gadfly David Grandeau. Today Grandeau offers up his assessment of JCOPE's future, and discusses Albany's ethical challenges starting with the recently acquitted Assemblyman William Boyland.
Can Cuomo do what Washington can't? Bring a bipartisan group together to raise taxes? And what are the political pros and cons of a Special Session? Around which issues will the legislative leaders be tangling? We have a lot of questions today for Bruce Gyory, a Democratic strategist with Corning Place Consultants, former advisor to three governors as well as a political science professor at the University at Albany, and the former senior vice president at the Empire State Development Corporation. He'll be joined by Pataki communications director and adviser Dave Catalfamo, a 20 year veteran of New York State government now with Capitol Public Strategies.
Read More
Thursday, August 18, 2011
By Karen DeWitt, WXXI Capitol Bureau Chief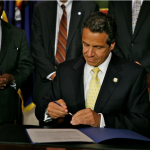 When Governor Andrew Cuomo signed ethics oversight legislation into law yesterday, he said it was a "major step forward" in restoring the people's trust in Albany. He touted the stricter disclosure requirements for lawmakers' outside income, a 14-member ethics panel empowered to probe corruption charges, and the elimination of pensions for future elected officials convicted of felonies.
The deal was indeed a major step but one with big flaws, say anti-corruption champions in Albany. And they want to see the governor tackle "Round Two" of ethics reform ASAP.
"Like in boxing, round two follows up very quickly after round one," said Senator Liz Krueger, a Manhattan Democrat.
Krueger says she's irked that the pension forfeiture only applies to new lawmakers and spares current or former elected officials found guilty of felonies. She also doesn't like the rules for who can sit on the corruption panel.
[At least eight members of the board have to agree to an investigation, and at least two must be of the same political party, a rule that could mean just three commission members could block the wishes of 11 other members of the panel.]
At the time the bill was passed, legislative leaders and Cuomo admitted compromises were made to get something done on ethics reform which had eluded state government for years.
The next step, says Barbara Bartoletti of the League of Women Voters, should be campaign finance reform, including public financing and a ban on politicians using campaign funds for personal expenses.
She says it's "the lynchpin" to returning New York State government to the constituents and out of the clutches of special interest groups. The goal: to upend what Bartoletti calls the "incumbency protection program" in which about 96 percent of state lawmakers get re-elected, over and over again.
Read More
Monday, August 15, 2011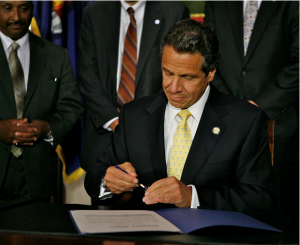 The governor officially signed into law the ethics reforms hammered out the latest legislative session. While some critics were concerned the legislation does little to actually penalize ethics breaches, the governor's office said in a statement that the law provided "unprecedented transparency, strict disclosure requirements, and a strong independent monitor with broad oversight of New York State government."
"Today's signing is a major step forward in restoring the people's trust in government and changing the way Albany does business," Governor Cuomo was quoted saying in the statement. "This new ethics reform law brings an aggressive new approach to returning integrity to the halls of our Capitol."
Read More

Monday, June 27, 2011
By Joyce Purnick : WNYC Political Analyst
New Yorkers can, for the moment at least, relax. An adult is in charge.
For longer than the public would like to remember, New York's state government has been dysfunctional, its governors ineffective, erratic or both. Now comes Andrew Cuomo, who, during his first six months in office, has actually gotten things done. Even those who do not approve of his policies have to acknowledge his mastery of Albany's maddening game of three-dimensional chess.

Tuesday, June 21, 2011
With the Tuesday announcement of a bipartisan compromise on property tax cap legislation, Governor Andrew Cuomo looks to be on the way to securing two out of three of his big-ticket priorities for the legislative session.

Monday, June 13, 2011
[Gay marriage is] clearly not going to pass without Republican assistance because there are only 30 Democrats, one of whom will never in a million years vote for gay marriage, and that's Ruben Diaz. There's going to be a Republican deciding vote no matter how you slice it.
— Liz Benjamin, host of Capital Tonight, on The Brian Lehrer Show.