Eric Ulrich

Thursday, April 19, 2012
By Anna Sale
The Republican Party is closing ranks around Mitt Romney for president, but it will be a mix of the establishment and insurgents at the New York Republican Party annual dinner in Manhattan Thursday night.
Thursday, January 19, 2012
The New York Times first reported earlier that Republican City Councilman Peter Koo of Flushing is planning on switching party registration. A source confirmed the story. Koo is scheduled to announce the switch on Monday, according to the Times story.
The source, who is close to Flushing politics, pointed out that there were reports Koo was dissatisfied with the Queens Republican Party. This dissatisfaction played in the Councilman's decision the source said, who went on to say Koo was feeling "under appreciated."
But Koo has also apparently found being a Republican in New York City too isolated.
"He probably wants to be united with people," the individual said. "It's probably hard to do, being a Republican [in New York City]."
Koo has apparently also mentioned in the past wanting the chance to introduce legislation and to have the chance to chair a committee--things that will be next-to-impossible in the council's tiny minority.
The Observer's Colin Campbell spoke with Eric Ulrich--who has himself felt the effects of his county party's divisiveness--who said he "can't blame" Koo for making the switch.
Peter is a rock star and a superstar in his community. He represented the future of this party and I tried to do everything I could to help him stay in the Republican Party. But I don't think people at county level or the local level were particularly helpful in respect to that.
Read More
Tuesday, November 29, 2011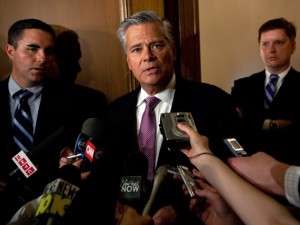 Republican Presidential hopeful Mitt Romney is solidifying his base of support in a major way today. Dean Skelos, the Republican Majority Leader of the State Senate and the highest-ranking member of his party in the state, announced he's endorsed Romney's campaign today, citing the former Massachusetts Governor's 800-plus vetoes and the "conservative principles" Romney brought to state government.
"Of all of the candidates running for President, [Mitt Romney] is the one most uniquely qualified for this moment," the State Senator said in a statement. "Mitt Romney's policies will translate into more private sector jobs and more opportunities in New York and across the country, and I am proud to endorse him for President."
Skelos is the latest New York Republican politician to throw his support behind the Romney campaign. Yesterday Queens Councilman Eric Ulrich was appointed to run Romney's campaignin New York City.
Read More
Tuesday, September 27, 2011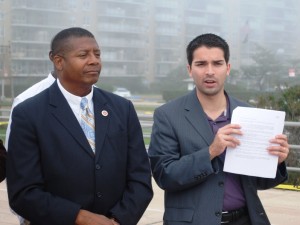 First Eric Ulrich's special election victory in 2009. Then Bob Turner's special election win earlier this month. Maybe city officials will start taking the Rockaway peninsula seriously.
Certainly the members of the mayoral-appointed Rockaway Task Force hope so. The group, chosen by City Councilmen Eric Ulrich and James Sanders, Jr., released its report today. Among the report's recommendations for improving the quality of life for the area's 120,000-odd residents included significant transportation improvements, improved beach access and concern over what the report calls "the alarmingly slow pace of economic development."
Read More
Saturday, August 06, 2011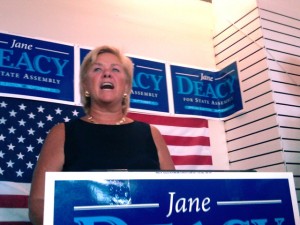 Around the corner the last stop of the shuttle train that connects the western part of the Rockaway peninsula to the Manhattan-bound A train, in the middle of a strip of single floor store fronts, Republican volunteers and leaders from Brooklyn and Queens joined Jane Deacy this morning as she opened the doors of her campaign office for the 23rd Assembly District.
"Deacy wants to go to Albany," the candidate, whose name is pronounced like the nation's capitol, told about 40 supporters. Deacy is an energetic former police officer and school teacher, as well as the local Republican party leader. She's facing off against Phil Goldfeder, a former aide to Mayor Michael Bloomberg and US Senator Charles Schumer.
Deacy, like her Republican compatriot for congress, Bob Turner, has an uphill battle: her district is 2-to-1 Democrat. But that's not as bad as local City Council District 32, which is almost 3-to-1. Republican Eric Ulrich won there back in another special election in 2009, and went on to retain it in the general election in 2010.
Given this backdrop, Ulrich's success presents a possible road map for Deacy who talked about small-bore local issues--the threat closing of Peninsula Hospital posed to the seniors, the need for both jobs and security as the nearby Aqueduct Race Track racino looks to move forward--while imploring supporters to help her build an on-the-ground volunteer network throughout the district.
"I'm asking for you to tell 100 people, and for them to tell 100 people, and for them to tell 100 people," she said. "I'm also a real estate broker and I'll tell you this: the best customer you get is someone who comes as a referral. If you ask people to support me because they'll understand that you know the issues, and that you are involved."
If there's a path to victory, it will surely rely on the evolving special election expertise of those connected to Ulrich. He is the indisputable glue holding the local Republicans together, and a rising star in local politics. He casts Deacy as the straight-talking anti-insider--"a breath of fresh air." Multiple speakers compared Deacy's outsider status to the well-connected Goldfeder, who left Schumer's office to run the race for Assembly.
"Her honesty is going to resonate with the voters," Ulrich said. "She doesn't have all the answers and you're not going to agree with her 100 percent of the time but she's not there to blow any smoke."
Read More
Friday, January 21, 2011
By Azi Paybarah
Transportation advocate Paul Steely White is disappointed glad Councilman Eric Ulrich isn't pushing harder on his bill to require bikes to have license plates.
The Councilman told us quite frankly that he doesn't expect the bill to go anywhere, which came as a surprise to us, because I guess we learned in civics class that elected officials are supposed to introduce legislation that will have an impact and also have some chance of passing, and apparently he doesn't believe that.
Read More