Eric Holder
Monday, June 11, 2012
Over the weekend, Attorney General Eric Holder announced two investigations into the leaks: one for the Stuxnet operation in Iran and one for the now well-known drone program. Takeaway Washington correspondent Todd Zwillich discusses how these investigations could play out.

Tuesday, March 20, 2012
By Ron Christie
You need to show ID when you go to the bar. Why not when you go to the polls?
Read More
Tuesday, March 06, 2012
Attorney General Eric Holder outlined the United States' legal defense of using lethal force against U.S. citizens overseas if that citizen is posing a terrorist threat. Holder's speech, delivered Monday afternoon at Northwestern University, argued in part that the U.S. Constitution's definition of due process defends the use of lethal force, even without the written consent of the president.
Until now, no legal defense was given for the U.S. mission in Yemen which killed al-Qaeda's leading figure Anwar al-Awlaki. Al-Awlaki, who was born in the US, was the radical cleric who successfully took al-Qaeda's message to YouTube.
Friday, January 27, 2012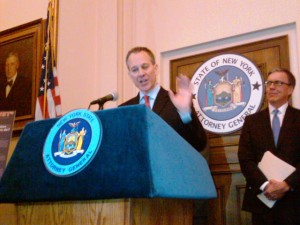 Federal and state law enforcement officials announced Friday that they have launched a fraud-fighting initiative to root out wrongdoing in the market for residential mortgage-backed securities.
Attorney General Eric Holder told a news conference that bringing full enforcement resources to bear will help expose abuses and hold violators accountable.
Watch video of the press conference below
Read More
Friday, December 23, 2011
By Karol Markowicz : IAFC Blogger
Barack Obama was supposed to lead us into a post-racial America. Instead, his presidency has become a study in incompetency with an accusation of racism toward anyone who dares say so.
Read More
Thursday, December 01, 2011
In a letter to Attorney General Eric Holder today, Public Advocate Bill de Blasio joined five members of the city's Congressional delegation and Queens Councilman Daniel Dromm calling for an investigation into alleged abuses of undocumented immigrant detainees at private detention centers.
"This is not complicated: government should not do business with companies that violate basic human rights," de Blasio said in a statement. "Officials from across the city are adding their voices to this campaign and fighting for the principle that no immigrant—regardless of legal status—should ever be put at risk of abuse."
In the letter, the elected officials called on the Department of Justice to investigate the practices of private detention facilities it said lacked the oversight of their state run counterparts. In particular, the letter pointed to a company operating in New York City that has reportedly had major problems at other facilities it owns.
"The United States Government should not be doing business with companies that egregiously and consistently violate the most basic human rights," the letter said.
Read More

Wednesday, October 12, 2011
Attorney General Eric Holder announced in a news conference on Tuesday that U.S. officials foiled an Iranian-backed terrorist plot to assassinate the Saudi Arabian ambassador to Washington. The plot, which allegedly involved a Mexican cartel and large sums of money, would have culminated in an assassination on U.S. soil — a clear violation of international law. But perhaps more tellingly, this plot reveals major rifts between two of the Middle East's largest nations and within Iran's highest levels of power.

Wednesday, October 12, 2011
The Justice Department on Tuesday accused Iran of sponsoring a plot to assassinate a Saudi Arabian ambassador to Washington. Attorney General Eric Holder said that an "international conspiracy" lead to the potential payment of $1.5 million to murder the ambassador while on United States soil. Two men connected with the plot, Manssor Arbabsiar and Gholam Shakuri, are said to be members of the Quds Force, a division of Iran's elite Islamic Revolutionary Guards.

Tuesday, April 05, 2011
The Obama administration made a bold decision in November 2009 that divided the country, which was still scarred by the events of September 11, 2001. Attorney General Eric Holder announced the self-proclaimed mastermind of 9/11, Khalid Sheikh Mohammed, and four other detainees allegedly tied to the attacks, would be tried in a civilian court in New York City, just blocks away from where the Twin Towers stood. After battling Congress for over a year, Holder reversed his decision and announced yesterday those same men will now be tried before a military commission at the Guantanamo Bay detention center.

Thursday, January 20, 2011
More than 100 individuals, suspected of being members of New York and New Jersey's organized crime families, were arrested this morning and charged with crimes including murder, extortion and narcotics trafficking.
Friday, November 05, 2010
By Lisa Chow
Now that the election is over, congressional Republicans are vowing to repeal President Barack Obama's health care overhaul. But administration officials are defending the benefits of the law. 
Friday, April 30, 2010
(New York - Collin Campbell, Transportation Nation) -- It's a strange sight, the bright blue uniforms of the agents who run the long lines and security machinery at airports, down in the crush of the New York City subway.  But here they are, the men and women of the Department of Homeland Security's Transportation Security Administration.  For now -- there are two teams working with the NYPD to check the bags of transit passengers.  This summer, the city and the federal government will discuss adding more.
"We're currently working with Amtrak and freight rail as well," said John P. Sammon, Assistant Administrator with the TSA's office of Transportation Sector Network Management.  "So no, there are not limits on which modes of transportation the TSA can work on securing." 
Read More
Wednesday, November 18, 2009
Attorney General Eric Holder told members of the Senate Judiciary Committee on Wednesday that the decision to try Khalid Shaikh Mohammed in New York was a tough call and that, in his view, the government is more likely to successfully prosecute Mohammed in a federal or so-called 'Article III' court ...