Empire State Pride Agenda
Friday, October 28, 2011
Courtsey of the Governor's office
Two awards for leading the way on same-sex marriage in New York, two speeches on the need for equal rights for same-sex couple across the country.
Governor Andrew Cuomo took to the stage at a Empire State Pride Agenda dinner last night to accept an award for his efforts to legalize same-sex marriage. During his remarks, the Governor stated in no uncertain terms his vision of a nation where same-sex couples were able to marry everywhere.
Thomas Kaplan of the New York Times:
And in his most forceful terms to date, Mr. Cuomo called for his counterparts across the country to embrace what he framed as an issue of equal rights and to push for the legalization of same-sex marriage in their own statehouses.

"We need marriage equality in every state in this nation," Mr. Cuomo said. "Otherwise, no state really has marriage equality, and we will not rest until it is a reality."
Forceful, yes, but the Governor's statements last night were built on statements he made a few weeks ago at another event where he was handed an award for the same efforts by the news website the Huffington Post.
"I'll tell you the real power and the real import of passing marriage equality in New York," the Governor said earlier this month. "You're going to see this victory not just reverberate within this state, but it will reverberate coast-to-coast and the battle doesn't stop until we change the law of the land."
The same-sex marriage is a great public position for the Governor at a time when his liberal flank is coming under attack from the Occupy movement. The Governor deserves these awards; it was his guidance that made same-sex marriage in New York a reality. And not having Occupy Wall Street show up helped focus the event exactly where the Governor undoubtedly wanted.
Read More
Thursday, October 27, 2011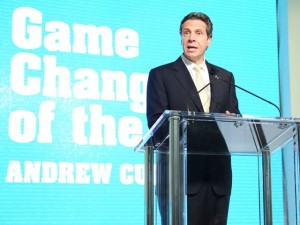 The last time the Governor received an awardfor helping same-sex marriage legislation become law, protesters from Occupy Wall Street showed up and turned the coverage of the event more towards the arrest of Naomi Wolf than the Governor.
And that was before Occupy Albany. And Scott Olsen.
As of yet, there's no sign that there's an organized plan to protest the Governor's acceptance of the Empire State Pride Agenda's Douglas W. Jones Leadership Award. If they fail to show, it would be a good day for the Governor. He's gotten some political cover from Speaker Sheldon Silver—the only leader left in Albany who supports extending the millionaires' tax.
The Governor's bifurcated governing strategy—social liberalism with economic centrism—has been looked at lately, and tonight's award ceremony will continue to burnish the Governor's standing as a leader in civil rights. I mean, Sir Elton John's even giving the Governor props.
This, despite the growing focus of Occupiers on the Governor's economic policies, specifically said millionaires' tax. Then again, his stance doesn't seem to be hurting his poll numbers. So if you're position doesn't leave you politically broken…
Read More
Friday, October 15, 2010
By Azi Paybarah
During last night's Empire State Pride Agenda gala in Manhattan, Chuck Schumer said a repeal of DADT will be attached to a defense authorization bill scheduled to be voted on in November.
Read More