Emergency

Wednesday, November 05, 2014
A new cadre of emergency volunteers is leaping into action to assist in disaster relief, often without ever leaving their living rooms, or even their bathrobes.

Monday, October 20, 2014
Nataly Kelly worked for a translation company that dropped her right in the middle of the most dramatic moment of a total stranger's life.
Tuesday, July 08, 2014
When designing a commercial structure, there is one safety component that must be designed right into the building from the start: egress. "Egress" refers to an entire exit system from a building: stairs, corridors,

Wednesday, July 17, 2013
Did you get a cell-phone alert at 4 a.m. this morning? Here's why.
Friday, August 26, 2011
UPDATED 8:55 p.m. ET Sunday: The MTA says it will restore limited subway service at 6am on Monday morning. Buses are currently running in all five boroughs. No word yet on Metro North and Long Island Rail Road.
UPDATED 5:55 p.m. ET Sunday Buses are back in operation throughout the city.
UPDATED 1:40 p.m. ET Sunday There is still no prediction of when subway service will be restored in New York City. Public officials were unapologetic about the decision to preemptively shut down the nation's largest transit system. "The actions that we took yesterday were right," Jay Walder head of the MTA said at the Mayor's afternoon press conference. He said the first service to return will be buses, some of which will first be used to shuttle evacuees back home he said.
He did not say when subway service would return, calling it a "difficult process" that will "take some time." He said, "we have widespread impacts of the storm. We have flooding, we have downed trees, we have power outages."
The worst fears were not realized however: salt water flooding into the tunnels under the East River. "Metro North has sustained real damage," Walder said. That appears to be the worst affected of New York area transit properties.
Mayor Michael Bloomberg defended his decision to evacuate coastal areas of the city. When asked what his message is to residents who will likely face a Monday morning commute without public transit, Mayor Bloomberg asked for patience, adding, "there are taxis, and some people can walk."
UPDATED 11:30 a.m. Saturday
All New York City transit remains shutdown 24 hours after the first ever total closure of the nation's largest subway and bus system due to a weather event.
Earlier this morning MTA spokesman Aaron Donovan told Transportation Nation, that there is "no estimate on restoration right now." He said they would soon release information on "the many tasks that must be done before service can resume."
It took approximately eight hours to shut the entire transit system down. LIRR and some Metro-North trains were stored on high ground away from low-lying yards. The MTA explained it takes two hours just to allow trains to complete their runs. Then they had to be positioned in safe locations. After that the crew members out safely need transportation out to safe locations.
Trains also were situated on express tracks some in locations distant from where trains end their runs. Stations were then secured, areas inspected and power shut down, according to the MTA.
There is widespread flooding on Metro North tracks including in two substations.
UPDATED 6:43 p.m. ET Friday

The MTA is waiving subway and bus fares to facilitate evacuation from low-laying areas, according to Governor Cuomo.

Several city bridges are already free, and after 8 p.m. all buses city wide will be free as well.

The zoned taxi system will begin at 9 a.m. Saturday. Yellow taxis and all other for-hire vehicles will be permitted to accept group rides and street hails at a charge of $10 per person within each zone, and $5 for each additional zone. Manhattan is divided into two zones at 60th street. Each outer borough is a single zone.

UPDATED 6:02 p.m. ET

The national weather service has issued a hurricane warning, upgraded from a hurricane watch.

The NY MTA has suspended fares in flood zones to facilitate evacuations, according to the Governor's office. See which zone you are in here.

New York City Mayor Bloomberg says storm surges could flood subway tunnels, and called that possibility, "life threatening."

Taxis will be available after the subway shutdown on a special zoned system with flat rates per passenger and both livery and yellow cabs permitted to pickup multiple fares at once, a departure from the normal metered system. Details will be announced shortly on this development, the Taxi and Limousine Commission says.

It will take eight hours to shut down the New York subway system. That's why the last trains will roll at noon, Saturday.

UPDATED: 4:04 p.m. ET

Almost all public transportation in New York City will halt a day ahead of the expected arrival of Hurricane Irene.  New York Gov. Andrew Cuomo announced that subways and buses in the nation's largest city would leave for their final runs before the storm around 12 noon Saturday.

The shutdown will include the Long Island Rail Road, Metro-North Railroad and Access-A-Ride.

This would be the first ever weather related total shutdown of the New York City transit system, an MTA spokesman tells Transportation Nation. The system was shut down in 2005 during the transit worker's union strike and after 9/11.

The spokesman said, the transit agency is working closely with the governor and the mayor on shutdown decisions. The MTA says the subways could stay shuttered through Monday morning depending on damage to equipment and the amount of debris on the tracks.

On a typical Saturday, NYC subways move more than 4 million people.

New York City Mayor Michael Bloomberg has already ordered evacuations for coastal areas of the city.  A hurricane watch is in effect for New York City and Long Island for Sunday. Storm conditions are expected as early as Saturday night.

Bridges and tunnels may also be shut down the governor said, pending wind conditions.
Read More

Monday, February 14, 2011
By Bob Hennelly
Almost a decade after the attacks of September 11th the nation's most essential emergency local lifeline -- 911 -- remains a local patchwork of antiquated technology vulnerable to failure when people need it most.
In 2010 the Congressional Research Service reported the nation's underlying 911 local call systems "operate exclusively on an analog technology using an architecture of circuits and switches" that date back to when ATT was the "regulated monopoly providing most of the nation's phone service."
Read More
Wednesday, December 15, 2010
By jvaughn
(Detroit -- Pat Batcheller, WDET) Emergency officials in Ontario say they believe everyone who was stuck in deep snow on Highway 402 has been rescued. Blinding lake effect snow and strong winds off of Lake Huron have closed the highway between Sarnia and London, Ontario. The Blue Water Bridge, which carries traffic between Sarnia and Port Huron, Michigan, is closed to commercial traffic.
More than 300 people became stranded on the highway Monday after a massive winter storm dumped almost two feet of snow and ice along a  stretch of 402 between London and Sarnia. The weather made plowing all but impossible, leaving motorists to fend for themselves overnight in sub-zero temperatures — many without food, water or warm clothing. The National Post reported that in some areas, snow drifts reached as high as five feet.
Larry Gordon, the news director at Blackburn Radio in Sarnia, says the Canadian military used helicopters to reach motorists--some of whom were stuck for more than 24 hours.  "They are actually landing at various locations along that usually busy highway," he said,"  "and taking those people to their first meals in over a day and warm and dry conditions at a number of warming centers that have been set up around the community."
Environment Canada is forecasting snow squalls through Wednesday for counties near Lake Huron.
The closure of the Blue Water Bridge is forcing trade to be re-routed through Detroit. Many of the trucks that normally cross there are being diverted to the Ambassador Bridge, causing heavy traffic on I-75 in Southwest Detroit.
You can see a slideshow of travelers and cars stranded in the snow here.
Read More
Thursday, May 27, 2010
Last week, the Jamaican government declared a state of emergency after fighting broke out in the streets of the capital city of Kingston. 
Friday, May 08, 2009
Tobias Wolff reads Denis Johnson's "Emergency."
Thursday, April 30, 2009
By Matthew Schuerman : Editor, WNYC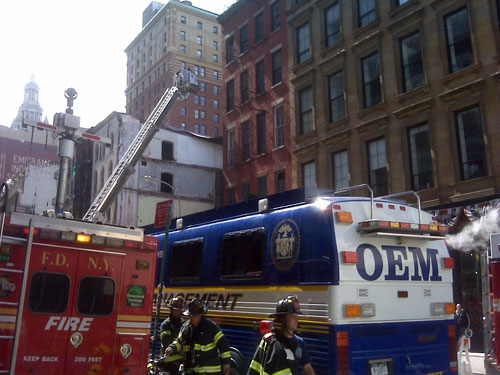 There's a street closure in lower Manhattan as emergency personnel clears the site of this morning's three-alarm building collapse.
A five-story building at 69 Reade Street has suffered a partial collapse of the front of the building. A car was ...