Elizabeth Crowley

Tuesday, June 26, 2012
By Colby Hamilton / Brigid Bergin : Reporter / Anna Sale
New York went to the polls Tuesday to select their parties' nominees for the Congressional elections in November. 
Read More

Friday, May 04, 2012
Latino voters in the new 6th Congressional district in Queens are getting robocalled by Congresswoman Nydia Velazquez starting today, urging them to vote for Assemblywoman Grace Meng in the June 26 primary.
Read More
Tuesday, May 01, 2012
Assemblyman Rory Lancman fired off a press release on Tuesday slamming his potential opponent in the 6th Congressional District, City Councilman Dan Halloran, over his vote against the living wage bill that passed on Monday, in a preview of the upcoming general election fight.
Read More

Thursday, April 12, 2012
Congressional candidate Assemblywoman Grace Meng has received the endorsement of the New York Hotel and Motel Trades Council. The union has a large immigrant presence among its enrollment, with 30,000 members being counted in the new 6th Congressional district, according to the union. It is the largest union endorsement the Meng campaign has received so far, and breaks a string of labor announcements for Meng's rivals in the Democratic Party primary in the 6th Congressional district in Queens.
Read More

Tuesday, April 03, 2012
The Democratic candidates vying for their party's spot on the ballot out in the 6th Congressional district have been slinging around fundraising figures over the past week. On Tuesday, Assemblywoman Grace Meng's campaign says she's come out on top.
According to an email from her spokesperson, Meng's campaign has $300,000 ...
Read More
Monday, April 02, 2012
Assemblyman Rory Lancman continued to line up labor support today, in his quest to be the Democratic Party nomination in the new 6th Congressional district in Queens. On Monday, the Working Families Party announced its support for Lancman in his primary race against fellow Democrats Assemblywoman Grace Meng and City ...
Read More
Tuesday, March 27, 2012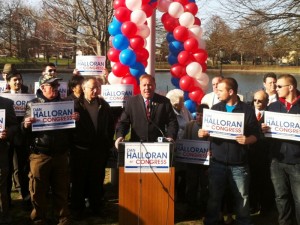 Courtesy of the Halloran campaign.
The cast of characters is assembled. Republican City Councilman Dan Halloran's official announcement yesterday that he is running for Congress in the new 6th District in Queens capped a week or so of campaign launches. Unless a Republican challenger emerges, Halloran will face whichever of the three Democrats pulls out a win in this year's sprint of a primary race.
"I am running for Congress because the president and the Democrats' policies have failed, and New Yorkers need a new voice," Halloran said in a statement announcing his campaign's launch. "Democrats in Washington, led by President Obama, have spent us into financial ruin. They have failed to grow our economy and have led us deep into a harrowing recession. And they have thumbed their nose at Israel, calling for a return to its 1967 borders and showing an unwillingness to stand up to our mutual enemy, Iran, who wishes to destroy us. My Democratic opponents are nothing but a rubber stamp for this president's failed leadership."
Halloran was first elected to the city council in 2009 after a campaign that took some interesting as well as ugly terms. Halloran has been called a "pagan" after reports connected him to a group that worshiped Nordic and Germanic gods. Halloran was also accused of race baiting white voters against his Korean rival, Democrat Kevin Kim.
There's a decent chance Halloran could again face an Asian candidate from the Flushing area. The early Democratic frontrunner is Assemblywoman Grace Meng. Last week Meng received the backing of the Queens County Democratic organization. This week she officially launched her campaign, listing a large number of Queens Democrats as supporters.
At least from the statements from the campaigns, it looks like Halloran and Meng arepicking up where now-Congressman Bob Turner and Assemblyman David Weprin left off in their special election last September. Republicans appear to want to continue to make the the race about Obama and, in a heavily Jewish district, Israel. Democrats—at least those around Meng—lead with House Republicans' fiscal combativeness and attacks on the social safety net in Meng's statement on Halloran entering the race:
Read More

Friday, October 28, 2011
By Bob Hennelly
A City Council oversight committee is is pushing for both better record keeping and greater access for the public to the Potter's Field cemetery at Hart Island, where 850,000 people are buried.
Wednesday, July 06, 2011
By Alec Hamilton : Assistant Producer, WNYC News
The special election to fill the seat left vacant by the resignation of Anthony Weiner in the 9th District has been set by Governor Andrew Cuomo for September 13. While local party bosses mull their options for candidates, the deadline for their nominations is nearly here.
In accordance with special election rules, it will be the local party bosses who nominate the candidates for the seat. Queens Republican Party Chairman Phil Ragusa says the candidate each party is backing must be chosen by July 11. That is the date by which the party has to submit paperwork to the Board of Elections, declaring that their party has decided to nominate the candidate.

Wednesday, June 29, 2011
New York Democrats are lining up to fill Anthony Weiner's seat in the 9th District special election, which is scheduled to take place later this year. But there's more for party bosses to consider than just who makes the strongest candidate.

Monday, May 16, 2011
By Bob Hennelly
New York City Fire Commissioner Sal Cassano told a City Council panel Monday that Mayor Michael Bloomberg's plan to cut 20 fire companies will negatively impact every single council district. He blamed both federal and state cut backs.