Election Day 2011
Wednesday, November 09, 2011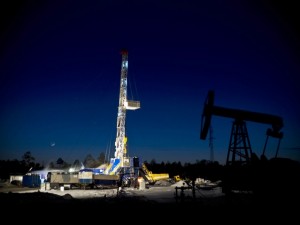 Shutterstock / iznashih
Last night was a big night for Governor Andrew Cuomo, who came out looking like the person who gained the most from big wins in Westchester, Erie and Suffolk Counties. But there was another major winner in last night's elections. It happened much further down ticket, in a series of local races in Central New York.
The message--louder in some places, but consistent--from communities that would constitute ground zero in the natural gas drilling boom, were hydraulic fracturing were to come to New York, was: Drilling is unwelcome here.
In the most watched set of elections happening in Otsego County, Democratic candidates for the county legislature, who had made this year's election a kind of referendum on hydrofracking, gained two seats in the Republican-controlled body.
While anti-fracking candidates were unable to gain control of the county legislature, down ticket candidates scored significant victories as town supervisors and board members. "We Won!!!" screamed the headline on the website for Sustainable Otsego, the group backing anti-drilling candidates across the county.
Outside of the more high-profile races in Otsego, races in other nearby counties--Delaware, Steuben, Sullivan, and Tompkins Counties, in particular--local candidates also won on anti-fracking platforms.
In the town of Dryden in Tompkins County, incumbents who had supported a ban on drilling were reelected. In Sidney, over in Delaware County, a coalition of anti-fracking candidates won the open two seats on the town board and the clerk's position.
Of course, it wasn't a clean sweep. In the towns of Mamakating and Liberty in Sullivan County, pro-drilling candidates won positions as town supervisors. And as the Sustainable Otsego website points out, 15 of the seats they were hoping to win were not. But with so many candidates clearly arguing against the drilling process and winning, the message from last night is that many voters in Central New York are opposed to the process.
And the person this affects the most is Governor Andrew Cuomo. As polls have shown, opposition to hydrofracking--something the Governor is not overtly opposed to--is strongest in upstate communities. If the message in last night's elections is relatively clear, so too is its target. Whether the Governor is receptive still remains to be seen.
Read More
Wednesday, November 09, 2011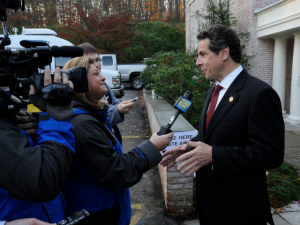 Courtsey of the Governor's office.
Across the state, a slew of local races played out in what has been a slow electoral year. But one thing is certain: Governor Andrew Cuomo came out as the big winner last night.
The Governor lent his support to more than 50 candidates throughout the state, but there were three big races that are being pointed to as wins for the Governor.
Mark Poloncarz pulled out a win against Chris Collins, the Republican Erie County executive who some saw as a potential rival of Cuomo's in 2014. In Suffolk County, Steven Bellone will succeed Steve Levy as the county Executive, beating the county treasurer, Republican Angie Carpenter. And in Westchester County, Assemblyman Mike Spano is the new mayor of Yonkers, knocking off his Republican opponent, Yonkers City Councilman John Murtagh.
"He demonstrated his power, and enhanced it at the same time," Doug Muzzio, Baruch College professor and political commentator, said of the elections' significance for the Governor.
These wins came in three key areas--Eastern Long Island, Western New York, and the suburbs of New York City--that the Governor will need to win in his reelection bid. They're also hot spots in the battle for control of the state legislature and Congress.
Muzzio, a New Jersey resident, made another interesting observation. The Governors of New York and New Jersey are routinely rumored to be potential candidates in the 2016 Presidential race. Both of the Governor's extended themselves and their gravitas to local races. Only one came away with a significant victory.
"In the 2016 Cuomo-versus-Christie battle, Cuomo wins," Muzzio said.
Read More
Tuesday, November 08, 2011
We're following the most important races below. Please check back throughout the night for updated results.
You can get full statewide results here.
Read More
Tuesday, November 08, 2011
Up-to-the minute election returns from across New Jersey.
Tuesday, November 08, 2011
Today is Election Day. You might have forgotten until you read this—unless you live on Staten Island. And even then you should be forgiven for not remembering. After all, who or what is actually on the ballot?
For voters in every borough but the Bronx, what few bother to head to the polls will be electing judges to the Supreme and Civil Court today. Electing judges doesn't have the glamor and appeal of a Presidential, Gubernatorial or Mayoral race. But, dear reader, I will endeavor to convince you that heading to the polls today is well worth your while—even if it's to vote for no one.
Read More
Monday, November 07, 2011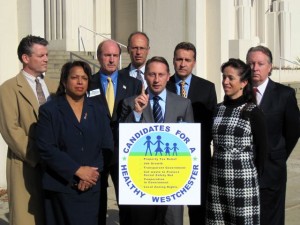 Tomorrow will be a pretty sleepy Election Day for most of New York City (Staten Island somewhat excluded). But that doesn't mean there aren't some high-profile races happening elsewhere in New York. Here's a rundown of some of the key races voters will be heading to the polls for tomorrow.
Westchester County Legislature
Two years ago, Republican Rob Astorino scored a surprise upset over longtime Democratic incumbent Andy Spano to become Westchester County Executive. Now, Republicans have fielded 13 candidates in an attempt to break the Democratically-controlled legislature's super majority. Their message is unified behind the collective "Candidates for a Healthy Westchester" banner, which lists property tax relief and job growth as the biggest issues this election.
The state's Republican Party is spending heavily in an area it believes is ripe for growth since Astorino's win. But, as YNN's Nick Riesman points out, thetomorrow's election could end up deciding Astorino's future:
Astorino is a potential statewide candidate, but he's also basically the star pitcher of an otherwise lousy farm team… The county executive needs some concrete accomplishments should he decide to run for higher office or even win re-election in 2013. The county has also been warned that its coveted AAA bond rating could be downgraded, a move that would certainly put a blot on Astorino's resume, no matter how much he knocks the Democratic-controlled board.

State Republicans, I think it's fair to say, don't want to lose Astorino, a rare downstate Republican.
Suffolk County Executive
In a county split nearly even between Democratic and Republican enrollees, the race to succeed Steve Levy, a Democrat who had wanted to run against Andrew Cuomo as a Republican last year. With Levy not seeking reelection, two seasoned politicians are vying to takeover.
The county's Republican treasurer, Angie Carpenter, is facing off against Steve Bellone, the Democratic town supervisor of Babylon. Not surprisingly, the economy has been front and center, with both candidates talking about the need for the county to be run more fiscally conservative.
It's no wonder: whoever takes over will face a $135 million budget deficit.
Erie County Executive
In perhaps the most watched race this year, Republican incumbent Chris Collins is being fiercely challenged by Democratic county Comptroller Mark Poloncarz. Despite Collins outspending Poloncarz by 3 to 1, the candidates are reportedly running in a dead heat.
The campaign has been notable in the number of big numbers who've weighed in on the race. Former New York City mayor Rudy Giuliani has lent his name to Collins' campaign while Governor Cuomo has come out in support of Polocarz (the Governor has lent his support to approximately 50 other candidates, including Bellone).
Collins is another GOP rising star. Cuomo's interest in the race goes beyond simply party loyalty; Collins has been mentioned as a potential gubernatorial candidate 2014. The race is also giving Cuomo the opportunity to bring a fractured Erie County Democratic Party together. The Times-Union's Jimmy Vielkind got Siena Research Institute pollster Steve Greenfield saying this about Cuomo's efforts:
"With the little endorsements, the governor is trying to build up Democratic support in areas around the state that Democrats don't traditionally do very well in…It's a good strategy to do it now three years before his re-election, and if he keeps doing it between now and then, it will help him."
148th Assembly District
The lone state legislative race this year is also in Western New York. After Republican Assemblyman Jim Hayes stepped back in August, local attorneys Craig Bucki and Raymond Walter are vying for the first change of the Assembly seat in more than a decade.
Bucki, the Democrat, is reportedly polling closer than expected against the Republican Walter. A Bucki win would put the Assembly Democrats back in a position of supermajority able to override the Governor's veto without Republican support. But he'll have to beat Walter, who is serving on the Erie County Legislature, in a traditionally Republican district.
Read More
Monday, November 07, 2011
Tomorrow is Election Day in New York and if you're wondering who's running for what in New York City the answer is not a whole lot. Once every four years New Yorkers find themselves in an off-year, where most people have little or--in the case of the Bronx and Manhattan this year--no contested races. Essentially those races have been all but decided in the primaries.
The one high-profile race in the city this year is the Staten Island District Attorney's race. The current District Attorney, Republican Dan Donovan, is being challenged by Michael Ryan, the Democrat, who is also appearing on the Conservative Party line.
Donovan ran for Attorney General last year against then-Assemblyman Eric Schneiderman and lost. This year's race is a rerun of the 2007 contest between these two candidates. Ryan has gone after Donovan over prescription drug abuse and local crime. Governor Andrew Cuomo has backed Ryan's campaign. Donovan has been endorsed by former mayors Ed Koch and Rudy Giuliani.
Gail Robinson of Gotham Gazette had this interesting (sad?) observation about the non-race for the Bronx District Attorney:
Bronx District Attorney Robert Johnson has the Republican, Democratic and Conservative party lines in his quest for another term. The Bar Association of the City Of New York lists Johnson as not approved for the post but voters have little choice — but he's unopposed anyway.
We here at the Empire encourage you to find your polling station and a sample of your local ballot on the Board of Elections website.
Read More