Education Reform
Tuesday, December 06, 2011
Mayor Michael R. Bloomberg was speaking hypothetically last week when he said his ideal school system, which he also said could never be attained, would have teachers of the highest quality (and highly paid), even if it meant fewer of them and class sizes double what they are now. What is your ideal school system, hypothetically speaking?
Read More
Thursday, December 01, 2011
Today on "The Capitol Pressroom":

Dr. Rick Timbs of the Statewide School Finance Consortium has a lot to say about the obstacles he sees as fixing the school aid inequities in the state.
We host a "moderated conversation" about hydrofracking featuring Norse Energy Vice President Dennis Holbrook & James "Chip" Northrup, retired oil & gas executive, and vocal anti-fracking activist.
And the Industries for the Blind of New York State is releasing an economic impact study conducted by the University of Buffalo on Thursday that shows that blind and visually impaired New Yorkers are big contributors to the state's economy. Chris Burke joins us with details.
Read More
Tuesday, August 30, 2011
By Maria Newman
Criticism and debate have followed the publication of Steven Brill's "Class Warfare: Inside the Fight to Fix America's Schools," arguably the back-to-school book of the year.
Read More
Thursday, July 28, 2011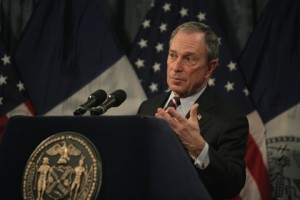 edward reed / nyc.gov
Mayor Bloomberg's office released another salvo in its teacher performance battle yesterday, when it announced more than a third of eligible teachers this year had not receive tenure thanks to its stricter policy. The tougher standards were announced by the mayor back in 2010, as a move away from the near-universal tenure approval teachers have received in the past, according to the mayor's office. During the 2006-7 school year 95 percent of teachers eligible for tenure received. This year the number of teachers receiving tenure was down to 58 percent.
"Our schools really embraced the idea that lifetime tenure should be an honor reserved for our most effective teachers, not granted by default," schools chancellor Dennis Walcott said in a statement. "I am confident this system will benefit both our teachers, through regular feedback and opportunities to improve, and our kids, who all deserve a high-quality teacher in the classroom."
The Manhattan Institute's education expert Marcus Winters called the announcement a "very large step forward" for education reform in New York City. "Tenure's been given as a rubber stamp," he said. "This shows a real movement in the right direction."
Teachers are eligible for tenure after three years on the job. A large number of those eligible this year—39 percent—had the decision on tenure tabled. Winters saw this as an encouraging sign. "Just because a teacher hasn't shown themselves worthy in the first three years doesn't mean they're not going to eventually. Drawing out that process over a long period of time makes a lot of sense."
David Bloomfield, an education professor with CUNY, insisted the announcement was little more than smoke and mirrors. He pointed to the fact that only a fraction of teacher's were actually flat-out denied tenure, which to him indicated the overall action to be an essentially low-stakes political maneuver.
"All that is not to say that denials or extensions are a bad thing, it's just that the Mayor's announcement is more sizzle than steak," Bloomfield said in an email. He said the tenure argument doesn't get to the heart of the matter, which is retaining high-quality teachers. He pointed to the teachers passed up for tenure and noted that no reason is given as to why they were passed up.
The United Federation of Teachers secretary Michael Mendel referenced the letter from UFT to DOE below, calling into question the methodology of applied by the Department of Education. "We have serious questions about how the DOE reached these conclusions and concerns that they failed to base these decisions on pedagogy or job performance," Mendel said in a statement.
Read More

Friday, July 01, 2011
By Solomon Kleinsmith : IAFC Blogger
It appears that the teachers unions are beginning to lose their grip on the Democrats. A bill making its way through the House Education and the Workforce Committee recently had supringly little pushback
-Solomon Kleinsmith, It's A Free Country blogger.
Read More

Wednesday, April 20, 2011
The real job here is for [Mayor Corey] Booker to be a Geronimo and convince people that he's not just going to apply what Zuckerberg wants him to do; that he's out there, he's listening to parents, that he wants to get their feedback and doesn't want to plow through reforms already thought out in his head or Christie's head.
— Barbara Martinez, The Wall Street Journal, reporter covering public education, on The Brian Lehrer Show