Ed Cox

Tuesday, April 24, 2012
By Anna Sale
The media has largely ignored Newt Gingrinch's presidential campaign this month, unless you count headlines generated when a penguin bit his finger at a St. Louis zoo stop.
But Gingrich is still campaigning for president, even though he is out of money and lagging far back in the polls. He made stops in Pennsylvania, Delaware, and New York ahead of primaries there today.  

Monday, April 23, 2012
By Anna Sale
Republicans in New York go to the polls Tuesday to nominate a presidential candidate. Former House Speaker Newt Gingrich and Congressman Ron Paul have both made campaign stops in New York, but it's not expected to shake Romney's commanding lead. Even before Rick Santorum left the race earlier this month, Romney led the field by more than 30 points among registered Republicans in the Empire State.
Read More

Thursday, April 19, 2012
By Anna Sale
The Republican Party is closing ranks around Mitt Romney for president, but it will be a mix of the establishment and insurgents at the New York Republican Party annual dinner in Manhattan Thursday night.

Wednesday, September 14, 2011
By Kathleen Horan : Reporter, WNYC News
Congressman-elect Bob Turner was feted at the annual state Republican Party dinner Wednesday night in Midtown Manhattan like a newly crowned prom king. His upset victory in the 9th Congressional District was referred to throughout the night as a wake up call to Democrats.
Thursday, August 11, 2011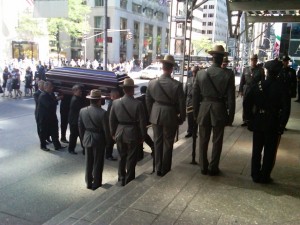 At a solemn but celebratory ceremony held at St. Patrick's Cathedral this morning, friends, family and former political colleagues of Hugh Carey--the man credited with saving New York City and State from financial doom in the 1970s--honored the former congressman and governor for his dedication to family and life-long service to his city, state and country.
"He saved New York City and State, and protected the honor of the whole country," former governor Mario Cuomo said shortly before the service. "He was the most effective governor in modern history."
Congressman Charles Rangel of Manhattan remembered his predecessor on the powerful Ways and Means Committee as a proud Brooklynite and American who guided Rangel during his early years in congress. "He and Tip O'Neal--anything good that I am today is because of both of them," Rangel said. "Everyone is going in and smiling. They say something like, this is a sad day and then immediately after that they say, he sure got a good run. And he did--he loved every day of life."
On the steps of the Catholic cathedral, Ed Cox, the head of the Republican Party in New York, called him a "great talent" who "just wanted to serve the state." Former mayor Ed Koch described Carey as a "an extraordinary man" and joined the chorus of admirers who lauded Carey for his singing. "He had a terrific sense of humor and was a marvelous Irish tenor," Koch said, who went on to praise Carey's ability to get political adversaries to sit together at the negotiating table.
During the service itself, clergymen and Carey's family illuminated both the personal and political--as well as the spiritual--aspects of the former governor. Edward Egan, the former Archbishop of New York, gave the homily, calling Carey a "great New Yorker and a truly great man." Carey was remembered as a deeply caring and loving husband and father to his 14 children, as well as a decorated veteran of World War II, whose work on behalf of the developmentally disabled has been overshadowed by his work saving the state.
"He was a prophet for our times, who spoke and lived the truth with wisdom and strength," Egan said.
Both Governor Andrew Cuomo and Mayor Michael Bloomberg were on hand, as were many of Carey's children, grandchildren and great-grandchildren. He passed away this past Sunday at the age of 92.
Read More

Tuesday, November 16, 2010
By Karen DeWitt : NYS Public Radio/WXXI
Albany, NY —
The state's Republican Party suffered some major blows in this month's elections, losing the governor's office and all other statewide posts. But the GOP did make gains in the legislature that could leave the party with a power base in charge of the State Senate and deprive Democrats of a veto-proof majority in the Assembly.

Monday, November 15, 2010
By Azi Paybarah : author of The Empire blog
On Sunday, governor-elect Andrew Cuomo announced the latest round of members to his transition committee, the advisory panel that will help decide whom Cuomo brings into his administration as he seeks to "clean up" one of the country's most dysfunctional state capitals.
The headline from the weekend's announcement was the inclusion of Robert F. Kennedy, Jr., on one of those transition committees. Kennedy is known as much for his work on environmental issues as he is for hailing from one of the most celebrated political families in American history. More importunely, he is also the brother of Cuomo's ex-wife, Kerry Kennedy, with whom the Governor-elect has three daughters. In 2003, the couple had a particularly nasty divorce, with accusations of her infidelity splashed across tabloid pages for weeks.
The presence of Kennedy's name on the transition committee, carries a powerful, and unmistakeable message: Cuomo is suppressing whatever old and personal feuds may exist in order to find the most talented personnel.
But transition committees have, in the past, proven ideal opportunities for presenting politically optimal visuals, while not always demonstrating deep or insightful decision-making.
Monday, October 25, 2010
By Azi Paybarah
A note about Andrew Cuomo's campaign, which hits Carl Paladino for hiring an unsavory campaign crew.
The ad refers to Ed Cox, the New York State Republican Chairman who backed two other candidates (Steve Levy and Rick Lazio) before getting behind Paladino, thusly:
"Richard Nixon's son-in-law, a master of dirty tricks, leading one of the nastiest campaigns in the country."
When criticizing the three other Paladino aides, the ad refers to a specific news article where their wrongdoing was reported.
For Cox, the only sourcing is a Syracuse Post-Standard article which, if you look at the ad closely, is used only as a photo credit. The rest of Cox's description is not sourced. The article referred to in the ad is, actually, pretty harmless.
Read More
Tuesday, October 19, 2010
By Azi Paybarah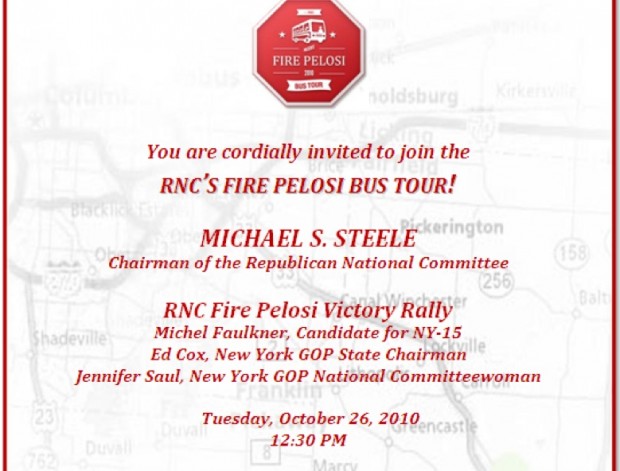 RNC Chairman Michael Steele is taking his his "Fire Pelosi" bus tour to Harlem - parking it down the street from the Apollo Theater on October 26. It's also Rep. Charlie Rangel's district, so you can expect some digs at him too.
Expected to attend the event is State GOP Chairman Ed Cox who, according to this Daily News article, didn't get the $400,000 Steele promised him.
I asked Cox about this money during the debate last night, and he told me, "The RNC has contributed money. The amounts, i don't know cause they're going directly into some of the counties with it to do things. Money is coming in from other organizations at the same time to support our efforts here for get out the vote."
The tour will hit 2110 Seventh Avenue at 12:30 p.m.
Read More
Thursday, August 26, 2010
By Azi Paybarah
WSJ also picks up [$] on a key point in a recent GOP debate: all three Republican senate candidates looking to face Senator Kirsten Gillibrand in November agree on at least one thing: Ed Cox has not been a good state chairman of their party.
DioGuardi, Blakeman and Malpass each expressed their opinion during the "Lightening Round" portion of Tuesday night's televised debate.
A GOP insider takes umbrage with the candidate's answers, saying, they all sought Cox's support. There's also some airing of the intra-party factionalism that, as a spectator, I find refreshing.
Anyway, the view from a GOP insider:
All three Republican Senate candidates for the Gillibrand seat have actively sought Chairman Cox's support and endorsement. Since Bruce Blakeman is the party's official designee, Chairman Cox is supporting Blakeman. As a Mondello acolyte, however, it's no surprise that Mr. Blakeman was unwilling to defend Ed Cox or offer up kind words about the Chairman in public. As far as Malpass and DioGuardi are concerned, it's no surprise they're both upset at Chairman Cox's backing of Blakeman, though the mature reaction would have entailed the two of them acknowledging the position Chairman Cox is in, give that Blakeman is the party's designee.
Read More
Wednesday, August 25, 2010
By Azi Paybarah
Kirsten Gillibrand's three Republican opponents agree: Ed Cox has not been a good chairman for their party.
The answer came in the first televised debate between the little-known, under-funded Republican candidates, Joe DioGuardi, a former congressman from Westchester, Bruce Blakeman, a former local legislator in Nassau County, and David Malpass, who served in the administrations of Presidents Ronald Reagan and George H.W. Bush.
Arguably, none of them would be on stage to even answer the question about Cox's leadership if, as chairman, Cox had been able to lure a serious Republican challenger into the race.
As it stands now, DioGuardi, Blakeman and Malpass all trail Gillibrand in public opinion polls and fundraising, and have so far failed to demonstrate they'll have a bona fide field operation come November.
Each tried tying Gillibrand to President Barack Obama and the Washington establishment. DioGuardi, a certified public accountant, said Gillibrand is throwing around money we don't have to solve the state's job creation problem.
"New York loses more jobs every month than any other state in the union but one. And what is Senator Kristen Gillibrand's response to that? To spend money we don't have," said DioGuardi.
Malpass echoed the sentiment, saying Gillibrand "has been completely uncontrollable in her spending and in her ideas."
Blakeman's most pointed criticism of Gillibrand came when discussing gun control. As an upstate congresswoman representing Albany, Gillibrand had earned high marks from the National Rifle Association. But since being appointed senator, she's come out in favor of tougher gun control laws (enough to earn the endorsement of Long Island congresswoman and gun control advocate Carolyn McCarthy).
Blakeman said Gillibrand's gun control focus is misplaced.
"Gang members aren't licensed gun holders, they have illegal arms, illegal weapons. Stop punishing the people who play by the rules," said Blakeman, who acknowledged to owning two guns (a Smith & Wesson and a shotgun).
Blakeman, who flirted with running for New York City mayor briefly last year, appeared the most telegenic and articulate of the three candidates. DioGuardi, by comparison was more measured in his remarks, and substance. And Malpass offered the least amount of fireworks or notable YouTube moments.
When the three candidates were allowed to ask a question of any of their challengers, both DioGuardi and Malpass chose to focus on Blakeman (arguably making him the perceived front-runner).
DioGuardi accused Blakeman of raising taxes 9 percent while a Nassau County legislator, as the county saw it's bonds go to "near junk bond status."
Blakeman seized the moment and turned his notable blemish into a teachable moment.
"As an elected official, I've made mistakes in my life, but you have to know the full context," Blakeman explained. "We hadn't had a tax increase years and I was faced with a choice" of "whether or not to raise taxes on the average home owner $130 or whether I had to lay off police officers, correction officers,  probation officers, and not update our sewage treatment plant. I chose to go with safety first."
"Whether it was a mistake or not, I can't tell you. But I made that choice. I'm a leader, and so, leaders make choices."
Malpass asked Blakeman if he'd seek to reform the state pension system.
Blakeman said he'd work to end the practice of "loading up" on overtime in an employees final three years in order to pad their pension payout.
Blakeman fired shots at his rivals, accusing DioGuardi of being a paid lobbyist and saying Malpass took bailout money at Bear Stearns while writing opinion columns urging officials to deny relief aid to flood victims in rural parts of the state.
DioGuardi said he was not paid, but rather, worked as a "volunteer" lobbyist for humanitarian efforts in Europe. DioGuardi called it a "mitzvah" and said he helped create the state of Kosovo.
When questioned by Blakeman, DioGuardi admitted to going on "one or two" fact-finding trips when he was a member of Congress, but said, "I wasn't one to abuse that."
Malpass said Blakeman was taking his flood victim article "completely out of context" but later said he was unaware of the specific article, and challenged Blakeman to produce a copy of it.
The most memorable part of the night came shortly after this skirmish among the candidates, when a debate host asked each candidate to say something nice about their opponents, including Gillibrand.
Blakeman's compliment about the woman he's trying to unseat: "I think Kirsten Gillibrand is an attractive woman. I think she's bright, and I think she's probably a good mom herself."
When asked about the "attractive woman," Blakeman said, "She's an attractive, bright woman who I believe is a good mom."
Read More