Economic Development Corporation

Thursday, December 04, 2014
New York will invest $3.5 million in a fashion design and manufacturing hub in Brooklyn's Sunset Park neighborhood.

Thursday, June 19, 2014
By Janet Babin : Economic Development Reporter, WNYC News
What good is affordable housing without good jobs too? Not good at all, say advocates.

Thursday, December 12, 2013
By Janet Babin : Economic Development Reporter, WNYC News
During the mayoral campaign, de Blasio railed against tax exemptions and tax abatements used to fund city development projects, and promised to end one program that he said will save the city $250 million.

Wednesday, September 04, 2013
Research scientists looking to turn discoveries in their labs into businesses will soon have a new space to do just that in New York City.

Tuesday, February 05, 2013
By Matt Richmond : Innovation Trial
Every year, the state gives out millions in tax incentives, loans and economic development grants to the private sector. Every state does it, and New York has little choice if it wants to prevent companies from leaving.

Friday, July 27, 2012
By Althea Chang
Employment is growing faster in the city than elsewhere the nation, according to the Economic Development Corporation, but some say its regulatory agencies may be stifling small businesses.

Friday, December 09, 2011
By Ilya Marritz
Manhattan south of 59th street is pizza country, while Eastern Queens is not.
Monday, October 17, 2011
WNYC's Jim O'Grady caught up with the outgoing head of Port Authority last week. Ward delivered a keynote speech on the sorry state of the city's infrastructure, and had this to say about some key portions of the city's waterfront:
I will state here today, as the outgoing director of the Port Authority, that Governor's Island will never realize its full economic potential so long as the Red Hook Container Terminal remains a container terminal.
What makes this worth pointing out is how at odds this statement is with the city's own plans for the waterfront. Earlier this year the Bloomberg administration, the Economic Development Corporation and City Planning put together a set of plans for the city's waterfront. In the action plan, it states:
Red Hook: Provide additional berthing locations to commercial vessels along the north side of Atlantic Basin. (EDC, 2011)
Red Hook: Market the Container Terminal as a distribution hub for containerized cargo destined for East of Hudson businesses.
(EDC, 2011)
The city is also investing heavily in Sunset Park waterfront business development, which includes the expansion of shipping facilities there. Ward and Bloomberg have been at odds before on projects--i.e. World Trade Center--so it's interesting to see the differences between the infrastructure-minded Ward and the development-focused Bloomberg administration on a key issue.
Read More
Wednesday, October 05, 2011
EDC released a statement in response to the criticism it's received over a new report on a proposed living wage bill. The statement:
It should come as no surprise that some stakeholders are disappointed with the findings, but the opponents seem to be denying the basic economic fact that when something -- even labor -- costs more, people buy less of it. Higher wages would mean fewer jobs, particularly in a down economy.
One of the main criticisms of the report doesn't reflect any of the proposed changes to the original legislation. So far, EDC hasn't responded specifically to those comments.
Read More
Wednesday, October 05, 2011
Comptroller John Liu is weighing in on what's amounting to a controversial report produced by the city's Economic Development Corporation that called the positive affects of a proposed mandatory wage bill for city-sponsored development projects "negligible."
The city council has supported a bill, with modifications, that labor allies are pushing for the council to pass. The mayor has steadfastly opposed any living wage legislation.
Today, labor supportive groups have been pushing back on the report, calling it flawed and dubious. So is Liu, who has close ties to labor:
This million dollar report is so flawed it's not worth the bandwidth for a download. The EDC's claim that a living wage kills jobs shows just how distorted the agency's perspective has become. The proposed living wage would be a requirement on new projects that are heavily subsidized by taxpayers and would create new jobs that pay decent wages. The claim of job losses is rhetoric at its worst.
Read More
Wednesday, September 21, 2011
Update:
The Economic Development Corporation set over this statement in response to Comptroller Liu's audit. From EDC spokesperson Patrick Muncie:
We appreciate the Comptroller's analysis, and we're glad it determined that EDC has disbursed a vast majority of the funds available for community benefit. The Comptroller's suggestions for the remaining funds may be well-intentioned, but they ignore the disbursement restrictions EDC is legally bound to follow, and many are infeasible or simply not in the best interest of the City's taxpayers. We will continue to ensure that all of the funds are wisely invested in the neighborhoods for which they were intended.
For time's sake I'm condensing two separate audits released today--one by New York City Comptroller John Liu, the other by New York State Comptroller Thomas DiNapoli.
Liu finds millions in unspent city development funds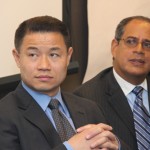 Courtesy of the comptroller's office/Paul Brumlik
The comptroller's office says an audit found $9.3 million in unspent funds meant for public benefit projects on the Economic Development Corporation's books. The bulk of the funds were approved in 1992 as part of a development deal, and meant benefit the Harlem River Rail Yard in the Bronx.
"It makes little sense that millions intended for economic development remain unused for so long, especially in the Bronx where jobs are greatly needed," Liu said in a statement. "If the EDC can't figure out how to put the capital to work then at least return the money to the City treasury."
DiNapoli's audit of the MTA confirms the agency's deep fiscal woes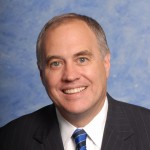 Courtesy of the Comptroller's office
According to a report put out by DiNapoli's office, many of the concerns over the sustainability of the MTA's capital program were well founded. An audit of the agency revealed considerable risks in the financial assumptions its making, and warned that taking on more debt would only complicate things.
"The MTA is in a very difficult position as it struggles to hold together a strained operating budget while proposing the largest borrowing program in its history to fund capital projects," DiNapoli said in a statement. "Before taking on nearly $15 billion in new debt, the MTA must present the public with the facts about the potential long-term implications of this new borrowing on services, fares and budget gaps."
The comptroller warned that, if the MTA took on the proposed debt, the interest paid on what the agency owed could reach $3.3 billion by 2018. That would be 64 percent more than it is this year. DiNapoli projected that, even with scheduled fare and toll increases, the MTA could still face a budget gaps rising from $600 million in 2016 to $1.2 billion in 2018.
All of this, of course, would be waiting for whomever Governor Andrew Cuomo picks to replace departing MTA head Jay Walder later next month.
"The next MTA Chairperson will face a number of challenges including negotiating new collective bargaining agreements, squeezing additional savings from the operating and capital budgets, and keeping fares affordable in the face of rising debt service costs for the capital program," DiNapoli said.
Read More
Wednesday, February 02, 2011
By Kate Hinds
(Kate Hinds, Transportation Nation) New Yorkers who commute between Manhattan, Brooklyn and Queens will have another transportation option this June. The city's Economic Development Corporation has awarded a contract that charts a course  for all-day, year-round East River ferry service.
The ferries will be operated by the BillyBey Ferry Company, a division of New York Waterway. They'll run every 20 minutes in both directions and make seven stops between Long Island City and the Fulton Ferry Landing. Two additional seasonal stops — to Atlantic Avenue and Governors Island— are also in the works.
Paul Goodman, CEO of  BillyBey, is confident that the reliability of the service — coupled with the convenience — will help the ferries build a following.
"When you ride along the waterfront, there are lots of areas where we are simply going to be the more convenient option," he said. "And with the assistance of the city, in terms of the subsidy they're providing, this is going to be priced very attractively as well."
Read More