Domenic Recchia

Friday, October 10, 2014
By Brigid Bergin : Reporter
In the city's most Republican district, embattled Rep. Michael Grimm shrugs off his legal issues and hits opponent — just for being a Democrat.
Tuesday, December 04, 2012
The City Council's Finance Committee chairman says he's decided not to run for city comptroller so he can devote himself to helping his heavily damaged Brooklyn district recover from Superstorm Sandy.
Monday, November 21, 2011
It's not just Republicans scouting for possible Senate districts heading out to the Orthodox Masbia Soup Kitchen on Coney Island Avenue in Brooklyn. At least one Mayoral contender, and a potential Comptroller candidate, are now among those visiting the popular nonprofit.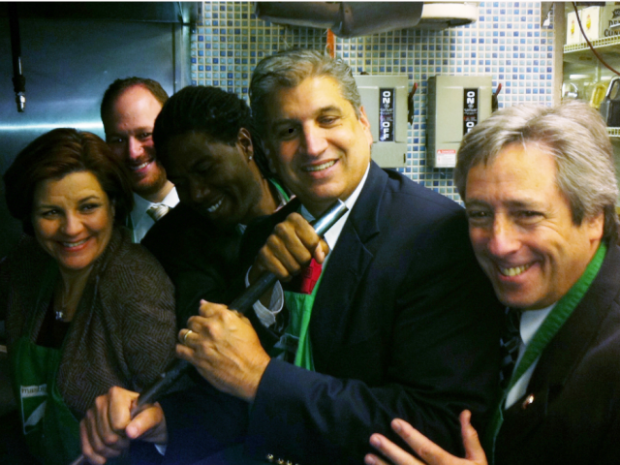 Read More
Wednesday, September 28, 2011
Brandishing a new report that advocates say shows banks have scaled back investing in New York City neighborhoods--despite increases in local deposits--members of the city council and others toasted lenders for growing "distant from the local community" and being "less responsive to local credit needs."
"Banks can play a critical role in supporting and improving communities," Council Speaker Christine Quinn said in a statement. "We at the council appreciate their many positive impacts in working class neighborhoods, but we want to ensure that New Yorkers deposits are reinvested into local communities to the maximum extent possible."
According the report, State of Bank Reinvestment in NYC: 2011 prepared by the Association for Neighborhood and Housing Development, banks in New York City saw a $38 billion increase in local deposits over the past two years but pulled back $4.4 billion in investments, such as home mortgages, multi-family apartment lending, community development lending and investment, and mortgage modifications.
"Given their role in creating the nation's recent economic crisis, we hope that banks will renew their commitment to develop innovative programs that catalyze community development and be strong partners in the city's efforts to build affordable housing," said the Association for Neighborhood and Housing Development's deputy director, Dave Hanzel, in a statement.
Legislation, The Responsible Banking Act, has been introduced by Councilmembers Domenic Recchia, Jr. and Al Vann that aims to make banks more accountable. It would require banks to submit a community reinvestment plan and progress reports that will be used by the city's Banking Commission to rate banks that want to hold city deposits.
"The Responsible Banking Act offers communities all over the city a first step in creating a new vision for our lives," Rev. Cheri Kroon, the associate pastor of Flatbush Reformed Church and a member of Brooklyn Congregations United, which supports the legislation, said. "The Act simply asks banks to let us know what actions they are taking in our communities."
A copy of the report is below:
State of Bank Reinvestment in NYC 2011
Read More
Monday, August 29, 2011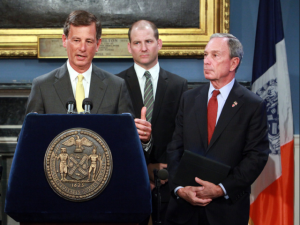 Mayor Michael Bloomberg is scooping up praise from elected officials and civic leaders for the city's handing of hurricane Irene. Sure, the storm itself was a bit overblown, but few, if any, officials joined naysayers in questioning the mayor's precaution tactics ahead of the storm's landing late Saturday.
"Now that Hurricane Irene has come and gone, New Yorkers should take a moment to recognize that the storm's effects would have been much worse if Mayor Bloomberg had not taken steps to properly prepare the City for the worst storm to hit the East Coast in decades," New York City Comptroller John Liu—not always the biggest fan of the mayor—said in a press release.
"When I need to be critical of Mayor Bloomberg, I am," said Bronx Borough President Ruben Diaz, Jr. "But I have to tip my hat and give kudos when it's merited."
"I think they handled this extreme well," Staten Island Councilman Vincent Ignizio said, after noting he had been a critic of the mayor in the past. "It goes to show: When the hierarchy is clearly in place the operations flow appropriately."
Ignizio's comment about operational flow is worth highlighting. A number of those interviewed praised not only the mayor, but the mayor's newly appointed deputy mayor for operations, Cas Holloway. After a stint at the head of the city's Department of Environmental Protection, Holloway was brought in to replace Stephen Goldsmith after Goldsmith resigned. Goldsmith was largely—and possibly unfairly—blamed for much of the city's shoddy emergency response to the massive snowstorm back in January.
At the time, Holloway's appointment was cast largely as a reversal for the mayor, who'd been installing outsiders like Goldsmith in key positions. In Holloway, the mayor had a seasoned city bureaucrat; someone whose strength was working inside the system, not shaking it up.
The move paid off. The city's well-praised response to Hurricane Irene might be redemption for Bloomberg. But for Deputy Mayor Cas Holloway it is a victorious trial by fire.
Read More

Monday, May 16, 2011
By Bob Hennelly
New York City Fire Commissioner Sal Cassano told a City Council panel Monday that Mayor Michael Bloomberg's plan to cut 20 fire companies will negatively impact every single council district. He blamed both federal and state cut backs.