Dnc

Thursday, February 12, 2015
The decision comes despite a big push by Mayor de Blasio to host the convention. Columbus, Ohio, was also in the running.

Tuesday, August 26, 2014
By WNYC Newsroom / Brigid Bergin : Reporter
Mayor Bill de Blasio accuses a local police union of "fear-mongering," after its leader publishes an open letter.

Monday, August 11, 2014
By Lance Luckey : Host, WNYC/WQXR News
Political and business leaders welcome the Democratic National Committee to Brooklyn today in a bid to host the party's 2016 convention.

Wednesday, August 22, 2012
Owners of NBA teams may have given more money to Republican election efforts this year, but the players? That's a very different story.
Monday, July 30, 2012
By Justin Krebs : IAFC Blogger
The Democrats are once again proving that they lag behind their own voters.  But they are also demonstrating that they are still leagues ahead of the Republicans.
Read More
Wednesday, May 23, 2012
By Bob Hennelly
The populist strategy to make the GOP appear as the exclusive province of the one percent has also extended to how the Democrats plan to finance their national convention in Charlotte, N.C., in September.

Tuesday, November 29, 2011
"From the creator of 'I'm Running For Office for Pete's Sake' comes the story of two men trapped in the same body — Mitt versus Mitt." It sounds like a movie trailer, but it's really the latest political ad from the Democratic National Committee. The DNC is reportedly spending $22,000 to run the ad this week. Among the GOP presidential candidates, Rick Perry has already spent $2.8 million on advertising, Ron Paul has spent $2.1 million, Mitt Romney has spent $134,000, and Herman Cain has spent $78,900. But what kind of poll numbers does one TV spot really buy?
Tuesday, February 01, 2011
(Andrea Bernstein, Transportation Nation) Department of FWIW -- The 2012 Democratic National Convention goes to Charlotte NC, which voted under a Republican mayor to tax itself for a light rail system (it now has a Democratic Mayor).  The 2012 Republican National Convention goes to Tampa, which under a Democratic mayor was part of a county-wide vote to REJECT a transit tax.  Got all that?
Read More
Tuesday, March 09, 2010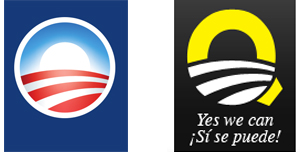 The Democratic National Committee wants former Queens state senator, Hiram Monserrate, to stop using Barack Obama's 2008 campaign logo. The DNC has asked Monserrate to cease using campaign material with a circular, striped image with the slogan 'Yes we ...
Monday, January 05, 2009
Governor Tim Kaine will become chair of the Democratic National Committee when Howard Dean steps down later this month. Kaine's an energetic, gregarious leader who threw his support behind President-elect Obama. Anita Kumar, a staff writer for the Washington Post who covers Virginia state government joins The Takeaway to provide some insight into a local leader stepping up to the national stage.