Dick Gottfried
Thursday, January 13, 2011
By Azi Paybarah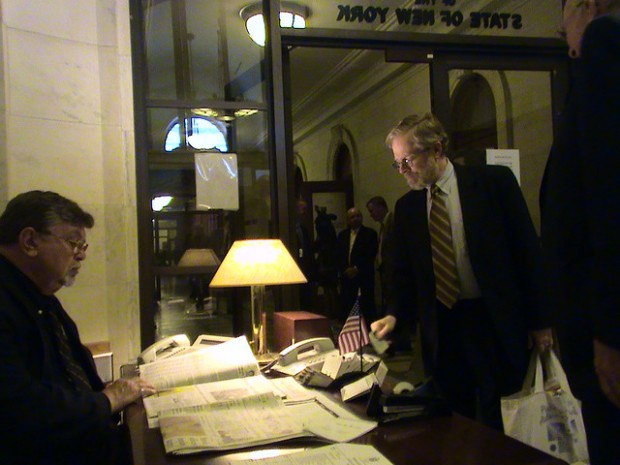 One member of the Medicaid Redesign Team, Dick Gottfried, a Democratic Assemblyman from Manhattan,
raises his concerns
:
"This may be a year in which you might be able to get more public support for cutting the financial support to the health care system. That doesn't make it the right thing to do," he said.

"And when the tv ads start running about cutting off money to grandma's nursing home or the hospital you might go to in an ambulance, people's feelings will begin to shift." (It's worth noting that the group which ran those hard-hitting against against Governor Cuomo's predecessors, Governors Spitzer and Paterson, was 1199 SEIU, whose president is now a member of the Medicaid Redesign Team.)

Gottfried said wants the team to consider a wide range of options, including raising taxes.

"My problem with some of the quote 'hard choices rhetoric' is that while the governor in talking about the Medicaid redesign team says there must be no sacred cows, he starts off the budget process by announcing that the most important potential action is in fact a sacred cow that is off the table, and that is bringing in more money from new Yorkers who have the wealth to enable them to do more. I think New Yorkers across the board, including wealthier New Yorkers would understand that that's the right thing to do."

He added, "I say that as somebody who represents more wealthy New Yorkers than almost anyone else in the Assembly. My district is probably the 10th wealthiest of the 150 Assembly districts."
Read More

Thursday, January 13, 2011
By Azi Paybarah : author of The Empire blog
The Medicaid Redesign Team is holding their first public meeting in Albany on Thursday to begin tackling one of the thorniest problems facing the new governor: cutting the cost of the program without facing a backlash from health providers or patients.
The challenges facing the group are daunting. Aside from coming up with a consensus — which observers say may not even happen — the timetable for enacting any solution won't yield immediate results. Federal approval is required. And the scope of their options is limited.
"Many of the ideas that get put on the table don't necessarily save a lot of money," said Assemblyman Dick Gottfried, a Democrat from Manhattan and a member of the 27-person team. "Many ideas take a year or two to implement so they don't do you any good in this year's budget."