Diane Savino

Tuesday, May 07, 2013
By Fred Mogul : Reporter, WNYC News
The phrase "medical marijuana" has a nice clinical ring to it, but doctors and researchers are divided on the data: some are confident that smoking pot can help a wide range of pains and other symptoms. Others remain skeptical.
Friday, July 15, 2011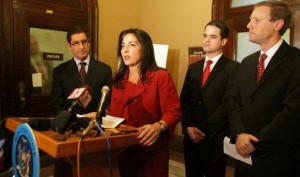 It looks like Senate Republicans aren't the only ones to which Mayor Michael Bloomberg is generously donating.
State Senator Jeff Klein of the Bronx received a $10,300 donation from the billionaire mayor, according to Klein's July filing report. We're awaiting return phone calls from the other members of the state senate's Independent Democrat Conference--Senators Diane Savino, David Valesky, and David Carlucci--but each of the other three members reportedly received donations of equal size.
Considering the split between the four progressive Democratic senators and the independent mayor on a number of issues, the link between the donation and some sort of legislative action is unclear--unlike the senate Republicans who have received equally large donations for their votes on same-sex marriage.
UPDATE: IDC spokesperson Rich Azzopardi confirmed that all four of the members of the conference received the maximum $10,300 from Mayor Bloomberg. But he said it shouldn't come as a surprise, given the mayor's past indication of support for the group.
"He's been very supportive of us when we formed and what we stand for, and certainly what we've done this session," Azzopardi said. "Above all else we [all] value progress over partisanship."
(h/t Shane Dixon Kavanaugh at Crain's)
Read More
Wednesday, April 20, 2011
Public support for same sex marriage in New York state is at an unprecedented 58 percent. Only 36 percent of New Yorkers are opposed. Taking those numbers along with Governor Andrew Cuomo's recent insistence upon marriage equality legislation getting passed this year, it suddenly seems likely that the state could see another vote on the issue sooner rather than later.
But we've been down this road before, and same sex marriage can't seem to get past the State Senate. With the Assembly perennially in favor, and public support ever increasing, what seems to be the trouble? 
Monday, January 24, 2011
By Azi Paybarah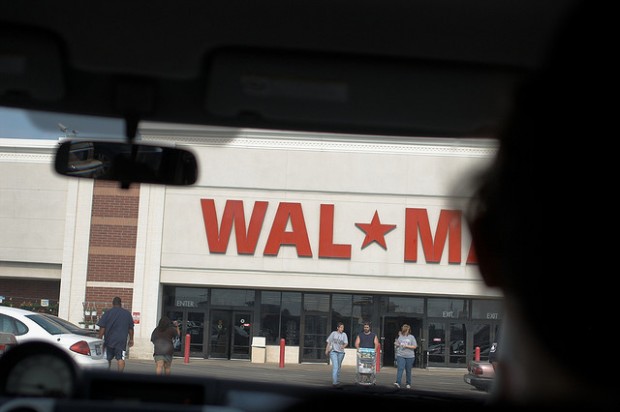 Wal-Mart's inability to open a store in New York City has been almost entirely due to the loud, coordinated and vocal opposition it's faced from labor groups and Democratic elected officials.
But as vocal as the opposition has been, there really is no legal backstop for them. There's no law (on the books, or proposed) that can prevent a particular store from opening up in New York City if they find space zoned for their purposes.
One person working to oppose Wal-Mart told me the retailer's arrival in the five boroughs is inevitable, and that the definition of "victory" against them needs to be "redefined."
Echoing that need to redefine the goals of opposing Wal-Mart is labor organizer-turned Democratic State Senator, Diane Savino, who told the Staten Island Advance:
I have always been opposed because of the impact on small business and Walmart's abusive labor practices, which have been well documented...But we have to begin to develop a different perspective. The stores are throughout New York state. People like to shop there. And with the passage of my Wage Theft Prevention Act, those not adhering to the law can be aggressively prosecuted. At some point there has to be a conversation to see what it would take to permit Walmart into New York City, and what they are prepared to do to be good corporate citizens and neighbors."
The store has gone green and is now pushing for healthier food preparations. They still resist letting employees form into a union.
UPDATE: Pressing the economic argument, a spokesman for Wal-Mart Free NYC emailed a statement from an East New York shop owner, Mark Tanis, who said small businesses "will be run out of town and shuttered forever" if Wal-Mart opened here.
Read More
Friday, January 14, 2011
By Azi Paybarah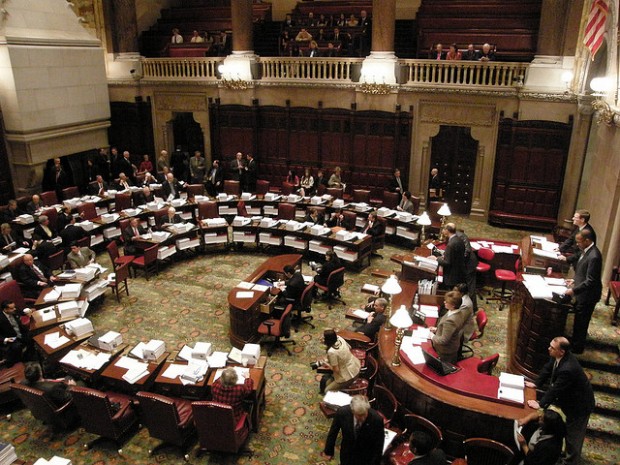 If can get around the paywall, or cough up a $1 for The Chief-Leader, State Senator Diane Savino's comments about defecting from the Democratic Caucus are worth checking out.
"We're never going to regain the trust of the voters unless we confront the demons inside our party," she tells the paper. The comment comes afte a lengthy description of how Democrats lured back into their fold two other Democrats, Pedro Espada and Hiram Monserrate, who proved to be more troublesome in the long-run.
She goes on to say Minority Leader John Sampson was too eager to strike a deal with fellow Democrats in the other chamber, rather than reach across the aisle in his own.
"Time and again they capitulated to the demands of the Assembly…when we know that the future of the Senate for Democrats is in the suburbs," said Savino.
Sampson has his own perspective on why Savino and three other colleagues defected.
Read More