Department Of Education
Monday, October 25, 2010
By Beth Fertig
Queens is always growing and it seems its schools are, too. The United Federation of Teachers says several high schools in the city's second most populous borough seem more crowded than usual this fall.
Saturday, October 23, 2010
By Beth Fertig
With the teachers union contesting the city's plan to release the names of 12,000 teachers evaluated with student test scores, some academics question the value of such reports.
Monday, September 27, 2010
By Beth Fertig
City Council members gave low marks to Mayor Michael Bloomberg's Education Department for this year's drop in test scores. At a City Council Education Committee hearing on Monday, members tangled with officials from the Department of Education.

Wednesday, September 22, 2010
By Beth Fertig
The city's Department of Education says some former rubber room teachers are planning to file grievances because they don't like their new assignments.

Wednesday, September 22, 2010
By Beth Fertig
Last spring, the city and the teachers union agreed to close the infamous "rubber rooms" and assign teachers waiting for their disciplinary hearings to work in Department of Education offices. But a few teachers claim it's not what they expected.
Tuesday, September 07, 2010
A day before classes begin, dozens of students rallied outside the Department of Education to protest against the behavior of school safety officers. Tenth-grader Angie Hernandez was one of several speakers who say officers talk down to students, and assume the worst.
Monday, August 03, 2009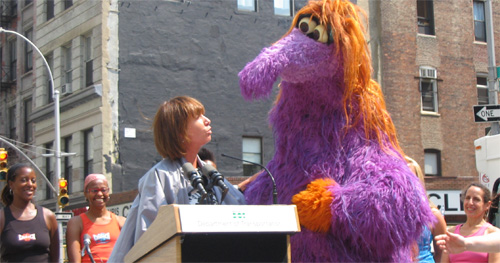 Park Avenue is filled with traffic today, but the scene will be much different on Saturday morning. The city's Summer Streets ...
Tuesday, July 21, 2009
By Beth Fertig
Mayor Bloomberg has made improving the city's public schools a central theme of his mayoralty and his bid for a third term. But one of his Democratic rivals, Comptroller Bill Thompson, is now questioning Bloomberg's track record.
The Comptroller's office released a withering audit of the city's graduation rates. The report sampled graduates from the class of 2007, in a way that was supposed to be statistically representative of the city. Thompson called the NYC Department of Education "the Enron of education, showing the gains and hiding the losses."
Out of 197 graduates, 36 took the same major subject classes two or more times and received credit for each passing grade. One student failed English 3, for example, but passed English 4 twice and received a credit for each course. Another received two credits for passing Global History 1 two times but this same student didn't take Global History 4.
The audit also found 19 graduates whose transcripts were incomplete. The Department of Education was eventually able to confirm that 17 of those students really did meet graduation requirements based on evidence from their schools. As for receiving credit despite taking the same class twice, the Department's response to the auditors said "what the Comptroller largely identified were repeated course codes, not repeats of the same class."
But Thompson said those answers didn't clear up one big concern:
"There are a number of questions as to what the real graduation rate is. And I don't think that, given the level of documentation with the Department of Education, given the level of documentation on the school level, I'm not sure exactly what the graduation rate is."