Deidra Towns
Friday, September 16, 2011
This post has been updated.
Rafael Espinal, the Democratic and Conservative Party pick in Brooklyn's 54th Assembly District, managed to fend off two better-financed campaigns to become one of the new members of the New York State Assembly. The win was just as much a victory for Espinal's patrons as it was for the young candidate.
The long-time local assemblyman and head of the Brooklyn Democratic Party, Vito Lopez, was able to get his pick into a seat previously held by Congressman Ed Towns' son for nearly 20 years. Councilman Erik Martin Dilan, who Espinal works (or worked) for, is a strong ally of Lopez's, as is his father, Senator Martin Malavé Dilan.
But looking at the results, more than half of the voters in the race voted for someone other than Espinal, who captured 44.4 percent of the vote. The Espinal campaign had said before the race that they expected a primary challenge next year, and given the results, they're probably right.
Read More
Monday, September 12, 2011
We've posted before about the financial dealings in the 54th Assembly District in Brooklyn. The three candidates are all pulling money from their networks of donors, and we had been asked--sometimes sarcastically--when we'd breakdown the donations to see, mostly, who had done the most fundraising in district.
Well, folks, ask and you shall receive is our mantra over at the Empire blog. Thanks to the map wizardry of WNYC's John Keefe, we've been able to break down the data from the Board of Election to paint a fiscal picture of where the candidates are getting their support.
First, some background and general info. What you're looking at are the donors to each campaign, not the individual donations. Looking at the number of unique donors is a better measure than total number of donations. The individual donors were then tagged to the map using their address information. Some of the addresses didn't compute, meaning a small percentage -- less than two percent -- aren't present on the map. Corporate, PAC and other group donations were combined with individuals in all averages and tallies.
Here are the raw numbers:
The first thing you notice is that, despite calls from a number of quarters for a breakdown of in-district donations, the truth is not one candidate managed to get into double digits when it comes to either total donations, or the percentage of money raised.
That being said, the Towns and Gonzalez campaigns have the highest totals, respectively. In truth, these ridiculously low in-district numbers shouldn't be surprising. The area we're talking about is a poor one, and raising tens of thousands of dollars in-district would have been a tall feet.
Still, no one can really claim to be pulling their support--at least financially--directly from the people they represent.
What's interesting about the map below is how close to home the candidates ended up raising money. Take a look for yourself and let us know what you think.
Read More
Tuesday, September 06, 2011
It looks like Assembly hopeful Rafael Espinal's campaign is missing some of its paperwork. According to the New York State Board of Elections website, the Espinal campaign failed to file anything for the last two filings. The most recent filing was due 11 days before Election Day (so last week). Espinal's folks blew by the previous filing, due 32 days prior to Election Day.
An email to Espinal's campaign has been sent. Their response will be posted.
Meanwhile, the Towns and Gonzalez campaigns have filed, and here's where they stand heading into the final week:
Towns
Total raised so far: $128,956
Total spent: $85,826.58
Cash on hand: $43,129.42
Notable: Manhattan Democratic Party chairman Assemblyman Keith L.T. Wright had his campaign committee donate $250 to Towns'. "Sometimes personal relationships do get a chance to override political concerns," the assemblyman said.
Gonzalez
Total raised so far: $130,195.53
Total spent: $92,603.60
Cash on hand: $37,591.93
Notable: The campaign paid the Working Families Party Campaign Committee $23,333 for field service work.
Read More
Tuesday, September 06, 2011
Jesus Gonzalez pointed up at a colorful wall mural. Figures wield phones and video recorders on an unfinished scene depicting some sort of suspect police behavior. "What other elected official would have a social justice mural commissioned?" he asked.
He was using the future perfect tense; Gonzalez hasn't been elected to anything yet. But he is running to be the next representative to the New York State Assembly from the 54th district in Brooklyn.
His achievements as a community organizer thread throughout the 26-year-old's conversations. The mural was one notable landmark. Before that it was the high school he helped save from closing. That led him to last year's fight to save student Metrocards from cuts, which he helped lead. Then there were the baggers at the Associated supermarket he helped organize for a better wage.
He is slim, handsome and intense. His vocal inflections and pace are borrowed from another community organizer, now President of the United State. But mingled in there is an almost religious passion that jives with his first name.
"I know, for me, this is really a spiritual commitment to this district," he says not only about his campaign, but about the 13 years he says he's put in as a social justice advocate. In a tight three-way race between Gonzalez and his two opponents, he is a true believer in a battle between the gospel of democratic justice against the evil of corrupt Democratic Party politics.
But the groups backing Gonzalez's campaign have interests that run far deeper and further than the race for the 54th Assembly District. And in this way he is no different than his opponents: Rafael Espinal, the Democratic establishment pick, and Deidra Towns, daughter to Congressman Ed Towns and sister to the previous Assemblyman.
Make the Road By Walking, the Brooklyn Democratic reform movement, and the Working Families Party are gambling big to get Jesus Gonzalez in the Assembly, and may help remake Brooklyn Democratic politics in the process.
Read More
Friday, August 19, 2011
[To hear the candidates in their own words, check out the videos of the debate on the Brooklyn Politics Blog. Apologies to Colin for my fat head getting in the frame.]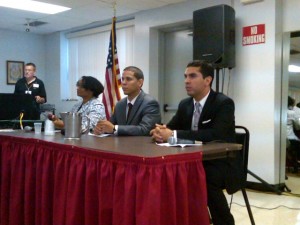 At their best, candidate debates--especially intra-party ones, and this intensifies the further you move down the political ladder--can be sport. Because of the unpolished candidates, the unapologetic provincialism, and the passions brought out by local factions fighting over the tiniest pieces of the pie, they can become combative, chair-throwing, name-calling, finger-pointing affairs.
More often they are just the snooziest. There are two people essentially agreeing on all the issues. Their appeal to individual voters is based on the slimmest of nuanced differences.
Last night's debate in the Cypress Hills section of Brooklyn, between the three candidates running for the open seat in the 54th Assembly District, veered toward the latter. In fact, it wasn't until the debate had moved past the hour mark that the distinctions between Deidra Towns, Jesus Gonzalez and Rafael Espinal became fully understood.
Read More
Thursday, August 18, 2011
By Alec Hamilton, additional reporting by Colby Hamilton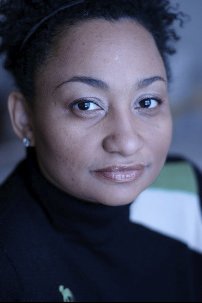 Deidra Towns is running to succeed her brother as the 54th Assembly District representative in Brooklyn. She's also the daughter of Congressman Ed Towns—a fact that could explain why she's getting a significant amount of financial support from out-of-state donors. According to a WNYC analysis of state Board of Election filings, a full third of the nearly $91,000 she has raised came from outside New York.
This is in contrast to her opponents, Democratic Party pick Rafael Espinal and Work Families Party-supported Jesus Gonzalez, who have raised, respectively, four and fifteen percent of their campaign chest from non-New Yorkers. The Espinal campaign has raised a total of $74,440, while Gonzalez leads all fundraising efforts with $100,632 raised so far.
Receiving support from out-of-state contributors is nothing new in local politics, but Deidra Towns' filings reveal the dominating influence Congressman Towns has had on her fundraising efforts. A quick look at some of the biggest donors listed in the two filings submitted to the state Board of Elections show a number of donations that come from the campaigns of sitting Congressmen, funds setup by Congressmen, and lobbyists connected to Congress, as well as donors who also gave to Congressman Towns.
Read More
Friday, August 12, 2011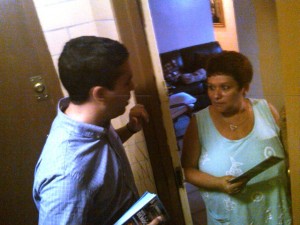 The Espinal for Assembly campaign office is tucked in the wedge of Bushwick between the J/M/Z and L trains, its windows covered in campaign fliers, on a block with a mix of three family homes and newer buildings giving off a condo vibe. It's 5:30 in the afternoon. A gaggle of just under a dozen volunteers are picking up clipboards and literature, a swatch of ethnicity that matches the evolving demographics of the district: mostly Latino, but a number of African-Americans and a few whites; all young.
They head out to make contact with potential voters ahead of the special election scheduled for September 13. Across the street Rafael Espinal can be seen, carrying black plastic bodega bags. The former aide to City Councilman Erik Martin Dilan and pick of Democratic Party boss Vito Lopez for the open seat in Northeast Brooklyn's 54th Assembly District, Espinal went out to get ice and water for office workers and volunteers.
"He's always working," notes Michael Olmeda, his campaign manager. After Espinal drops off the water, everyone gets into separate cars and head out to go door-to-door fliering in near-by public houses. The voters in these houses have traditionally been supporters of the former assemblyman, Darryl Towns. Towns's sister Deidra is one of two other candidates Espinal faces in the fight to be the first new representative from the district in 18 years.
"We're talking about dealing with three separate factions who think they have a mastery of the district," Olmeda says as he takes a right on Bushwick Avenue. Olmeda should know: He worked with Darryl Towns for 15 years before splitting with the family over the unwillingness of Congressman, and dad to Darryl, Ed Towns to step aside so his son could get a shot at his seat.
Read More